Don't Miss this Informative, Educational & Exciting Expo & Cashflow Conference!
>> THIRD ANNUAL LAS VEGAS REAL ESTATE EXPO
Date: Saturday, MARCH 11th, 2017
Time: 8:30 am to 5 pm – COFFEE MIXER AT 9 AM
Venue: Embassy Suites Convention Center
3600 Paradise Road
Las Vegas, NV 89169
HOSTED BY LAS VEGAS REAL ESTATE INSIDER CLUB, THE OUTBACK, AND REALTY411 – JOIN US AND LEARN FROM TOP INVESTORS. NETWORK WITH EXHIBITORS, COMPANIES, REAL ESTATE GROUPS, CLUBS, AND SERVICE PROFESSIONALS!
* Mingle with Companies * Meet Local Leaders & Out of Area Investors
NON-Stop Tips for Real Estate Success ~ Hosting Our Events Since 2008
We Want & Can Help YOU Succeed As We Have. Bring Lots of Cards.
Mingle with Local Leaders & Industry Professionals from Around the Nation!
Hosted by Realty411 – Publisher of National Real Estate Magazines
Come celebrate the only national real estate investment publication, expo and network founded and based in California!
CONTACT US TO BE A SPONSOR: 805.693.1497
or email us directly at: realty411magazine@hotmail.com
All Guests Receive Our California-based Investment Magazines
We are Celebrating 10 Years with Our REALY411 brand, CLICK HERE

Meet Local Leaders & Industry Giants – Hosted by Active Investors
Influential Real Estate People & Business Owners Attending!
Find Potential Partners, New Friends, Build Your Circle of Influence.
Remember: Your Network = Your Net Worth

Celebrate Real Estate in Your Market! Our discussions cover a wide range of topics:Commercial & Residential Real Estate * Private Lending * Raising Capital * Networking Tips to Grow Your Influence * Strategies to Increase ROI * Gain Perspectives on TOP Local & National HOT Markets * Fix & Flips * Buy and Hold + Wholesaling, Notes & More…
We have investors joining us from many states
We are hosting this event to help increase your contacts and to further your potential in this industry!
Also, Inside Our Publications Discover Finance Leaders. Our VIP Advertisers in the Finance Industry Include: Ignite Funding, Civic Financial Services, New American Finance, Pacific Private Money, Zinc Financial, B2R Finance, and StoneBridge Capital Group, among others!
~~~~~~~~~~~~~~~~~~~~~~~~~~~~~~~~~~~~~~~~~~~~~~~~~
Learn Tips and Strategies on TOP Real Estate Niches: Fix 'n' Flip, Wholesaling, Crowdfunding, Buy & Hold, Local & Out-of-State, Private Lending, Commercial & Residential Real Estate, Notes, Credit Optimization, Trust Deeds & More.
~~~~~~~~~~~~~~~~~~~~~~~~~~~~~~~~~~~~~~~~~~~~~~~~~
FOR INFORMATION PLEASE CONTACT US:
CALL: 805.693.1497 | 24 Voice Mail: 310.499.9545
Realty411's main website is now: http://realty411.com
Our previous website is still available at: http://realty411guide.com
Be sure to get your hands on our new release of Realty411 Magazine, Private Money411 and CashFlow Express either by mail, or by picking up a free copy at one of our events!
ARE YOU A VIP REALTY411 MEMBER YET? IT'S FREE CLICK HERE
In addition, we publish a digital-only monthly called REI Wealth!
Don't miss this: http://reiwealthmag.com
No matter what, please mark your calendar so you don't miss out on this fantastic real estate and finance expo. Our goal is to provide fantastic resources to help you learn about real estate or grow as an investor. We know your time is valuable, so we have wonderful books, magazines, and other gifts to give away.
Start the year off right with spectacular networking!!! Build NEW friendships and business collaborations with some of the industry's TOP Leaders. Plus, guests will discover new resources to FUND deals. Joining us are incredible speakers, sophisticated investors, & VIP Industry Leaders.
---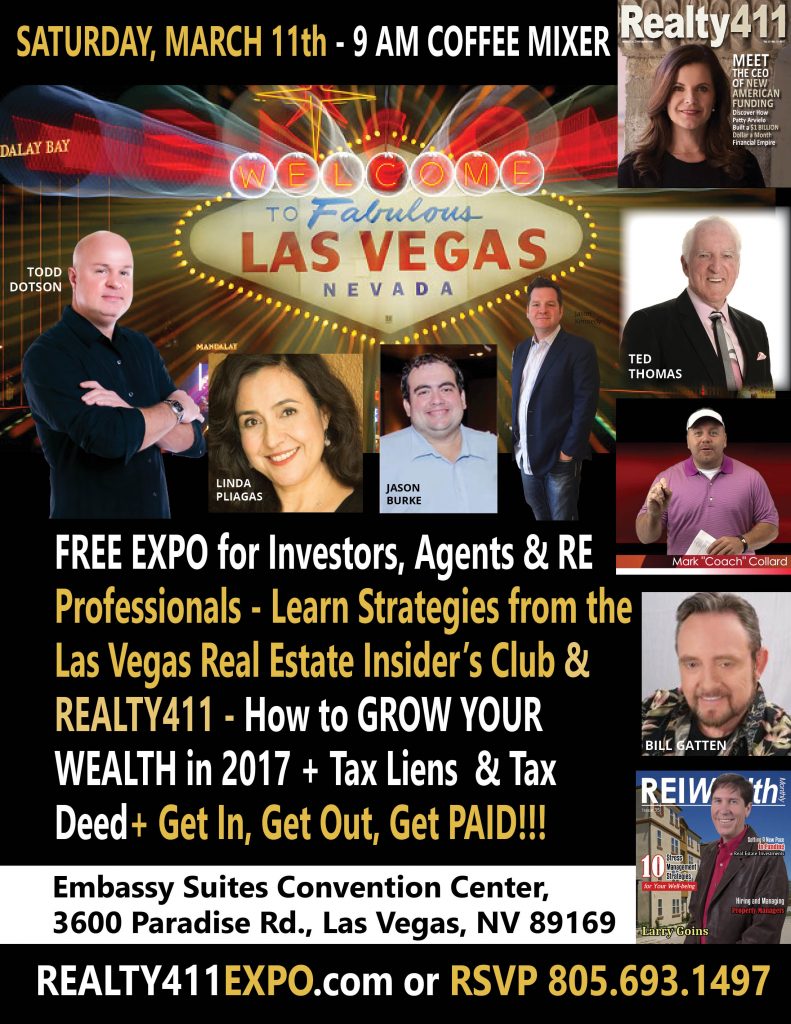 Learn Investor Tips to WIN in Real Estate in 2016 at this Event, Join Us! Our Outstanding Speaker Line-Up, Includes: Ted Thomas – "The Source" of Tax Lien Certificate & Tax Deed Information
Ted Thomas, best-selling author and publisher is best known as America's Tax Lien Certificate and Tax Deed Authority. Thomas has sat for more than 200 radio and TV interviews, most recently on ABC, CBS, NBC and Fox and he has been recognized in Newsweek, USA Today and the Wall Street Journal. Ted Thomas is the go-to guy when people want to discover how to invest in secure government certificates that pay 16% and 18%.
Ted Thomas' organization is the single largest "Source" of Tax Lien Certificate & Tax Deed Informational Products in the World…To Help You… We are knowledge brokers and we provide financial solutions in many forms.
For example: Guidebooks and Manuals, Directories, Newsletters, Audio Home Study Courses, Video Learning Systems, plus Live Weekly Teleconference Sessions, Workshops, Seminars and Coaching.
Ted's best selling Home Study Course titled, Quick Start to Buying Government Tax Lien Certificates & Tax Deeds, is considered the benchmark standard for the Tax Lien Certificate and Tax Deed industry. Thomas also conducts live tours of Tax Lien Certificate and Tax Deed auctions.
In summary: Jones & Trevor Marketing is the single largest "SOURCE" of the Tax Lien Certificate & Tax Deed Informational Products In The World!
Jason Kennedy, visiting from San Diego, California
Going From Broke with a Master's Degree to Making Money in Real Estate!
After achieving a Master's Degree in Counseling Psychology, Jason ("Jay K" to his friends) got laid off from his job. This made him realize that he needed to take control of his financial destiny, and he invested in a Real Estate Training Seminar to learn how to become a successful Real Estate Investor.
That was 13 years ago, and he has never looked back. He not only invests full time, but has served as a trainer, mentor, and coach for aspiring real estate investors for over 10 years. He also added his license as a Realtor in California so he could provide more opportunities to help and mentor his clients to achieve success through Real Estate.
Jay K is also the founder and creator of the cutting edge training system, "3 Days to Real Estate Riches! Get a Deal in 3 Days!" This is the system that Jay K, as well as his students use to open up any market, build their real estate business in that market, and have deals in the pipeline in just 3 days! Whether you're a new investor looking to get started, or a seasoned vet looking to open up multiple markets, this system is for you!
Jay K is looking forward to training at a city near you!
His specialties include wholesaling, fix and flips, buy and holds, and multifamily investing.
Bill Gatten – Sales Trainer, National Speaker, Motivator, Entrepreneur
Since 1985 Bill Gatten has made a major impact on the Creative Real Estate Financing Profession by way of the propriety real property transfer system known as the ODWM Equity Holding Transfer™ (EHTransfer™), This remarkable system virtually eliminates one's legal exposure and the negative impact of governmental restrictions and prohibitions regarding Creative Real Estate Acquisition and Financing.
By practicing what he teaches and preaches, Bill has firmly established himself as a true pioneer and authority in the business of legal, safe and highly protective owner-carry real estate acquisition and financing…via the use of the unique system (the EHTransfer™) which avoids the necessity of standard down payment, credit qualifying and the ancillary expense of closing costs.
At the core of the EHTransfer™ is a 500-year-old trust model—'the early British title-holding land trust ('popularized in the US as the Title-Holding) Land) Trust).
Features which form the EHTransfer™ system include: a Transfer of Beneficial Interest, a Co-Beneficiary Agreement; a limited and revocable Power of Attorney, a Triple-Net Use Agreement; Bulk-sale escrow instructions, Certification of Trustee; Notice of Uninsured Deed…and others.
For over thirty years Bill Gatten has trained thousands I and made millionaires n the use of the versatile, safe and highly protective Open Door Wealth Management ©EHTransfer System™.
PLUS, NETWORK WITH THE PUBLISHER AND COMPANY OWNER – She wants to know about what we can do to serve you better this coming year.
Linda Pliagas, CEO of REALTY411 – Owner of the Longest-Running Media Company Publishing Real Estate Resources for Investors around the World.
Realty411 was founded in 2007 by Linda Pliagas, who is the Publisher/CEO. Linda has personally invested in rental properties in five states — all by the age of 38.
Linda has purchased single family homes, multifamily units, vacation rentals, probates, REOs and short sales. Linda Pliagas has worked simultaneously in media and real estate. She began her media career at age 18 as a reporter for her high school newspaper.
She holds a bachelor's degree in print journalism from California State University, Long Beach. She was a recipient of the Bobit Magazine Scholarship for her accomplishment in publishing her first national magazine while still at CSULB. She also studied real estate, accounting and general studies at Santa Monica College.
In addition to publishing two magazines and a local newspaper in Los Angeles, Linda has also freelanced for numerous national magazines, local newspapers and global websites. Linda has been an active landlord in California consecutively since the age of 25. In addition to her family's ventures in real estate and media, they are also owners of HRS Clocks (Horological Restoration Services) the oldest timepiece repair, restoration and sales shop in Santa Barbara County.
~~~~~~~~~~~~~~~~~~~~~~~~~~~~~~~~~~~~~~~~~~~~~~~~~~~~~~~~~~~~~~~~~~~
Save
Save
Save
Save
Save
Save
Save
Save
Save
Save
Save
Save