GROW YOUR INFLUENCE ON US
NETWORK WITH LOCAL PLUS
NATIONAL REI LEADERS IN FLORIDA
MIAMI IS THE PLACE TO BE THIS SATURDAY!
Southern Florida's real estate market is exploding and Realty411 will take you there….
YOU ARE CORDIALLY INVITED TO EXPAND YOUR CONNECTIONS!
On Saturday, April 21st, Realty411, the original realty investor magazine, unites with The Millionaire's Group, plus the Miami-Dade Chamber of Commerce, to host their highly-anticipated South Florida Real Estate Investor Expo.
This exciting and educational community event will unite local and national leaders in the areas of real estate investing, business and finance. This is Realty411's tenth expo in Florida and the first one this year. Hundreds of guests have already registered for this amazing day at Shula's Hotel & Golf Club.
---

Some topics to be discussed include: Maximum & Fool-Proof Asset Protection, Private Finance and Leverage, Tax Liens in Multiple States, Multi-Family and Commercial Syndication,, Single-Family Rentals, Vacation Home Ownership, Entrepreneurship, Multiple Streams of Income, Business Lines of Credit, How to Develop a Motivational Mindset and Wealth-Building Attitude, PLUS, Create Continual Cash-flow, & So Much More.

---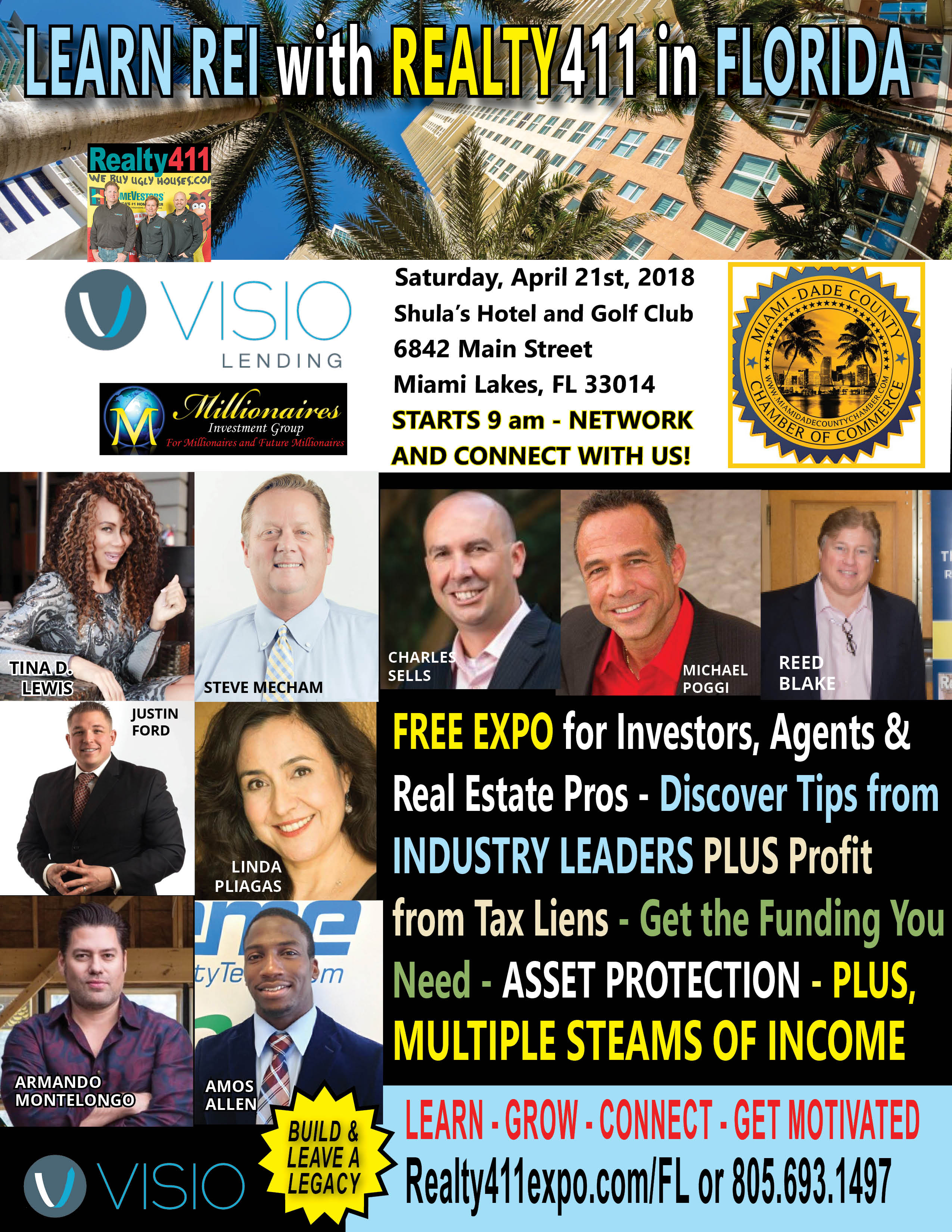 ---
In addition to finding fantastic networking and education. Realty411's event will also feature a breakfast networking mixer with coffee and fresh pastries beginning at 9 am. This is the only complimentary real estate investing conference in South Florida, and it is growing annually.
Our next expos will take place in four KEY states: Florida, California, New York, and Texas. Based on real estate market statistics and trends, these states also happen to be the areas with the most robust realty markets in the nation — AND ONLY REALTY411 TAKES YOU TO ALL FOUR with multiple events.
In fact, we've produced events in these key markets for the past THREE YEARS, and have reached thousands of investors, business owners, and key local leaders.
Don't miss the opportunity to grow your business and leverage our massive national network, creative resources, latest-marketing techniques, and mass media coverage. Only Realty411 gives you the opportunity to connect directly with local leaders in TOP MARKETS.
RSVP NOW FOR OUR EXCITING EXPO!
For further information, please contact our office in California @ 805.693.1497. Realty411 is the original realty investor magazine, in business since 2007. Our office is based in the scenic Santa Ynez Valley, which is situated near Santa Barbara, known as the "American Riviera".