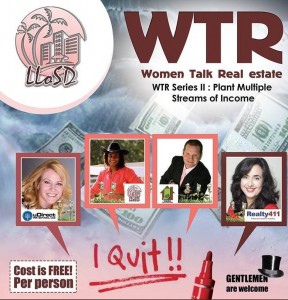 Dear Readers;
It's time for another episode of the WTR (Women Talk Real Estate) Webinar Series.
Created to QUENCH the THIRST of Entrepreneurs.
This week we deliver on our promise to deliver ideas for YOUR economic freedom,
with a topic that is sure to peak your interest!
Multiple Streams of Income – ( You will be asked to join NOTHING)
That's correct, all businesses are cyclical. Learn the tricks used by
successful business owners to counter act those swings in income and
keep up with their lifestyles and responsibilities.
Jason Kennedy, Jasmine R. Willois Linda Pliagas have all vowed to share with
you what's in their SECRET SAUCE! Come hear what's working for them NOW!
Check it out it's FREE, and very inspiring to hear the unique stories of each of these successful entrepreneurs.
LEARN MORE ABOUT THE WEBINAR HERE!