When:
January 26, 2022 @ 12:00 pm – 12:30 pm
2022-01-26T12:00:00-08:00
2022-01-26T12:30:00-08:00
Contact:
Realty411.com
805.693.1497
Hello Investors and Brokers, FREE TRAINING on January 26th at 12:00 PT.  This is a virtual discussion on Overcome Low Inventory & Buy More Properties Now.
  We're excited to announce we've partnered with Landvoice to provide your team with a
Register HERE to get your access code to the live class.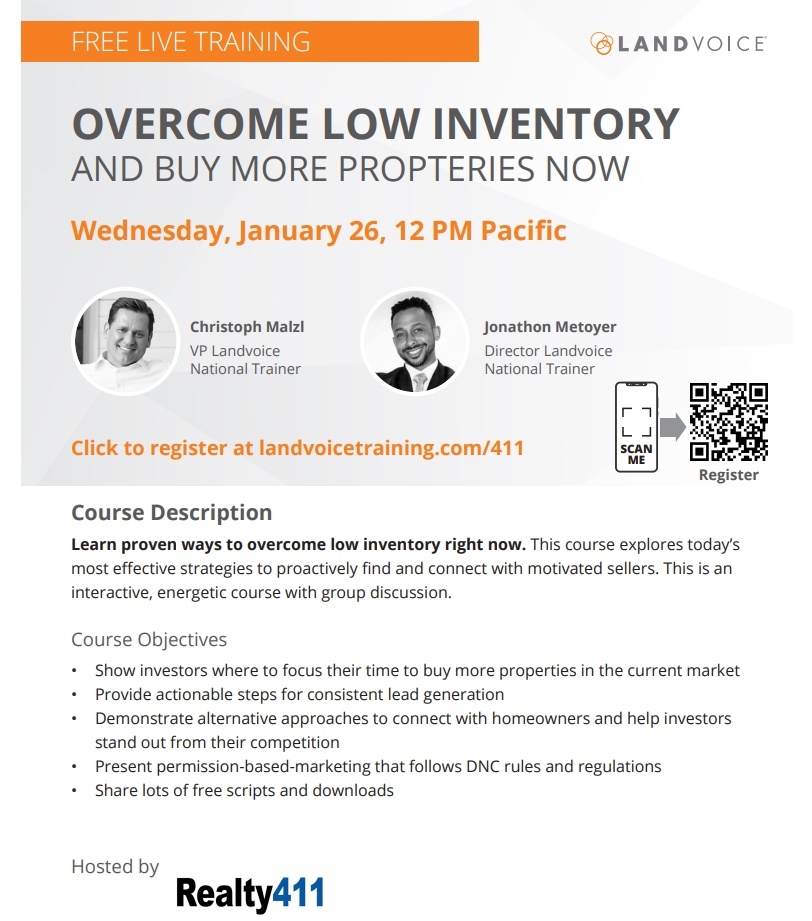 Landvoice is really trying to help investors and broker/agents right now, so they've completely waived all regular class fees. That means we can all join for FREE.   About Landvoice Landvoice has been investing in real estate agent success for nearly 30 years. They've helped agents thrive through all economic conditions. They make sure you wake up every day to a new list of local sellers, which includes property details, homeowner contact information with mobile numbers and even email addresses. Landvoice adds fuel to your fire so you can list more properties and close more deals.   We hope you'll join us. This should be a good one!    Realty411 Team