Check out our new audio content!
The Online Weekend Conference Features TOP Industry Experts Ready to Share Vital Information and Perspective on the Market Ahead – RSVP Here.
It's time to start the year off right and to help our faithful and new readers prepare to skyrocket their portfolio this year, Realty411 once again will unite the most successful, knowledgeable and savvy investors in the REI (Real Estate Investing) industry for ONE SPECIAL INVESTOR WEEKEND!
This VIRTUAL Weekend Expo will be LIVE and in REAL-TIME via Zoom. Guests Can Chat with Educators. Get Your Questions Answered Here with Industry Leaders.
These HIGH-LEVEL experts are taking time out of their busy schedules and preparing new presentations, which are timely and exclusive. This informative conference will help guests gain valuable insight.
It's time to learn time-tested tips and techniques for financial success. This knowledge is normally passed down in only the wealthiest of families or to top-level real estate executives.
In fact, as a general rule, investors would have to pay hundreds of dollars to attend an event of this caliber. However, thanks to Realty411's long-time sponsors, subscribers, and VIP members, this conference is complimentary.
The 14-year media company, which also publishes REI Wealth magazine as well as operates a half-dozen real estate websites, is hosting this top-tier online event at no cost to attendees.
Serious investors who want to take their investment knowledge to new levels must reserve a ticket now as only 100 "Virtual Seats" remain — Realty411's existing platform currently caps at 500 guests.
Additionally, only a set number of attendees will be admitted so that all questions can be answered during the live chat sessions taking place after each presentation.
Joining us on this special conference to help guide our readers will be HIGH-LEVEL industry experts who will be donating their precious time for all guests.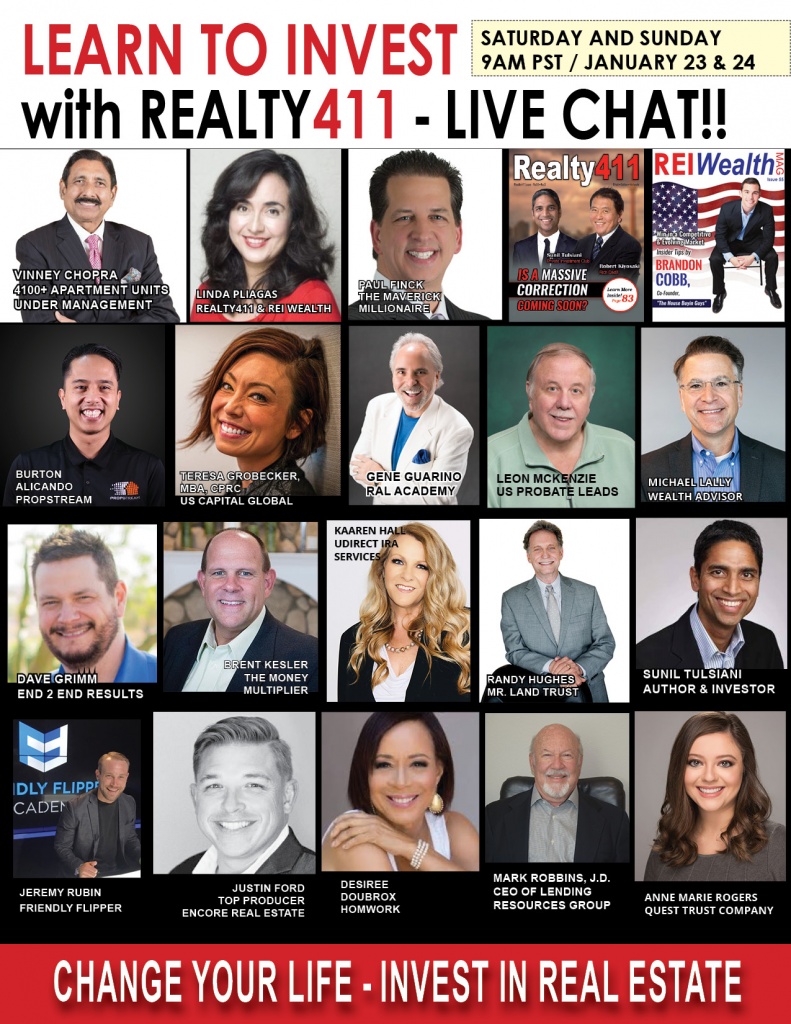 Realty411 wants to make sure all investors start 2021 with the right information and contacts to take them to new levels of success.
Some of the important educators joining us for this special educational weekend conference, include:
** PropStream – Introducing 2021's Best Real Estate Tool for Investors. Discover Why PropStream is Creating Waves in the REI Industry.
** Gene Guarino – Founder, RAL Academy — The Industry's National Authority on Residential Assisted Living Discusses Why there is Enormous Opportunity in this Niche for 2021 and Beyond.
** Vinney Chopra — Best-Selling International, Over $358 Million Multifamily Portfolio, Over 4100 Units Under Management — My Journey from $7 to a $250 Million Portfolio with Apartments!
** Teresa Grobecker, MBA, CPRC (Real Estate/Investment Banking & Tech Expert) – Trends in Real Estate: Winners and Losers, Plus What's In Store for the Year Ahead. Get The Edge on 2021.
** Justin Ford, Top Producing-Broker – Detroit, Michigan — Learn the Power of Prospecting with a Multi-Million-Dollar Closer. The Techniques Justin will Share Will Skyrocket Your Agency/Brokerage.
** Michael Lally – Founder, Lally Wealth Management — Discover Why Real Estate Investors Should Diversify Their Portfolio with Stocks. PLUS: How to Create Constant and Diversified Cash Flow and Growth.
** Leon McKenzie – Founder, US Probate Leads – Learn Why Probate Properties Remain the Most Untapped Niche in Real Estate and How You Can Profit From It. Learn from the a Respected Industry Leader!
** Randy Hughes, "Mr. Land Trust" – The Nation's Authority on Land Trusts Will Explain Why Every Investor Should Use this Strategy.
** Mark Robbins, J.D., CEO – Lending Resources Group, Inc. — Investing Your Retirement Funds in Real Estate Non-Recourse Financing.
** Kaaren Hall – CEO of uDirect IRA Services —Build Tax-Free Wealth with a Self-Directed IRA Starting Today.
** Paul Finck – The Maverick Millionaire — Maximize Your Mindset & Transform Today's Negative Landscape Instantly.
** Anne Marie Rogers – Quest Trust Co., — Find Out How Your Self Directed IRA Can Save You Income Taxes Every Year.
** REI COVER FEATURE: Brandon Cobb – Owner, The Home Buyin' Guys — Discover How Brandon built a $9M Annual Real Estate Flipping Empire in Less than Five Years! Brandon Walks Expo Guests Through a Flip in Nashville, Tennessee, as If We Are Onsite!
** REALTY411 COVER FEATURE: Sunil Tulsiani – Founder of Private Investment Club — Sunil is a Best-Selling Author and International Speaker, He Has Worked with Such REI Giants as: Robert Kiyosaki, Robert G. Allen, Kevin Harrington, and more.
** EMCEE: Linda Pliagas –– Publisher, Realty411 & REI Wealth — Welcome to 2021. It's Our Mission to Help You Succeed this Year, Here's How We Plan on Accomplishing This During the Pandemic.
** EMCEE: Desiree Doubrox — Founder of HomWork — Discover How this Creative Real Estate Investor Designed the PERFECT Home / Work Situation for Busy Professional Women.
** EMCEE: Jeremy Rubin – The Friendly Flipper — Coming straight from the Central Coast of California, Jeremy will Reveal Tips for Flippers Everywhere. Replicate His Success.
** EMCEE: Dave Grimm, End 2 End Results — Dave is an Expert in Lead Generation Techniques for Serious Real Estate Investors.
---
Realty411 will release the agenda for this conference shortly, please bookmark this page or check back for further updates and details.
For questions or to sponsor a future event with Realty411 or REI Wealth, please contact Veronica Jones at: 805.693.1497 or [email protected]

---
WHAT CAN GUESTS EXPECT AT THIS EVENT?
LEARN TO REHAB ONLINE – LEARN ABOUT HOT MARKETS FOR BUY-AND-HOLD INVESTORS – HEAR ABOUT OUR BIGGEST MISTAKES AND HOW TO AVOID THEM – HONEST, REAL AND RAW!