Check out our new audio content!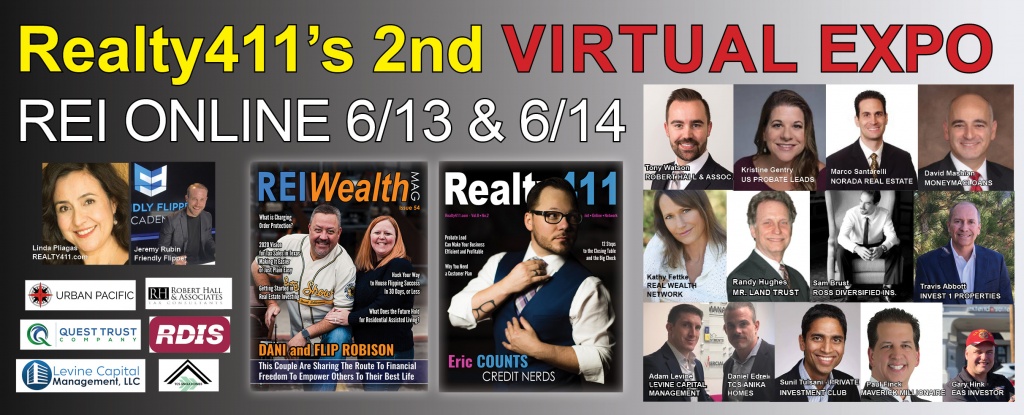 Dear Realty411 Readers;

Our first Virtual Real Estate Expo was such a huge success, we already have our SECOND VIRTUAL REAL ESTATE EXPO scheduled.

Investors, brokers, private lenders, and wealth builders, be sure to save the weekend of JUNE 13th and JUNE 14th to join us for our SECOND VIRTUAL REAL ESTATE INVESTOR'S EXPO.

Realty411's first weekend event, with only a few days of marketing, generated over 535 RSVPs, hosting investors LIVE from 35 states, and five foreign countries.

This expo, we expect an even larger audience as we have more time to prepare. PLUS, we have the BIGGEST STARS of REI joining us.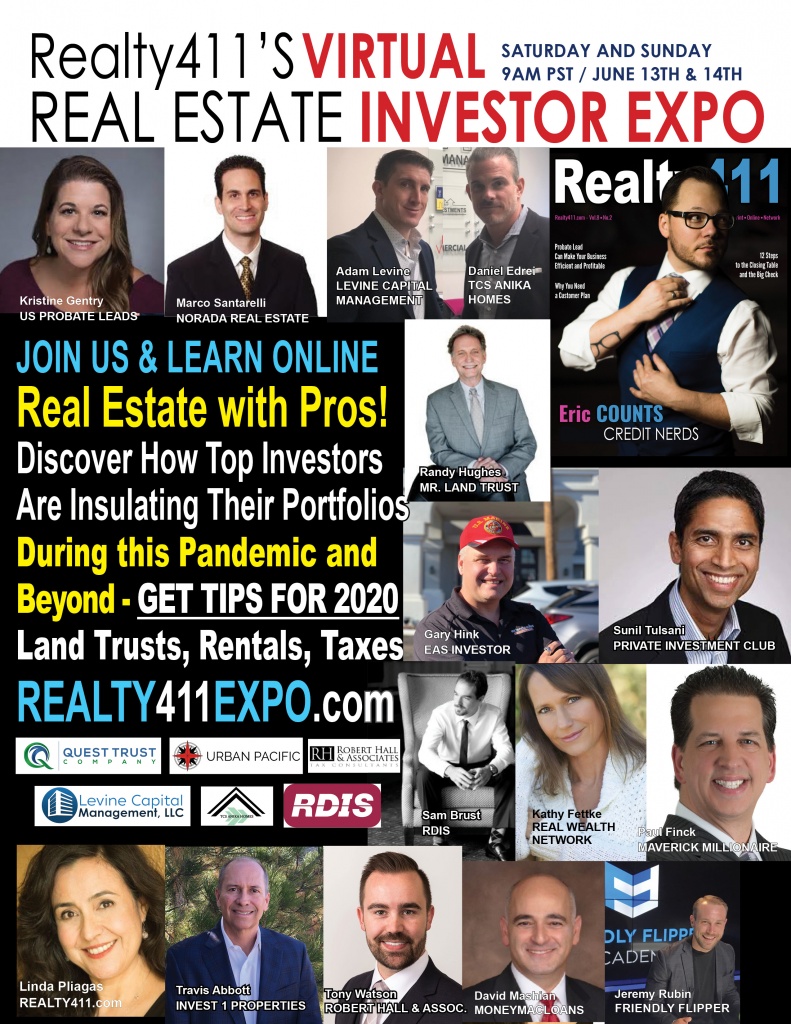 Yes, that's right, we contacted the most successful, knowledgeable, and savvy investors in the industry and invited them to join us for ONE VERY SPECIAL WEEKEND!
These HIGH-LEVEL industry experts are donating their precious time just FOR YOU. They want to help our readers learn time-tested tips and techniques for success.
Why would they do that? Because we know that right now, WE ALL NEED a little extra help and motivation.
Business and markets are rapidly changing, and we all want to make sure YOU keep up with important developments. As leaders in the real estate investment industry, we all want to do our part to help others.
Here are a few amazing leaders who are joining us:

Kathy Fettke, Real Wealth Network
Randy Hughes, Mr. Land Trust
Marco Santarelli, Norada Real Estate
Adam Levine, Levine Capital Management
Travis Abbott, Invest 1 Properties
Sunil Tulsiani, Private Investment Club
Paul Finck, The Maverick Millionaire
Eric Counts, Credit Nerds
Quest IRA, Self Directed IRA Company
RDIS – Ross Diversified Insurance Services
Kristine Gentry, US Probate Leads
Gabriel Hink, EAS Investor
And many, many more!
Folks, you simply do NOT want to miss this phenomenal weekend of education, networking and fun… all in the comfort of your home!
Do you want to SKYROCKET your real estate portfolio without the commitment of expensive training? Would you like to apply strategies to see results in your business QUICKLY? Are you tired of joining "educational webinars" only to get lured into buying outdated training?
We can help you pivot the real estate investing space to your advantage. Realty411 has assisted thousands of our magazine readers keep ahead of the curve since 2007.