Join Us for Our 3rd Lone Star State Expo
* REGISTER TODAY – For Assistance in Registering Your Team or Group or Sponsorship Information, please contact us at: 805.693.1497 or 310.994.1962
In tradition with our first Lone Star Expo, this event will be used as a forum to spotlight a local charity. Stay tuned for more information. Thank You!
This COMPLIMENTARY EXPO is Designed for YOU, to Help You BUILD Collaborations with Industry Leaders. HOWEVER, do not delay as we only have 200 FREE tickets available!

VENUE:
HILTON ARLINGTON
2401 E Lamar Blvd, Arlington, TX 76006
BACKGROUND:
Our event in Arlington, Texas is scheduled for August 12th, 2017
The last Lone Star event united HGTV Star Clint Harp from the hit show FIXER UPPER, as well as notable speakers, such as Kent Clothier, Sr., Dennis Henson, Dolf de Roos and many others. This year we are excited to learn from the mother-daughter rehabbing duo on HGTV's GOOD BONES.
DON'T DELAY – RESERVE YOUR TICKETS NOW AS WE ARE LIMITED TO FREE TICKETS TO ONLY THE FIRST 200 GUESTS!
Don't miss the opportunity to network and mingle with TOP INVESTORS from Texas and guests visiting from California, Arizona, Arkansas, Florida and more.
REALTY411, the longest-running real estate investor media and expo company owned by the same California owner/agent, is celebrating a brand new issue and a 10-year anniversary.
A new year and new administration is upon us and savvy investors want to forecast what's in store for them in 2017, and the next four to eight years.
Hosting this community and family-friendly FREE expo is REALTY411, (http://realty411expo.com) the longest-running media and marketing company in the real estate investor space. Since 2007, REALTY411 has been positively impacting the REI industry by sharing important real estate knowledge through their publications, national expos, podcasts, and webinars.
Additionally, this all day expo, which will be promoted in local media, as well as to national investors, will attract guests and company sponsors from around the country, including: Florida, Arizona, Texas, Arkansas, Nevada, Georgia and more. Expo guests will enjoy multiple breakout sessions so they can choose which topic they wish to learn about. The ballroom has been reserved for this fantastic networking expo and mixer, and complimentary coffee and pastries will be served to early-bird guests.

REALTY411 (http://realty411Magazine.com) is celebrating its brand new publication, as well as an anniversary of three years in producing their digital issue, REI WEALTH (http://reiwealthmag.com), a monthly interactive publication. As one of the most prolific publishers in the real estate investment industry, REALTY411 has dozens of events on schedule for 2017, as part of their national tour to celebrate a decade in business.
LEARN FROM LAST YEAR'S KEYNOTE SPEAKER: Clint Harp from HGTV's FIXER UPPER

We videotaped Clint's entire presentation for your to learn from, CLICK HERE
GET EXCITED ABOUT THIS EVENT – CHECK OUT OUR LAST YEAR'S PROMOTION:
LISTEN TO A RADIO PROMO ABOUT OUR EVENT HERE!!!
Special Thank You to Our Event Founder Dennis Henson, Director of the Arlington Association of Investors (AREA)
FEATURING AN INCREDIBLE LINEUP OF SPEAKERS!
Expo Discussions Include: Commercial & Residential Real Estate * Private Lending * Raising Capital * Networking Tips to Grow Your Influence * Strategies to Increase ROI * Gain Perspectives on TOP Local & National HOT Markets * Fix & Flips * Buy & Hold + Wholesaling, Mobile Homes, Credit Repair, Investing in Land, Notes & More.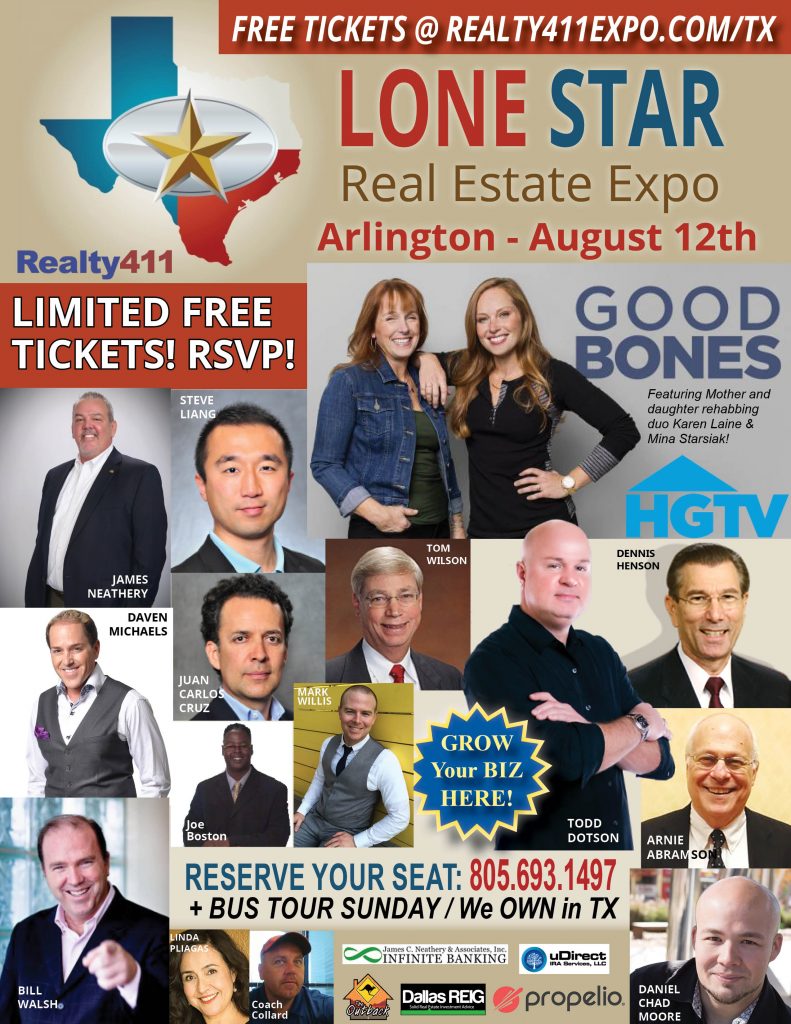 YOUR NET WORTH IS EQUAL TO YOUR NETWORK
We are hosting this event to help increase your contacts and to further your potential in this industry, so don't miss out!
Also, Inside Our Publications Discover FINANCE Leaders to help you close more transactions.

Join Us to Learn About These Companies and More!
ALSO JOIN OUR BUS TOUR ON SUNDAY!
Sunday's Bus Tour will Focus On:
Why are the DFW & Texas economies so attractive?
How to select the best property manager
Are commercial syndications right for you?
What are the best investor loans that are available?
How does a turnkey provider greatly reduce your risk?
How the experts select the best areas and products to invest in?
FOR MORE INFORMATION ABOUT THE BUS TOUR FOR NEW AND SOPHISTICATED INVESTORS, PLEASE CALL: 805.693.1497
– LEARN MORE ABOUT THE BUS TOUR AT OUR SATURDAY NIGHT VIP DINNER –
ALL EXPO GUESTS ARE INVITED TO OUR AFTER-EXPO PRIVATE VIP DINNER TO WRAP UP AN EXCITING DAY! MANY SPONSORS AND GUESTS WILL JOIN US.
Meet us at Saltgrass Steakhouse (Address: 2200 E Lamar Blvd, Arlington, TX 76006) right after the expo at 6:30 pm on Saturday, Nov 12th, for expanded networking, plus enjoy a luxurious meal. Upgrade your expo experience for only $59 and you will have the opportunity to get up close and personal with your favorite speakers and expo guests.
To learn more information about this amazing Saturday Expo and Post-Expo Dinner and Special Sunday Property Tour showcasing a variety of properties in the DFW area, call 805.693.1497 today!
Our readers have already purchased millions of dollars worth of investment properties in the Lone Star State. Discover why this is one of the best real estate markets.
~~~~~~~~~~~~~~~~~~~~~~~~~~~~~~~~~~~~~~~~~~~~~~~~~
Learn from the Top Names in Real Estate and Celebrate Our Publications! Mingle & Network with Awesome Companies from Around the Nation at the Largest and Still Absolutely Free Real Estate Expo in Arlington. Learn from Our TOP Educators Joining Us from Both Locally & Around the Country!
Create Massive Shift – Begin Your Journey to Real Estate Success
Learn from Local and National Leaders Who Can HELP YOU Grow Your Portfolio, Such as:
JOINING US DIRECT FROM LAS VEGAS, NEVADA, BEST-SELLING AUTHOR AND ENTREPRENEUR, DAVEN MICHAELS
Daven Michaels is a best-selling writer and entrepreneur. He is known for his New York Times best-selling book Outsource Smart: Be Your Own Boss … Without Letting Your Business Become the Boss of You, published by McGraw Hill.
Daven Michaels started his first entrepreneurship project at the age of 15, a company that designed clothing for several established bands in the 1980s and 1990s, some of which aired on MTV. In 1987, Michaels started a telecommunications company, which expanded to 60 cities in the United States before being sold.
In 2006, Michaels founded 123Employee, an overseas outsourcing firm based in the Philippines that offers virtual assistants to small and medium-sized businesses. Daven is going to be teaching how to take your real estate investing career to the NEXT LEVEL the easiest way possible… by delegating as much as possible to the best people you can hire for the most reasonable rates possible.
Bill Walsh – Entrepreneur Venture Capitalist –World Renowned Speaker
Successful Entrepreneur
Marketing Expert
Radio, Internet and Television Celebrity
Bill Walsh is the CEO/Founder of Business Coaching/Venture Capital firm Powerteam International. He delivers a message of transformation and practical applications through life stories that empower people to understand specifically what it takes to build successful companies.
As an accomplished author, speaker, radio personality and movie celebrity, Bill has the background to connect instantly with the audience by sharing the mindset, methods and systems required to win really big in the current economy!
For everyone that owns a business or would like to capitalize the entrepreneurial dream his message will enlighten them with knowledge and action principles to turn that passion into success!
Bill has an extensive background in foreign currency trading, real estate development and building business in more than 30 countries. Over the past two decades, his firm has specialized in helping companies launch, grow and create exponential valuation in the market.
The Rainmaker Summit and WIN University programs offered through Powerteam are designed to assist entrepreneurs in creating the focus, plans and partnerships required to build multi-million dollar companies!
DISCOVER THE LATEST IN REAL ESTATE TECHNOLOGY WITH MLS DEAL FINDER AND FASTCMA.CO
>> Special Topic: Intelligence in Real Estate Valuations
Real estate valuation is one of the most important part of your due diligence process. The problem is, real estate valuation is complex and extremely time-consuming.
Learn how artificial intelligence in real estate valuations can help you become a much more savvy real estate investor, and how it can help you unearth opportunities previously overlooked by everyone else.
PLUS: MEET LOCAL LEADER DANIEL CHAD MOORE from Propelio
At the age of 23, with nothing but determination, Daniel Moore bought his very first investment property. He has since taken those lessons learned and by the age of 28 became a full time investor. In 2014 Daniel teamed up with his business partner Nate Worcester to create a software service company with one goal in mind – to help other investors grow. The result of their combined efforts is the most powerful real estate automation system ever created – Propelio.
LEARN FROM STEVE LIANG, CO-FOUNDER, SALES & MARKETING
A Physicist Converted to an Expert in Residential Home Data and Valuations
Steve Liang is a cofounder of MLS Deal Finder, a fast-growing software company focused on creating innovative automation solutions to real estate valuations.
Steve is a huge advocate for intelligence augmentation, and bringing automation to improve every aspect of our day-to-day life. He has been a speaker in multiple national conferences, most recently the Five Star Conference Force Rally.
After graduating from UC Berkeley and UCLA with distinctions, he worked for several Fortune 100 companies, and is an expert in project management, operations, business strategy and execution. His goal is to take MLS Deal Finder to the global level, bringing accurate and up-to-date real estate valuation to billions of users in the world.
LEARN FROM JUAN CARLOS CRUZ, ENTREPRENEUR/BROKER & CMA EXPERT
Juan Carlos Cruz is an entrepreneur, real estate broker, and CMA expert. In 2002, he successfully sold his Yellow Page business as a platform investment to a PEG, which took the company nationwide.
After the venture, he became a residential real estate investor and did about 200 deals buying and selling real estate investments. To be a successful investor he had to do thousands of CMAs. Over the years he has focused on creating algorithms and computer systems to automate and improve the creation of CMAs.
He has become a national expert in the CMA and AVM (Automated Valuation Analysis) work. He has been able to understand how computerized systems can better assist the real estate agent / investor / consumer to increase productivity.
JAMES NEATHERY – CEO, James C. Neathery and Associates
James Neathery specializes in providing strategic financial advice based on decades of research and experience in the fields of finance and economics. James is a disciple and student of R. Nelson Nash, the creator of the Infinite Banking Concept™. He is also a student of the Austrian school of economics.
James holds several designations, maintains multiple affiliations and is active in the financial services industry. He has been in the life insurance industry for more than 24 years, has been educating clients and personally practicing the Infinite Banking Concept™ for nearly a decade.
James C. Neathery & Associates, Inc. has provided sound, successful advice to thousands of clients. Over the years he has helped them protect millions of dollars in wealth and assets through several boom and bust cycles in the U.S. economy.
James is the Executive Producer of the best-selling documentary on the Infinite Banking Concept, Banking With Life. The powerful information in this film is being used by financial professionals across the country to educate their clients on how to take control of their money by solving the banking equation in their lives.
Learn from Tom K. Wilson, a California Investor Who Built His Eight-Figure Portfolio in the DFW Market!!
Tom K. Wilson is a five-decade investor who began building his personal real estate portfolio in the 70's. He first invested as a part-time activity, and then after thirty years managing manufacturing and engineering in some of Silicon Valley's pioneering technology companies, he put his business and management experience toward full-time real estate investing.
Since then Mr. Wilson has executed over $120M and 2,500 units of real estate investment transactions, including 7 apartment buildings, 4 commercial properties, 3 condo conversion projects, 7 syndications, over 500 house flips, and has many long term hold units in his personal portfolio.
One of his businesses is Wilson Investment Properties, a company that provides high quality residential and commercial properties to investors. Active in real estate associations, Mr. Wilson is a frequent speaker on real estate investing where his candor and competency makes him an audience favorite. As part of his outreach, Tom provides mentoring to new investors.
Mr. Wilson is also a weekly radio host of Real Estate Radio LIVE on San Francisco's KDOW 1220 am every Wednesday at 2 pm and his programs are also podcasts on his website (tomwilsonproperties.com), iTunes, and YouTube. Tom and his wife of 47 years, Weegi, are long time residents of Saratoga where they are active in their local church and community.
Joining Us from Our Texas: Todd Dotson!
Todd Dotson of Arlington, Texas is the founder of TIER ONE Real Estate® and the Nation's foremost authority on Getting In, Getting Out and Getting Paid. Todd brings a reality-based approach to the business of real estate investing with an emphasis on "buying and selling" to create immediate cash and a system for parlaying that into wealth.
As the developer of the Industry's first On-Site Mentoring Program, Todd and his team have the unique advantage of having mentored students in every major market in the United States – A claim that only he and his team can make! Hands on experience allows him to seamlessly combine wholesale buying and purchase option strategies -Anywhere, USA, because in the end "The Checks Don't Lie!"™
Mark Willis, MDiv, CFP® – Bank on Yourself Authorized Advisor
Lake Growth Financial Services is your proven partner for meeting the financial challenges in your life, by providing financial strategies and solutions that match your hopes and dreams.
We work with individuals and business owners who want to create wealth in a safe and predictable way, and become their own source of financing.
Everything we do provides our clients with a certainty and confidence to meet their financial goals without taking unnecessary risks.
Justin Ford – Difference Maker, Champion, Entrepreneur, Leader, Visionary
From struggle to success, Justin Ford truly lives the saying "It's not how to start but how you finish." At the age of 19, with his life in disrepair, Justin made the critical decision to turn it all around. Now at the age of 34, Justin has become a successful Entrepreneur, Business Owner, Real Estate Broker, Investor, Motivational Speaker, TV talk show host, Author, and Mentor. He has earned numerous achievement awards, and demonstrates daily that talent, drive and ambition really do lead to success. Justin also excels as an inspirational youth and marketplace speaker. People can feel his powerful presence when he walks into the room. He wants to make a difference, and he takes that responsibility extremely seriously. Justin's passion and desire to see people rise to success leaves a lasting impact as he challenges all to become the champion they were created to be.
Justin lives in Metro Detroit with his wife and four children. The love and support of his family helps fuel his passion for success in all avenues that he pursues. In his spare time, Justin loves to travel and donate his time to The Positive Zone Project Foundation, which empowers high school students through character education and leadership development, while providing tools for building successful lives.
AND MORE!
LISTEN TO A RADIO PROMO ABOUT OUR EVENT HERE!!!
REHABBING WITH HARD MONEY:
DISCOVER THE POWER OF LEVERAGE!
Learn the Difference Between Tax Liens vs Tax Deeds– Hype vs Reality with renowned investor Arnie Abramson!
What are the UNKNOWNS? How to make them KNOWN
What about Redemptions? Learn Everything About Tax Leeds Here!
The "resource group" is comprised of individual investors that have been investing in income producing real estate in Texas for many years. We have years of experience in all phases of real estate including tax sales since the early 1990's.
Be sure you get your information about Texas tax sales straight from 'the horse's mouth" and not from out-of-state gurus who do not know about Texas sales first hand!
Arnie Abramson, founder of Texas Tax Sales Resource GroupThe "resource group" is comprised of individual investors that have been investing in income producing real estate in Texas for many years. We have years of experience in all phases of real estate including tax sales since the early 1990's.
Be sure you get your information about Texas tax sales straight from 'the horse's mouth" and not from out-of-state gurus who do not know about Texas sales first hand!
Arnie began buying tax sale properties in 1992. For many years afterwards he was a buyer, seller, landlord, and teacher/speaker on all phases of real estate investing primarily in the Dallas-Fort Worth Metroplex and surrounding areas.
Don't Miss Arnie's Presentation – BE SURE TO STOP BY HIS BOOTH TO SAY HELLO!
~~~~~~~~~~~~~~~~~~~~~~~~~~~~~~~~~~~~~~~~~~~~~~~~~~~~~~~~~~~~~
Meet Author Rebecca Rice and Discover her "Living Benefits" Strategy
At age 37 Rebecca Rice suddenly became single with three small children. Without any source of income, Rebecca faced food scarcity and homelessness. "I know what it's like to be without," Rebecca said. "I made it my goal to never let that happen again."
She started working—and worked hard! She learned and advanced to the point where she started her own business. Along the way, she kept that passion for financial security for herself and for her clients. "I was drawn to financial services because it's such a concrete, specific way to prepare for the difficulties life throws at you," Rebecca said. For 24 years she read and studied books, journals, newsletters, and the leading trends to best help her clients secure their financial future.
In 2003 Rebecca discovered Nelson Nash's book, Be Your Own Banker. She stayed up all night reading it. It just didn't seem possible. So she asked her CPA to read it. He had never heard of the strategy either. Together they tried to punch holes in the theory behind Nash's book. They ran the numbers. They ran the numbers again. And it worked! When her CPA called and said he wanted to set up four accounts for his family, she knew they were on to an amazing secret. How could she not have known about this incredible wealth-building strategy before now?
Rebecca fully used this "Living Benefits" strategy. She tried it herself and found success. She used it more and more. To date she is fully vested in this strategy and has the comfort, control, and peace that financial security brings. As of 2014, Rebecca has written over 3,000 uniquely designed policies. She's gained certification in the knowledge and application of "Living Benefits" strategies. She's used the "Living Benefits" for herself and her clients in every way possible. She stands as the go-to expert for the "Living Benefits" strategy.
ARE YOU A VIP REALTY411 MEMBER YET? IT'S FREE CLICK HERE
No matter what, please mark your calendar so you don't miss out on this fantastic real estate and finance expo. Our goal is to provide fantastic resources to help you learn about real estate or grow as an investor. We know your time is valuable, so we have wonderful books, magazines, and other gifts to give away.
Close the year off right with spectacular networking!!! Build NEW friendships and business collaborations with some of the industry's TOP Leaders. Plus, guests will discover new resources to FUND deals. Joining us are incredible speakers, sophisticated investors, and VIP Industry Leaders from across the country.
LISTEN TO A RADIO PROMO ABOUT OUR EVENT HERE!!!
Meet Powerful Leaders! Here is our speakers from last year:
Phil and Shenoah Grove, REI Matcher
Ben Caballero, USA Homes, Inc.
Ben is the #1 Sales Agent in the U.S.!
Reggie Brooks, Teaches Probate
Dennis Henson, Single Family Fortunes
Nick Malis, Fortune DNA
Brad Sumrock, Multifamily Investments
Arnie Abramson, Discover Tax Liens
Anthony Patrick, New Harvest Ventures
Tom Wilson, Investing in Texas from CA
Randy Hughes, Mr. Land Trust
Pat James, Learn How to Reduce Taxes
John Jackson, Creative Lease Options
Kaaren Hall, uDirect IRA Services
Joe Boston, Dallas REIA
Tim Herriage, 20/20 REI Companies
Gene Guarino, ALF Academy
Todd Dotson, Get In, Get Out, Get Paid!
Pam Blanco, PamTexas.com
Colony American Finance and More!
Save
Save
Save
Save
Save
Save
Save
Save
Save
Save
Save
Save
Save
Save
Save
Save
Save
Save
Save
Save
Save
Save
Save
Save
Save
Save