SB REIA & REALTY411 REAL ESTATE EXPO IN THE "AMERICAN RIVIERA"
Celebrate Real Estate Investing in Santa Barbara,
located in the Beautiful Central Coast of California
Realty411 is a California-based real estate investment magazine owned since 2007. Our mission is to expand knowledge of real estate investing so that more individuals can benefit from the life-changing benefits that owning rental real estate can provide.
We are based right in the Central Coast of California, so come join us as we network and honor the important work of the Santa Barbara Real Estate Investor's Association.
REAL ESTATE EXPO & NETWORKING MIXER AFTER THE EVENT.
SUCCESS is not all about work! SUCCESS IS A LIFESTYLE – A way of life…
Enjoy the Lifestyle in Santa Barbara – Join Us!
DATE:
Saturday, August 31st.
VENUE:
Courtyard by Marriott Santa Barbara/Goleta
401 Storke Road | Goleta, CA 93117
Coffee, Pastries, and Appetizers will be provided.
Enjoy this wonderful complimentary event. See you there!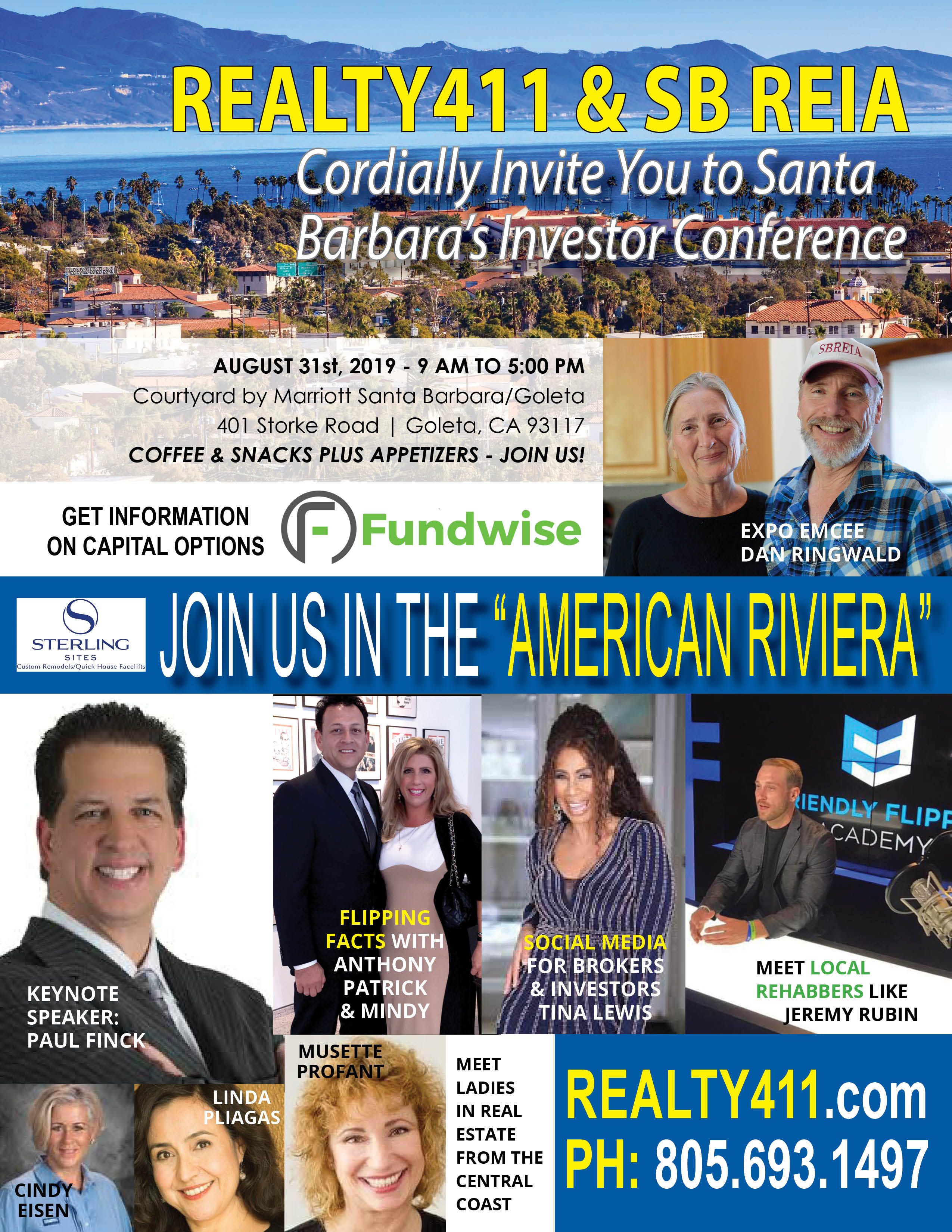 OUR KNOWLEDGEABLE GUESTS INCLUDE:
Paul Finck – The Millionaire Maverick – If you are ready to take your real estate portfolio and life to a new level, then don't miss Paul's life-changing presentation.
Anthony Patrick, New Harvest Ventures – Learn from Local Rehabbers who are doing numerous transactions in Southern California.
Jeremy Rubin – The Friendly Flipper is ready teach you how he left his corporate job for the thrill of full-time flipping.
Mussett Profant – Sterling Sites – Discover the best way to maximize your rehab budget with this renowned architect from the local area.
Tina Lewis, our local social media expert, will share some fantastic strategies to significantly expand your social media outreach. This special presentation will focus on social media for Brokers, Agents and Investors!
Meet TOP PRODUCERS as well as PRIVATE MONEY LENDERS from the Central Coast, as well as from throughout Southern California.
Our speakers and sponsors are accessible and want to do business. Ask them questions and get tips from these top-notch professionals.
In addition, one of the publisher's personal brokers, Cindy Eisen, Coldwell Banker, will answer questions about the local market and some of the creative strategies she has seen in her long-standing career in real estate.
PLUS THIS SPECIAL EVENT HONORS DAN RINGWALD WITH SBREIA.
Meet your local Real Estate Investor Association director, Mr. Dan Ringwald and his wife Maria. Running the REIA is a family affair for Dan and his family, as he has been assisted by his son Michael as well. Learn more about all of our amazing speakers below.
SPEND THE WEEKEND IN BEAUTIFUL SANTA BARBARA AND MAKE GREAT CONNECTIONS FOR YOUR REI BUSINESS!!!