After 15 years, Realty411 is still constantly growing and expanding. We reach thousands of readers in print and online around the nation — and the world.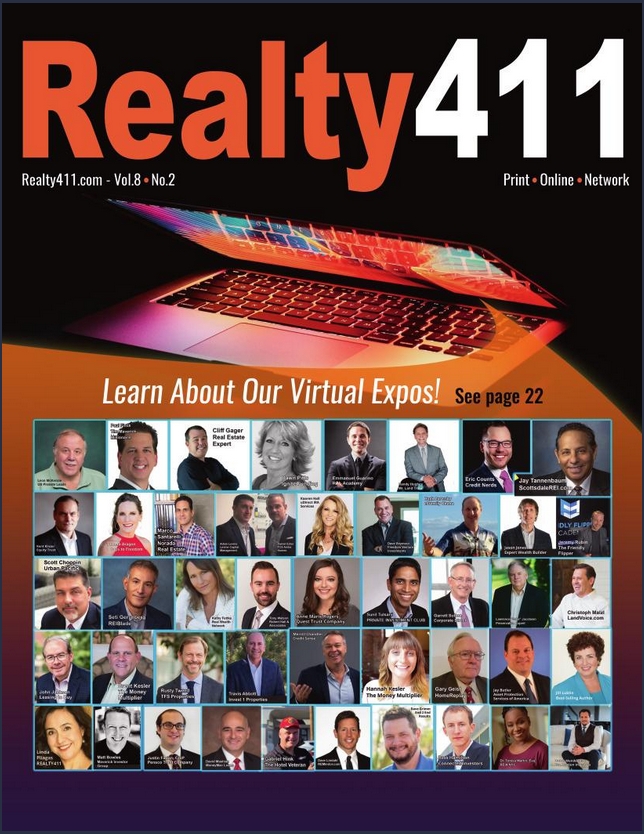 Currently our social media outreach is one of the largest of any real estate media company, reaching investors on multiple websites and with numerous brands.
Our last virtual event promoted on LinkedIn (February 2022) had over 4,100 RSVP engagements on that platform alone. Our digital magazines have reached up to 40,000 readers per single-copy issue.
We are happy to share proof of statistics with companies seeking verification. We provide multimedia marketing for companies interested in reaching our loyal followers and readership base in print, online, via email, or in person at one of our live events.
Reaching investors personally is important for Realty411. Our numerous events went virtual during the pandemic, which exponentially grew our database of investors around the nation and globe. Our outreach is viral and extensive reaching new and established landlords, real estate groups, real estate professionals, private lenders, and niche real estate investors.
We specialize in real estate news, marketing and education. We have been proudly sharing our knowledge since 2007.
Please contact us for advertising and marketing information so that we can learn more about your company's needs, budget restraints and focus/goals. BOOK A MEETING with a Realty411 representative for a complimentary marketing and advertising review.
We have two long-standing publications: Realty411, plus our issue designed for online readership: REI Wealth magazine, which is now also in print. Please read our "Testimonials" page to review the comments of our many long-term clients. Thank you for your interest in our media and marketing company.
For advertising information, please phone us directly: (805) 693-1497 or text us: 310.994.1962. You can also reach us via email: [email protected]. Alternatively, you may also contact us via Drift on this website. We will respond to your inquiry as quickly as we can.

Thank you for your interest.
Linda Pliagas, publisher
BOOK A MEETING with a Realty411 representative for a complimentary marketing and advertising review.
---
Save
Save
Save
Save
Save
Save