Nearly 1,000 guests have registered for Realty411 Expos across the nation. The expositions, which have already reached nearly 900 people in 2015, elevates Realty411 Magazine as a leading publication that reaches their readers in person.
The company started the year off in January by hosting a VIP mixer mastermind in Beverly Hills, Calif. One of their most popular events was their popular Orange Country Real Estate Investor Finance and Tech Expo in Newport Beach, which thus far had the most attendees with approximately 400 guests.
"It's exciting to meet our readers, fans and social media followers in person," says Linda Pliagas, founder of Realty411. "I've had the opportunity to visit phenomenal cities and speak with investors in person to find out what their needs and questions may be."
Realty411 Expos (http://realty411guide.com) have hosted events in spectacular cities, such as: Manhattan, NY; Phoenix, Ariz.; Seattle, WA; Las Vegas, NV; San Jose, Calif., and more.
Some of the topics that have been discussed at the complimentary expos, include: crowdfunding, wholesaling, private finance, fix and flip investing, buy and hold strategies, local real estate, out of state investing, credit optimization, insurance protection, notes, tax liens, asset protection, taxes, and more.
The community events are sponsored by leading companies and educators, and often times, the expos have also doubled as fundraisers for non-profit organizations, such as The Los Angeles Rescue Mission, the San Deigo Rescue Mission, NARF – Nike Animal Rescue Foundation, the Women's Transitional Living Center in Orange County, among others.
Realty411 will produce a whopping 15 events in 2015, more than any other media and marketing company in the REI industry, which is helping them reach their goal of reaching nearly 2,000 people this year.
Although the company hosts the most events in the industry, the publisher's 22-year media expertise, plus their marketing skills and creative business philosophy has allowed them to do more with less staff and overhead, which equates to more reasonable pricing for their clients.
Pliagas currently oversees a small office in Santa Barbara County, as well as a virtual staff of freelancers scattered around the country. The company has also employed freelancers abroad, allowing them the flexibility to hire as needed and save thousands of dollars over the years.
Because of the number of events produced, Pliagas is frequently contacted by real estate group directors, leaders and industry companies about their own events and receives requests to co-produce real estate expos around the world. She has also consulted with other expo companies and given them advice on how to successfully market their own events. Realty411 also frequently works with REIA clubs for their events so that guests can keep learning and growing with local resources.
For the rest of the year, Realty411 is working with other real estate club directors to produce joint events in Napa Valley, Calif., (BAWB); Manthattan, NYC (REIA NYC); and Arlington, Tex. (AREA).
Although Realty411 has been conservative in its approach to business operations, the company foresees a drastic jump in the number of events produced in 2016 and is currently preparing for such by seeking out larger office space to accommodate additional staff. The company is also diversifying their advertising and sponsorship-based business by adding new divisions, which compliment their existing media and marketing company while providing additional real estate-related services.
For information about Realty411 Magazine's Expos, visit:
http://Realty411guide.com/EVENTS
or call: 805.693.1497
or our 24/hour info line: 310.499.9545
________________________________________________________
STOP EVERYTHING & RSVP TODAY!!!
Don't miss Realty411's Los Angeles Real Estate Investors' Expo on Saturday, Sept. 19th at the Embassy Suites near LAX. With over 400 people already registered, this complimentary expo will stand out as the largest real estate expo in Los Angeles County this year.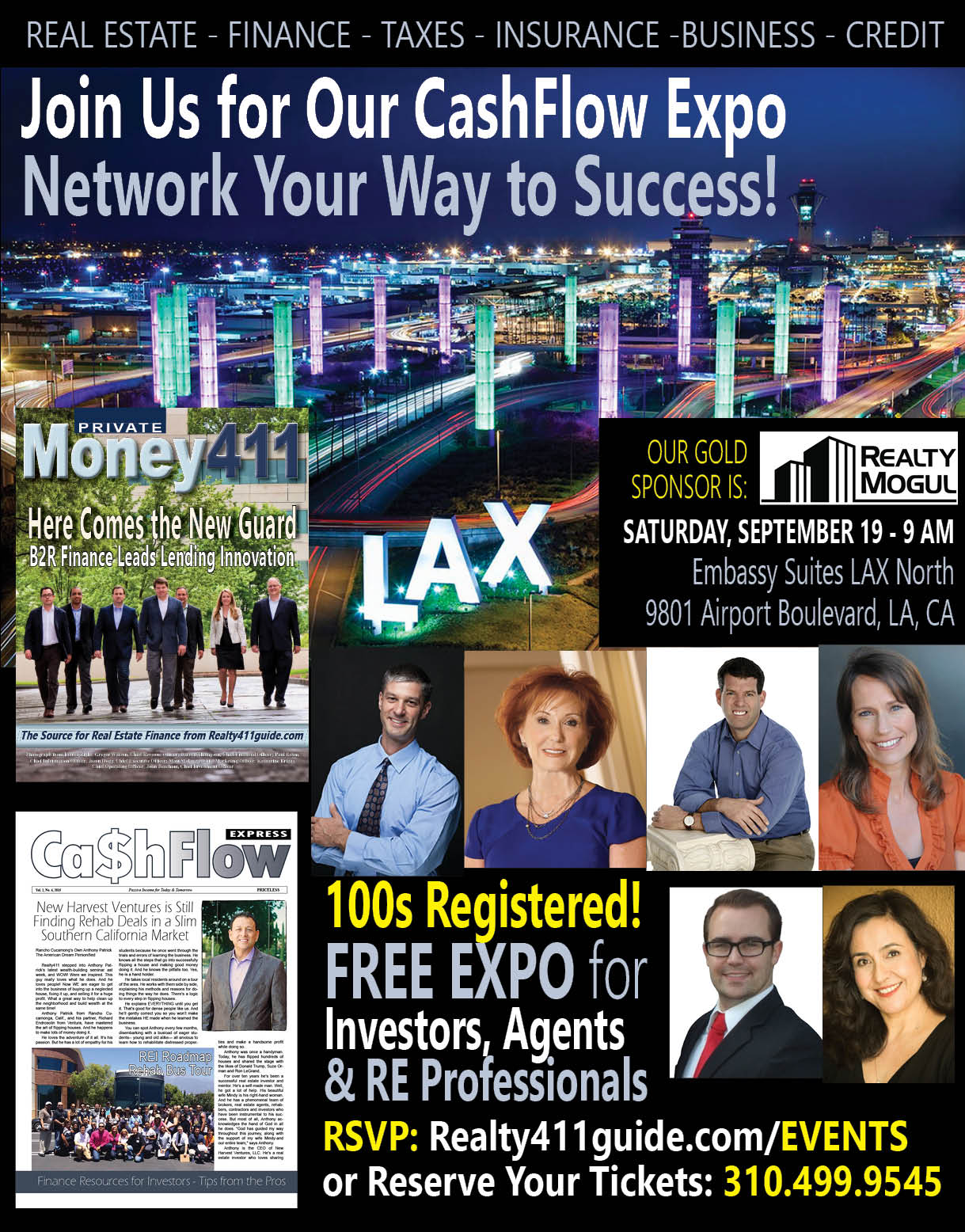 Join real estate investors, realty professionals, and entrepreneurs who are truly Passionate about Real Estate. Speakers/Sponsors include: B2R Finance, LifeWay Advisors, Black Belt Investors, Realty Mogul, Credit Sense, Growth Equity Group, Robert Hall & Associates, Real Wealth Network, ALF Training Academy, Homevestors, U.S. Tax Relief, Reggie Brooks, Zinc Financial, Prosperity Through Real Estate, The Funding Warehouse, uDirect IRA Services, Synergy Financial Partners, SocialZing, and more!!
All guests will receive copies of Our Print Publications! Be sure to mark your calendar to join us to Celebrate 2 years of our online magazine, REI Wealth Monthly! You will not want to miss this expo reaching hundreds of people.
For information about Realty411 Magazine's Expos, please visit:
http://Realty411guide.com/EVENTS
or call: 805.693.1497
or our 24/hour info line: 310.499.9545