By: Kathy Kennebrook, The Marketing Magic Lady
Getting motivated sellers to contact you first is essential to any successful Real Estate Investor's business. A truly motivated seller is the key to a good deal; the more motivated the seller, the better the deal. You will find very quickly, as I did, that you will be able to buy a lot more houses at much better prices if you target the right sellers. You will also get the terms you want when the seller contacts you first, especially in some of today's really hot real estate markets. You'll want to target the kind of sellers who truly need to sell as opposed to those who just want to sell, including those sellers in pre-foreclosure.
Marketing to sellers is also a numbers' game. The more motivated sellers you are able to locate, the more motivated sellers you will have contacting you, and the more opportunities you'll have to make good deals. The secret is in learning how to find the truly motivated sellers.
Whom exactly are you going to be marketing to? Motivation comes in many forms. Sellers need to sell for a variety of reasons. Some reasons have to do with the sellers themselves, such as age, health status, job situations, personal situations, financial difficulties, change in family size or change in marital status.
Other reasons might have to do with the property itself, such as an estate, a property that needs too much work, or a property that has been vacant for a significant period of time. This would also include land lords who have simply had enough of tenants damaging their properties over and over again.
So how do you find these sellers and how should you market to them? The best way I've found to do this is by using at least three to five different marketing strategies at all times. One of the multi-pronged marketing approaches is the proper use of direct mail to reach these very motivated sellers. You always want to be reaching your market in a variety of different ways to draw the highest number of motivated sellers to you.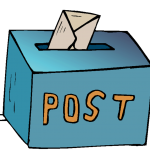 The BIG secret to effective direct mail campaigns is to use them over and over to the same potential sellers. As you will quickly discover, given time, almost every potential sellers' circumstances change and make them more ready to sell.
I also find that these mailings are very residual. These potential sellers will hold onto your direct mail pieces until their circumstances dictate that they contact you, especially since they probably have not had any contact from anyone else, because usually their properties are not being actively marketed.
Since they are not being actively marketed, there is virtually no competition for these deals. And… if you take the time to actively follow up with your direct mail campaigns and with your sellers, these sellers will contact you first when they need to sell, even if they have been contacted by someone else in the meantime.
This makes it even easier for you to make a good deal. In addition, during the time you have been mailing sequentially to these potential sellers, you continue to build credibility with them. This will give you a significant advantage over your competition, since these sellers feel they already have a "relationship" with you.
The biggest part of the secret is to find the sellers who really want to sell. I use different direct mail campaigns to successfully locate several types of motivated sellers depending on what kind of deals I am specifically looking for in my business. The best way for you to build your business quickly is to use a number of different methods to draw motivated sellers simultaneously.
This can best be done by locating mailing lists and refining them to meet your specific criteria, and then mail to them over and over, cleaning your lists as you go. I find that I get the best results by mailing to my lists at least every sixty to ninety days. This is very easy to do if you implement a follow up system which will help you to track your mailings and your deals.
You'll also quickly discover that different types of direct mail pieces and lists work better in some parts of the country than in others. Some of these lists might include mailings to out of state property owners, burned out land lords, quit claim deeds, military transfers, estates or pre-foreclosures. These are all sources of highly motivated sellers.
Be sure to give your potential sellers several different ways to contact you such as mail, e-mail, fax, phone and a website. The more ways you give these sellers to contact you, the more of them will contact you, especially when you make it more convenient for them by giving them several ways to reach you. This way they can contact you in the way that is the most comfortable for them and at their convenience.
When you learn how to get motivated sellers contacting you and then learn how to purchase properties using a number of different methods, the possibilities become almost endless. If you use several different methods to get motivated sellers contacting you, you will have more opportunities than you can even imagine. You get to pick and choose the deals that you want to do! Because you get to pick and choose the deals you want to do, you can also pick the exit strategy that most suits your needs, such as wholesaling, renting, selling or lease/options. There is no other marketing strategy that gives you this much control over your deals.
In addition, in today's market, since so many folks are focused on pre-foreclosures, there is a whole other market of sellers who need our help as well, like divorces, estates and probate, military transfers, burned out landlords and Spanish Speaking homeowners. These are just a few of the types of sellers we need to be concentrating on to create great deals, including those that come with owner financing.
Using direct mail campaigns to market to motivated sellers and developing a "cookie cutter" system to accomplish this is one of most affordable, reliable, and effective ways that I know to build your business quickly and have more qualified motivated sellers contacting you than you will be able to handle.
For more information on Kathy Kennebrook's marketing tools to find all the motivated sellers and lenders you need for your real estate investing business go to Kathy's website at www.marketingmagiclady.com. While you are there be sure and sign up for her monthly newsletter and receive $149.00 of real estate tools absolutely FREE!!
Kathy Kennebrook
Kathy Kennebrook
Dagger LLC
P.O. Box 14343
Bradenton Fl 34280
941-792-5390
941-795-6887 (fax)
[email protected]
Kathy Kennebrook is the ultimate success story. She spent several years in the banking industry before discovering the world of real estate. After attending some real estate seminars this 4 foot 11 mother of two got really excited and before you know it she'd bought and sold hundreds of properties using none of her own money or credit.
Kathy holds a degree in accounting and has co-authored the books- The Venus Approach to Real Estate Investing, Walking With the Wise Real Estate Investor, and Walking With the Wise Entrepreneur which also includes real estate experts Donald Trump, Suze Orman, Robert Kiyosaki, and Dr. Wayne Dyer. She is the nation's leading expert at finding highly qualified, motivated sellers, buyers and lenders using many types of direct mail marketing. She is known throughout the United States and Canada as the Marketing Magic Lady. She has put together a simple step-by-step system that anyone can follow to duplicate her success.
Kathy has been speaking throughout the country and across Canada for over 14 years and has shared the stage with Ron LeGrand, Donald Trump, Dr. Phil., Dan Kennedy, Mark Victor Hansen, Ted Thomas and Suze Orman to name a few.
Kathy is going to share with you how she generates a seven figure income by mailing a handful of letters throughout the year to highly selected targets by knowing exactly what to send them, who to send them to and exactly how to deliver her message. She will teach you the secrets of pre-screening and automating your marketing and follow up systems to put your entire Real Estate business on auto-pilot.