Oct
31
Sun
2nd Annual Los Angeles Real Estate Grand Expo – Investing in a Post-Pandemic World

@ Skirball Cultural Center
Oct 31 @ 9:00 am – 6:00 pm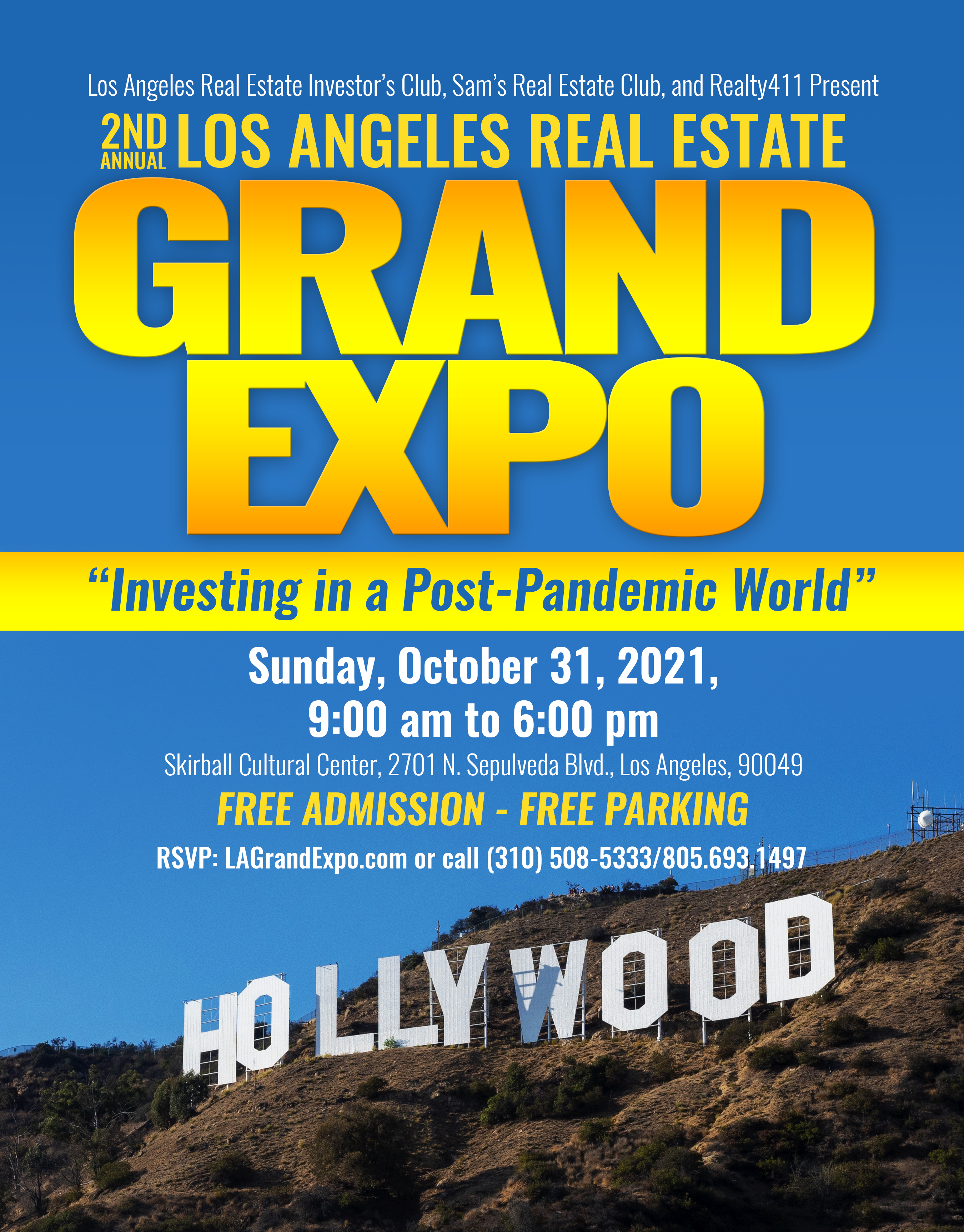 Please join us on Sunday, October 31, 2021 9:00 am to 6:00 pm, for our "Annual Los Angeles Real Estate Grand Expo." The theme of this year's Grand Expo will be "How to Invest in a Post-Pandemic World." Our Grand Expo will be presented by the Los Angeles Real Estate Investors Club, Sam's Real Estate Club, and Realty411. An entire day celebrating real estate investing and you can be part of it. There will be twelve national guest speakers (in breakout sessions), and a Vendor Expo area (the size of a hockey rink!) with over 60 real estate related vendors. Best of all, this Grand Expo will be FREE to attend.
Our economy is finally sliding out of a disastrous pandemic. Given the challenging real estate climate, this is no time to go in it alone. In a transitioning market like this one, you need experienced and resourceful experts who can teach you how to adapt investment strategies to current conditions. That's why the theme of this year's Annual Los Angeles Real Estate Grand Expo is "How to Invest in a Post-Pandemic World."
Our unique selection of national speakers has more than four decades of real estate experience and will be sharing their strategies and experiences on how to adapt post-pandemic. Don't miss this exciting opportunity to rub elbows with the best and the brightest all in one location and all in one day. We look forward to seeing you there!
Don't miss our special "Vendors Expo." The Vendor Expo will be open all day (9:00 am to 6:00 pm). We will have a collection of over 60 of the finest real estate vendors in Southern California, with all of the professional services you will need to become a successful investor, including private lenders, title companies, data services, CPA, escrow companies, building suppliers, title insurance, home inspectors, business credit, tax auctions, Realtor services, hard money lenders, Airbnb, mortgage brokers, 1031 exchanges facilitators, contractors, out-of-state investment opportunities, insurance agents, credit repair consultants, staging companies, and much MUCH more!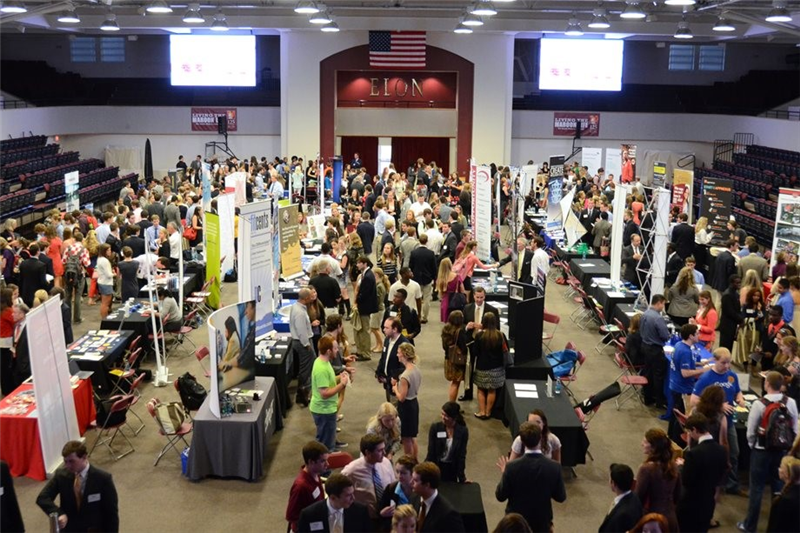 So come early, meet and greet, and expand your "Dream Team" of real estate professionals that are eager to help you succeed. And just like the rest of the Grand Expo, the Vendors Expo will be FREE. But, please RSVP below or call 310-508-5333
TOPICS COVERED INCLUDE:
How to fix and flip houses
How to profit with tax deeds
Where to invest in a shifting market
How to invest in multi-residential apartment buildings
How to buy foreclosures and probates
Be the lender, not the borrower
How to get started investing in real estate
Do's and don'ts when dealing with tenants
How to renovate a house
How to wholesale (assign) properties
And much, much more!
Complimentary Private Consultations
As a special super-duper unique feature of this year's Grand Expo, you can sign-up for private, one-on-one consultations with your favorite guest speakers during the Grand Expo. Registration will begin on Saturday morning, starting at promptly at 8:30 am. First come – first serve. So come early and schedule your private consultations. This is a once in a lifetime opportunity!
If you're like us, you hate real estate gurus who spend their time up-selling products rather than teaching. We understand they need to sell online courses and programs to cover their expenses, and we respect their knowledge. But geez, can't they at least teach us something first before selling us?
Well, this won't happen at our Grand Expo! We have required each speaker to sign a solemn promise that they're going to spend at least 90% of their presentation actually teaching us real estate strategies and techniques. Only then, in the final minutes of their presentation, our speakers will explain what programs and materials they have available for those students that want to pursue that subject in more depth. A fair resolution to all involved, don't ya think!
Nov
4
Thu
LIVE WEBINAR: Overcome Low Inventory & Buy More Properties Now

@ Online/Virtual
Nov 4 @ 12:00 pm – 1:00 pm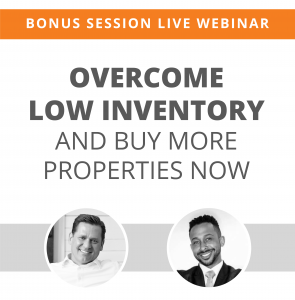 Attention, Realty411 investors, it's time for another complimentary webinar to sharpen your skills and resources.
Be sure to join us at 12:00 noon on November 4th, 2021, to discover ow LandVoice can assist to increase prospects for massive deal flow.
We hope you can join us for this enlightening webinar, sorry a replay will not be distributed later. Be sure to plan ahead and join us live.
Course Description:
Learn proven ways to overcome low inventory right now. This course explores today's most effective strategies to proactively find and connect with motivated sellers. This is an interactive, energetic course with group discussion.
This 1-hr webinar will explore today's most effective approaches to proactively find and connect with motivated sellers in your area.
The LandVoice team will provide actionable steps for consistent lead generation and demonstrate alternative approaches to connect with homeowners to separate investors from their competition. They will be sharing free scripts, downloads, and other resources!
Course Objectives:
• Show investors where to focus their time to buy more properties in the current market
• Provide actionable steps for consistent lead generation
• Demonstrate alternative approaches to connect with homeowners and help investors stand out from their competition
• Present permission-based-marketing that follows DNC rules and regulations
• Share lots of free scripts and downloads
DATE:
November 4th, 2021 @ 12:00 PM PT  
LINK:
https://us02web.zoom.us/webinar/register/WN_f1QENzPwS8CQVS_pYG9hnQ