When:
March 20, 2021 @ 8:30 am – 5:00 pm
2021-03-20T08:30:00-07:00
2021-03-20T17:00:00-07:00
Where:
Your Home or Office

Contact:
Realty411.com
805.693.1497
BREAKING NEWS: Expanded EXPO – Now Two Days!
Be the first to view Realty411's new and improved virtual expo showcasing state-of-the-art technology direct from Silicon Valley – A FIRST IN REI.
Realty411.com, publishers of the longest-running real estate investor magazines, and eZ-XPO, the global leader in all-in-one virtual collaborative technology, proudly announce a joint partnership to produce Realty411's Industry and Investor INTERACTIVE Expo on Saturday, March 20th and Sunday, March 21st, 2021.
This UNIQUE and INTERACTIVE online event will provide real estate investors, brokers/agents/lenders and service professionals a new, tech-driven way of connecting within Realty411.com's "Virtual World." It is one day of MAXIMUM networking and new-age learning.
Beginning at 8:30 am PST on BOTH SATURDAY AND SUNDAY, guests will begin the day by entering into Realty411's "Virtual Conference Hall." In this online lounge, guests can interact live and in real-time via chat, plus video stream with representatives from dozens of companies.
It's all about being INTERACTIVE at this UNIQUE online event. The eZ-XPO technology will make Realty411.com's virtual expos as dynamic and real as they can possibly be. The new platform will also allow guests to choose from multiple speaking sessions happening simultaneously.
In addition, expo guests will be enabled to network directly with "Virtual Exhibitors" and connect via video with each company — privately and in real-time.
eZ-XPO also delivers the world's first all-in-one virtual expo marketplace that seamlessly integrates with built-in marketing automation. This allows guests to follow up with every prospective lead during and after the event.
Our mission is to elevate real estate virtual events to A WHOLE NEW LEVEL of excellence and connectivity. Realty411.com will introduce this amazing platform for the entire real estate community RIGHT HERE ON THIS DAY. Our goal is to host thousands of real estate investors and professionals for this dynamic virtual event.
WE HOPE YOU CAN SUPPORT THIS AMAZING EVENT. WE HAVE COMPLIMENTARY TICKETS AS WELL AS VIP TICKETS. WE HAVE MADE IT AS AFFORDABLY-PRICED AS POSSIBLE TO HELP TAKE OUR INDUSTRY INTO THE FUTURE.

In addition to an life-changing day of networking in a whole new dimension, all guests will receive FREE gifts such as downloadable reports and expo-related resources, plus a link to our private VIP online group. Guests will also receive a print magazine delivered to their doorstep after the event.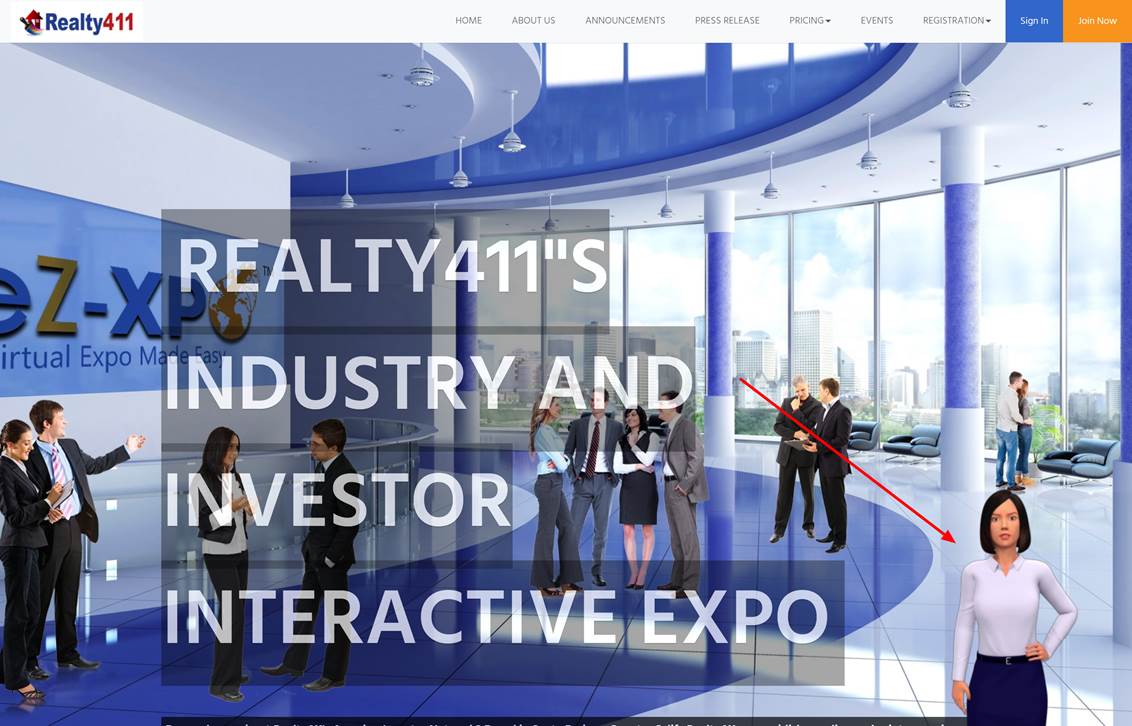 PLEASE CHECK BACK HERE OR AT REALTY411.COM FOR THE EXPO SCHEDULE!
Your support helps us deliver quality resources for all investors, thank you.
ARE YOU INTERESTED IN SPONSORING THIS AMAZING TECH-RICH, UNIQUE EXPO?
IF SO, PLEASE VISIT OUR REGISTRATION PAGE TO LEARN MORE: