Join us in SANTA BARBARA on SATURDAY, Aug. 31st for an amazing day of networking, education and information. Learn to expand your portfolio to NEW levels.
We're uniting amazing educators from the local area, as well as out of state.
VENUE:
Courtyard by Marriott Santa Barbara Goleta
401 Storke Road | Goleta, CA 93117
TIME: 9 AM TO 5 PM

Many NEW timely topics will be discussed LIVE at this important SILICON VALLEY real estate investing summit: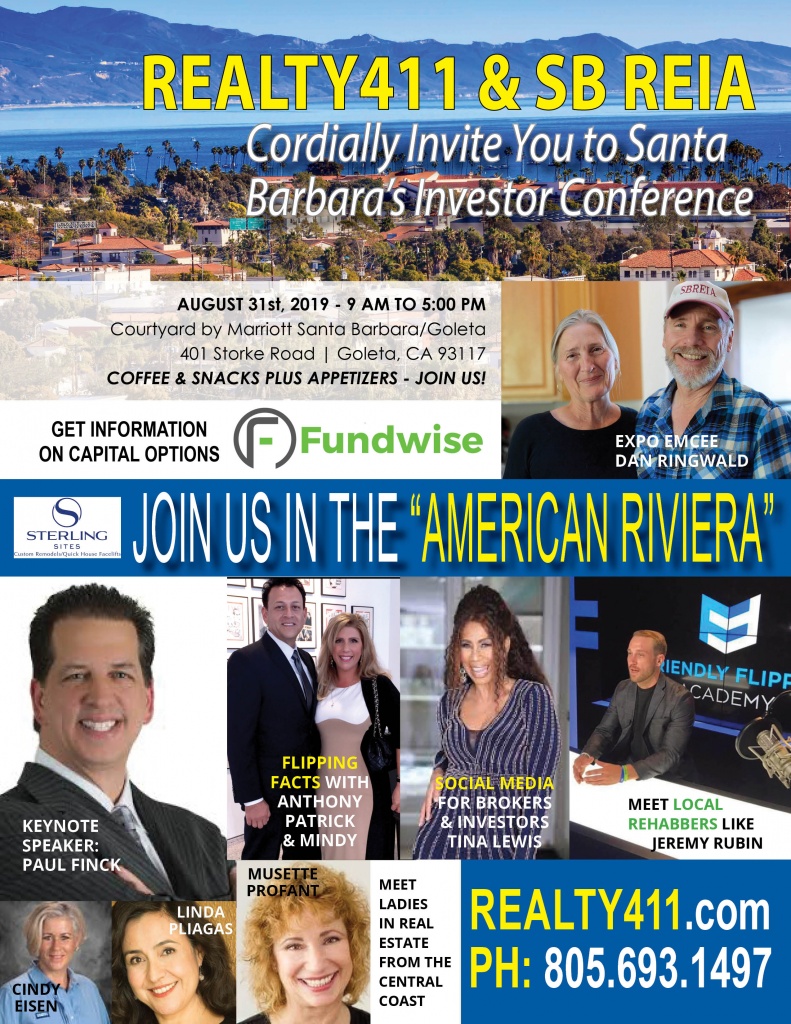 Join Us as We Honor the Work of Dan Ringwald, the Founder of the Santa Barbara Real Estate Investors Association.
Discover How the Right Mindset Can Make You a Multi-Millionaire
Take Your Life to a New Level of Success – Strategies from Paul Finck
Unleash Your TRUE Potential with Life-Changing Tips & Techniques
Pinpoint HOT Markets Locally As Well as Nationally
No Tenants > Discover Other Options Available
Local Investing Vs. Out of State / What's Best for You?
How to Be a Long-Distance Landlord
Advice for Rehabbers and Remodelers by Santa Barbara-based and USC-educated Architect, Musette Profant
Tips to Rehab Safely in a Changing Market
Leveraging with Private Capital / Wealth-Building Shortcuts for Success
Agents/Brokers: Discover Social Media Tips to Boost Business
Hear the REAL Story About What's It Like to Be a Professional Rehabber from Local Experts, Anthony Patrick and Jeremy Rubin
Meet The Publisher's Broker Associate – Linda Has Done NINE Deals in Santa Barbara County Alone Since Moving from Los Angeles!
AT THIS SPECIAL SANTA BARBARA EXPO YOU WILL MEET TOP LEADERS OF LOCAL REAL ESTATE, AS WELL AS NATIONAL LEADERS FROM AROUND THE NATION READY TO BUSINESS.
If you're ready to change your life and real estate business, save the date and get additional information below:
VENUE:
Courtyard by Marriott Santa Barbara Goleta
401 Storke Road | Goleta, CA 93117