Check out our new audio content!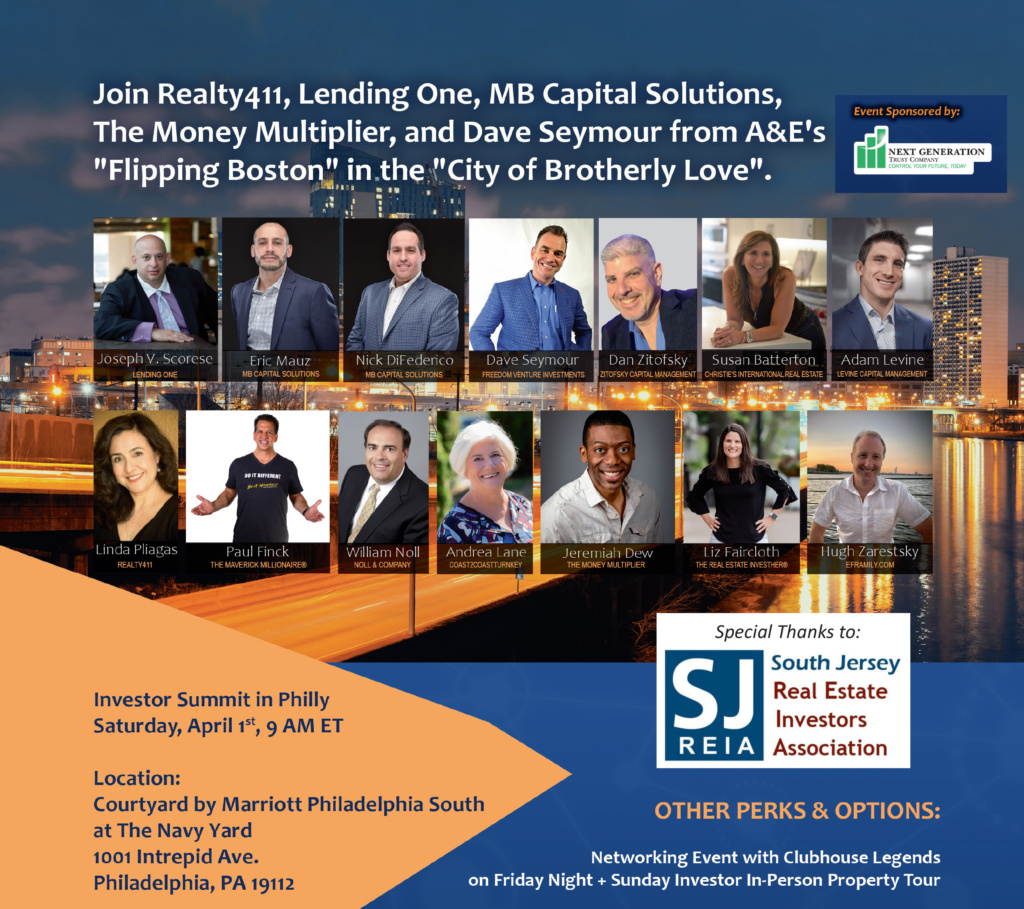 Learn Live with Us – Let's Connect in Person
---
Network with Sophisticated National Investors, Join Us In Person in Philadelphia, PA!
We have exciting news regarding our In-Person Event in Philadelphia, PA. Our special one-day SATURDAY conference in "The City of Brother Love" will host incredible educators from around the country, who are ready to share their valuable insight.
Join renowned companies and educators from the local area and nationwide as we gather in Philadelphia:
Dave Seymour – Freedom Venture Investments
(Dave starred in A&E's hit show "Flipping Boston")
Joseph V. Scorese – Lending One
Eric Mauz – MB Capital Solutions
Nick DiFederico – MB Capital Solutions
Jeremiah Dew – The Money Multiplier
Dan Zitofsky – Zitofsky Capital Management
Andrea Lane – Coast 2 Coast Turnkey
Julie Harrison – Buy Direct Mississippi
Liz Faircloth – The Real Estate InvestHER
Paul Finck – The Maverick Millionaire®
Susan Batterton – Founding Member of REALM
Jack Malpass, SDIP – Next Generation Services, LLC
Adam Levine – Managing Partner, Levine Capital
Hugh Zaretsky – eFramily.com
Tom Dagney – South Jersey REIA
Jim Edenfield – Invest Success
Stephanie Guirand – Pepperdine Homes
Linda Pliagas – Realty411.com
To learn more, download our event schedule:
CLICK HERE
REGISTER FOR THIS EVENT, CLICK HERE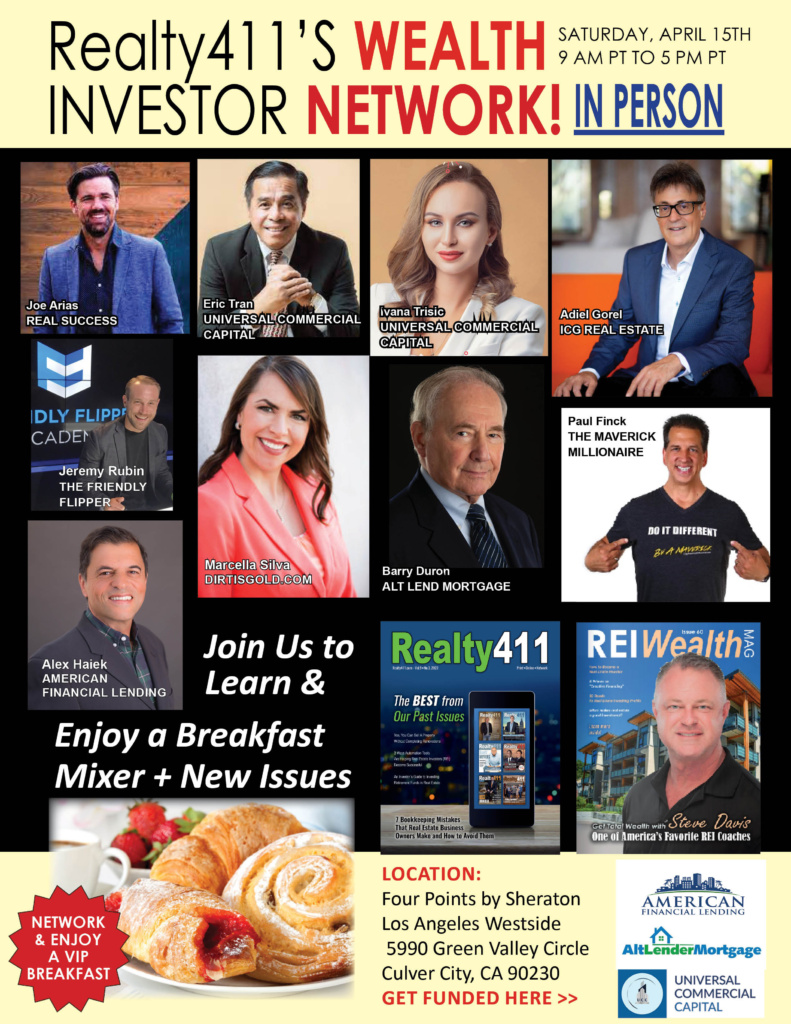 We have included additional educators for our LIVE event in Southern California this April. Learn IN PERSON and network with us directly. Join us as we travel from coast to coast to celebrate our latest publications, Realty411 and REI Wealth, with multiple events.
We are committed to helping our readers learn how to grow in real estate-investing knowledge, plus also increase their connections with networking opportunities. We hope you can join us soon.
Learn and Connect in Los Angeles with:
Jeremy Rubin – The Friendly Flipper
Adiel Gorel – ICG Real Estate
Paul Finck – The Maverick Millionaire®
Marcella Silva – Dirt is Gold
Barry Duron – Alt Lend Mortgage
Joe Arias – Real Success
Linda Pliagas – Realty411.com
Rusty Tweed – TFS Properties
Eric Tran – Universal Commercial Capital
Ivana Trisic – Universal Commercial Capital
Alex Haiek – American Financial Lending Inc.
AND MORE!
LEARN MORE AND RSVP: CLICK HERE