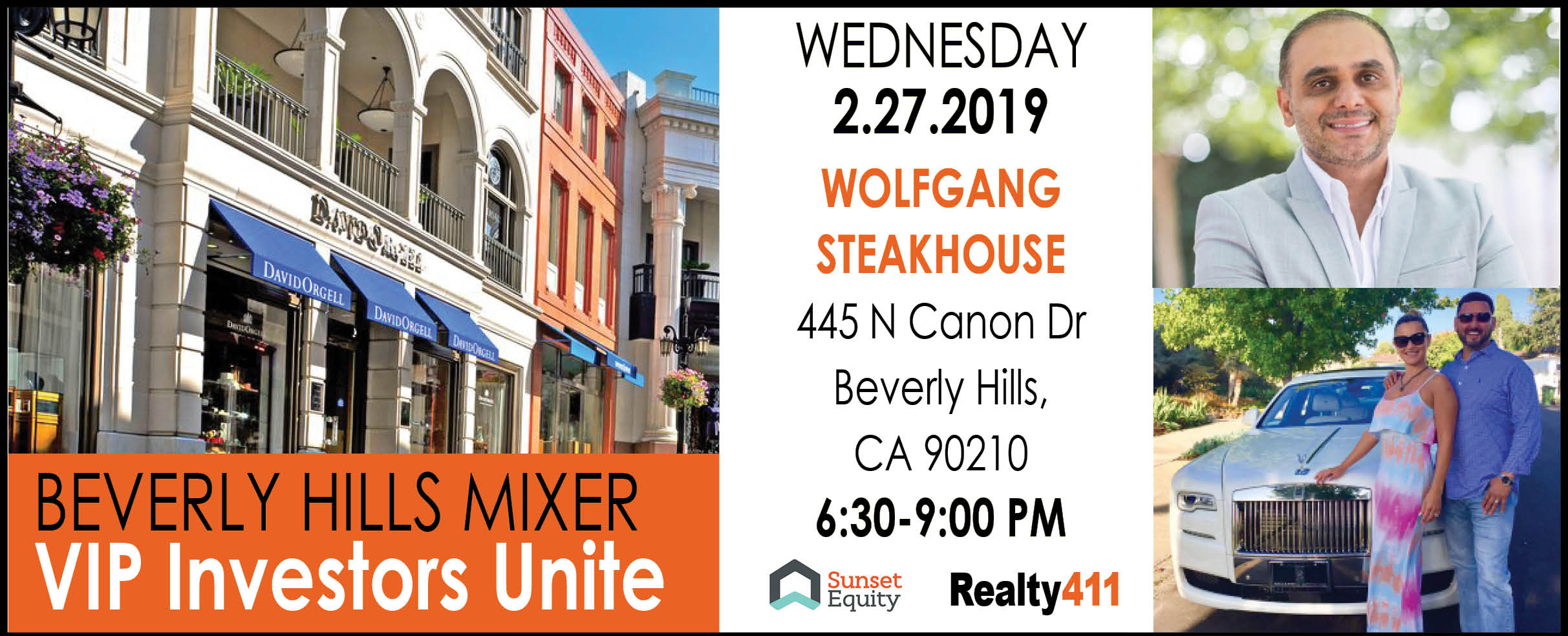 VIP Beverly Hills Mixer with Local Leaders in Real Estate
It's time to connect with the RIGHT PEOPLE in REAL ESTATE. Realty411 brings you REAL LEADERS who actually OWN AND MOVE MILLIONS of dollars worth of real estate, in one of the most exclusive markets in the world: Southern California.
Realty411 has produced numerous amazing mixers in Beverly Hills with the goal of uniting the most talented and influential leaders in the area. We have not disappointed, as we always attract the most active and sophisticated investors in the city, AND BEYOND.
Yes, we've had many people fly in from throughout the country for our weekday, evening VIP mixers in the most exclusive city in Los Angeles County.
---
To secure your ticket, please click below, or call 805-693-1497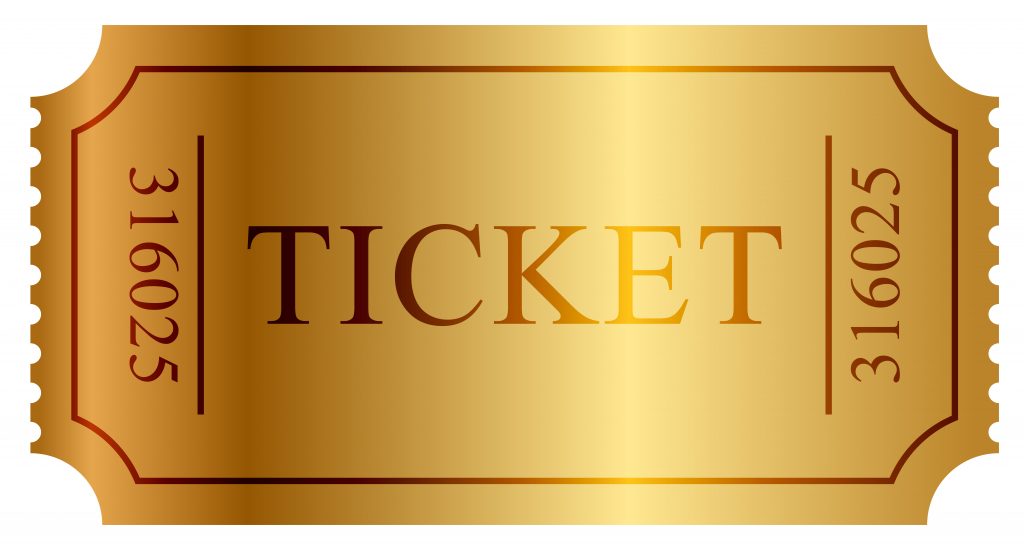 ---
WHAT CAN YOU EXPECT?
Meet the leaders and mingle with the industry's most influential investors, brokers, agents, service providers, and REI influencers in an upscale relaxed setting. Our focus this evening will be on raising private capital and how leverage can significantly expand an existing portfolio.
Thank you to our co-sponsor: Sunset Equity Partners.
DISCOVER HOW PRIVATE CAPITAL CAN HELP EXPAND YOUR EXISTING DEAL FLOW – WE HAVE THE FUNDS TO LEND RIGHT NOW – MEET OUR SOURCES HERE. AMAZING HORS D'OEUVRES WILL BE SERVED – CASH BAR AVAILABLE SERVING FINE WINES, SPIRITS AND SPARKLING WATER
SAMPLE APPETIZER MENU:
Hors d'Oeuvres Served at Last Event
Stuffed Mushroom Caps
Tuna Tartare on Baguette
Mini Crab Cakes
Mini Meatballs
Filet Bites – (U.S.D.A Prime / Grass Fed / Free Range )
Savory appetizers, three phenomenal leaders, and approximately 50 active, sophisticated and accredited investors, entrepreneurs and industry leaders and influencers will be in attendance, including:
Top Producers and Brokers from Beverly Hills and Out of State, Private Money and Mortgage Power Originators, Sophisticated Investors from Around the Country, Plus Local/National Industry Leaders
The discussion will be a wide range of exciting topics, such as:
Financing for Commercial and Residential Real Estate * Latest Updates/Trends in Real Estate * Networking Tips to Grown Your Influence * Plus, the Ultimate Strategies to Increase ROI * Gain Perspectives on TOP Local & National Markets
— YOUR NET WORTH IS EQUAL TO YOUR NETWORK —
Tickets for this event will range from $40/person – WILL INCREASE TO $50 WEEK OF THE EVENT!
Be sure to get your hands on our new release of Realty411 Magazine, Private Money411, and REI Wealth Monthly at this exclusive event.
No matter what, please mark your calendar so you don't miss out on this fantastic mastermind and mixer in the heart of Beverly Hills.
---
To secure your ticket, please click below, or call 805-693-1497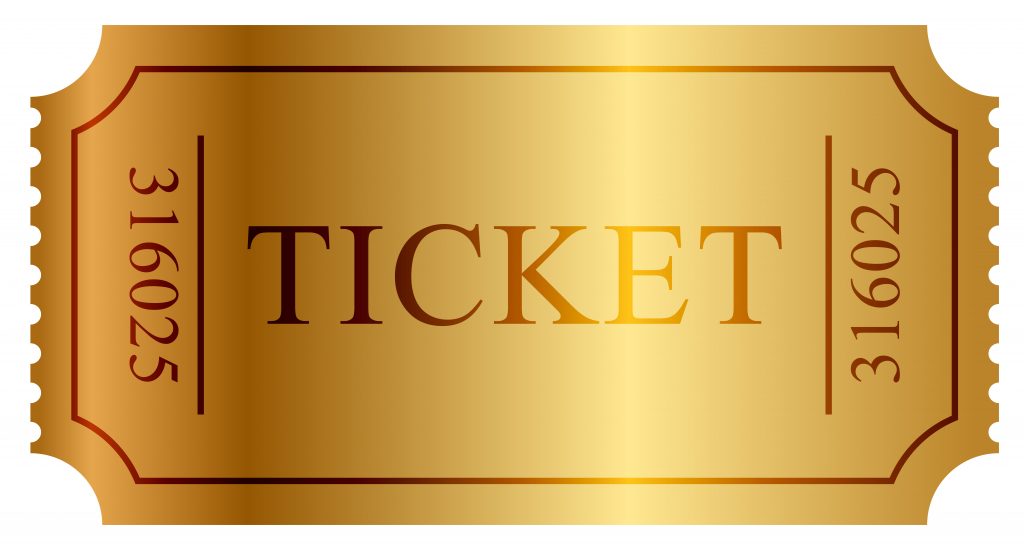 ---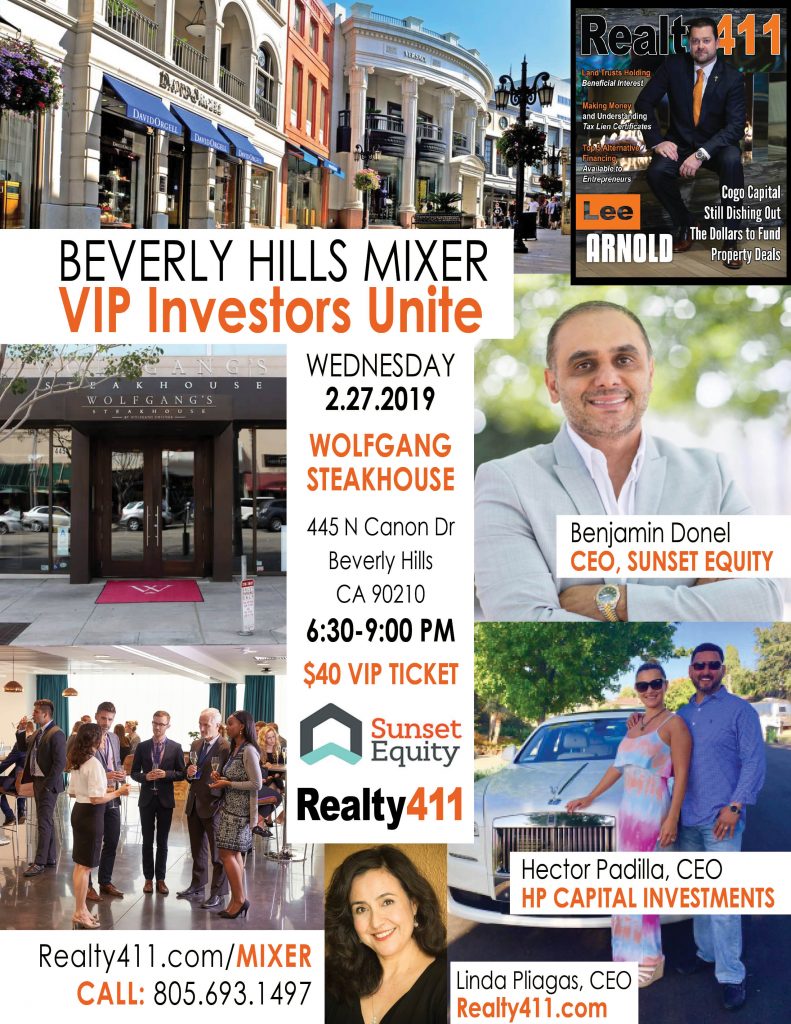 SPEAKER BIOS – LEARN FROM SOME OF THE MOST INFLUENTIAL LOCAL LEADERS
Benjamin Donel ("Donel") is the managing member of Sunset Equity Funding, a private money lender and a private asset firm that purchases all types of properties at the trustee, notes or other security instruments in default and REO properties. Donel has engaged in hundreds of transactions through the trustee sales and has been working at the Trustee Sale for nearly 18 years, as an Attorney, Real Estate Broker and Real Estate Investor.
He is knowledgeable with all the knots and bolts of purchasing distress assets. His management team comprises of in-house Attorneys, Escrow Company, Real Estate Brokerage Firm, contractors, managers, CPA's and other Real Estate professionals. His professional team and company structure has enabled him to buy, rehabilitate and flip properties in most expeditious manner with unmatched profit margins from other competitors.
Donel is a well-known real estate mentor, lender and educator with extensive knowledge in the area of foreclosure, trustee sales, and note purchases and lending.
As both a mentor and advisor, Donel has held numerous real estate seminars for various real estate entities and companies educating other professionals in the field of real estate.
Donel's goal is to venture his company to new levels of achievements, by utilizing road map to success that has been perfected throughout the years.
Specialties: Hard Money Loans, Private Lending, Fix & Flipping, Auction Buying, Real Estate foreclosures, trustee sales, transaction, litigation and hard money lending.
---
To secure your ticket, please click below, or call 805-693-1497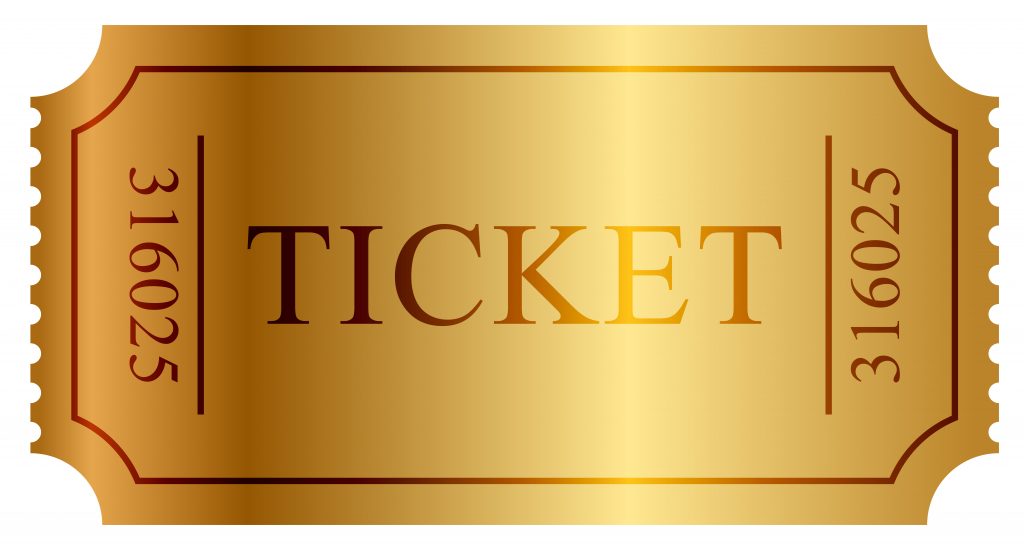 ---
DISCOVER TIPS FROM THE $85M CLOSER – HECTOR SELDOM SPEAKS – THIS IS TRULY A SPECIAL RARE APPEARANCE!
Hector Padilla, a real estate broker, accredited investor and entrepreneur, is one Californian who has greatly benefited from the Golden State's last 20-year-market cycles.
Beginning with his first purchase, a completely burned-down duplex in Los Angeles, which he purchased with credit cards and by breaking his childhood piggy bank… to his $75K Hollywood parking lot that he flipped one year later for $1.375M, Hector Padilla is the American Dream personified.
He become a self-made millionaire by age 29, multi-millionaire by 30 and was able to retire at age 38. He created his wealth via real estate investing right here in Los Angeles!
The Los Angeles-based investor mentored the Publisher of Realty411's on numerous real estate investments over the course of their 20-year friendship. The pair met when Linda Pliagas, magazine publisher, was hired as his first assistant in Culver City, Calif.
How did Hector transition from being a REALTOR® to Flipper to now owning multi million-dollar properties like a $6M building in upscale Brentwood, plus a $9M building in Los Angeles?
What are some of the strategies that this native Angeleno used to create exponential growth, all while being a family man and now living The Ultimate Lifestyle?
Discover Golden Nuggets from one of the Golden State's most successful real estate investors.
In addition to sharing proven techniques that he has learned from his Mentors, closed deals, and from his investment of over $250K in RE education.
Hector will also reveal shortcuts that he has taken to expedite financial success so investors can savor "the good life" while they are still young enough to enjoy it.
---
To secure your ticket, please click below, or call 805-693-1497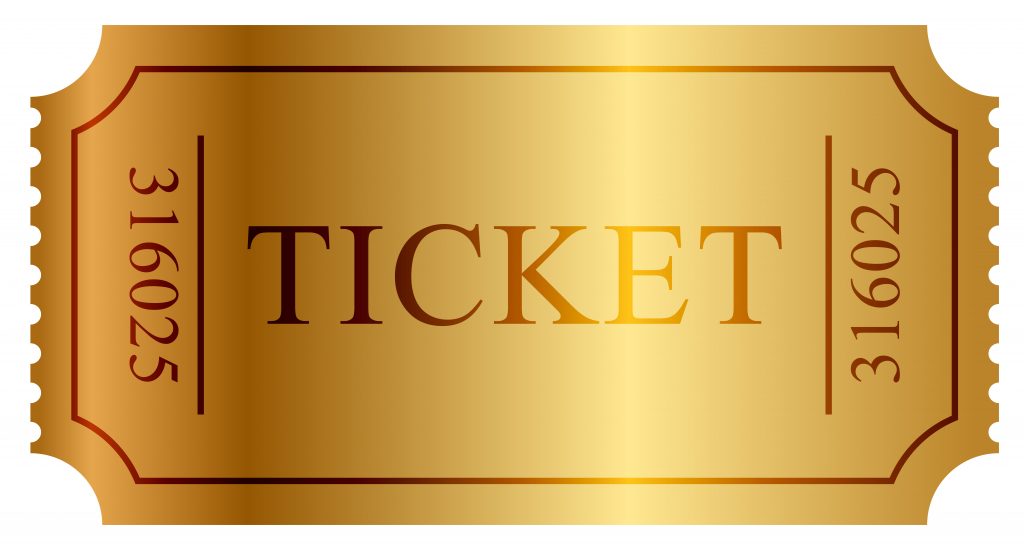 ---
MEET THE PUBLISHER OF REALTY411 MAGAZINE – THE "ORIGINAL" REALTY INVESTOR MAGAZINE

This event will be hosted by Linda Pliagas – Accredited Investor, Realty411 Publisher, and Luxury Shop Owner, and Serial Entrepreneur
Realty411 was founded in 2007 by Linda Pliagas, who is the Publisher/CEO. Linda has personally owned and managed multifamily units and three single family homes — all by the age of 38.
Linda has purchased single family homes, multifamily units, probates, REOs and short sales. Linda Pliagas has worked simultaneously in media and real estate for the past 16 years.
Linda holds a bachelor's degree in print journalism from California State University, Long Beach. She was a recipient of the Bobit Magazine Scholarship for her accomplishment in publishing her first national magazine while still at CSULB. She also studied real estate, accounting and general studies at Santa Monica College.
A journalist since the age of 18, Linda has also freelanced for numerous national magazines, local newspapers and global websites.
Other Business Ventures:
Linda also owns an interest in several other business ventures, including an internet marketing company, and real estate sales lead generating websites, as well as online social networks with tens of thousands of followers worldwide.
In addition to their ventures in real estate and media, Linda and her family are owners of HRS Clocks (Horological Restoration Services) the oldest timepiece repair and restoration shop in Santa Barbara County, their company repairs some of the most valuable antique timepieces in existence.
HRS along with Renaissance Antiques, located in the same building, have some of the most exquisite and valuable antiques for sale, they specialize in vintage fine watches, clocks and music boxes.
---
To secure your ticket, please click below, or call 805-693-1497