A Special REI News Flash by Lori Peebles
The inaugural Alamo Real Estate Charity Expo is scheduled for Saturday, October 8th, 2016. Realty411 and a local San Antonio-based entrepreneur and radio show host, Lisa Lewis, have teamed up to produce the event to be held at the prestigious JW Marriott San Antonio Hill Country Resort & Spa.
Featuring influential REI leaders from around the nation as well as some of the most renowned investors from San Antonio, the Alamo Real Estate Charity Expo hopes to inspire sophisticated investors with new strategies, motivate aspiring investors to get started and unite local real estate professionals and business owners for one special day of networking, knowledge and collaboration.
The Alamo Real Estate Charity Expo was developed by local entrepreneur and radio host, Lisa Lewis, as a way to spotlight and raise awareness, as well as much-needed donations, for the Leukemia Lymphoma Society in the area. Lewis chose this particular charity because her mother suffers from this disease and Leukemia has impacted her family on a personal level.
"I first met Lisa at our Lone Star Real Estate Investors' Expo in Houston and I was instantly impressed by her professionalism, drive and overall business spunk," recalls Linda Pliagas, publisher of Realty411 magazine. "She asked me if I would assist her in producing an expo in her beloved city of San Antonio. Once she explained her vision, goals and the reason behind it, I immediately wanted to be a part of the it."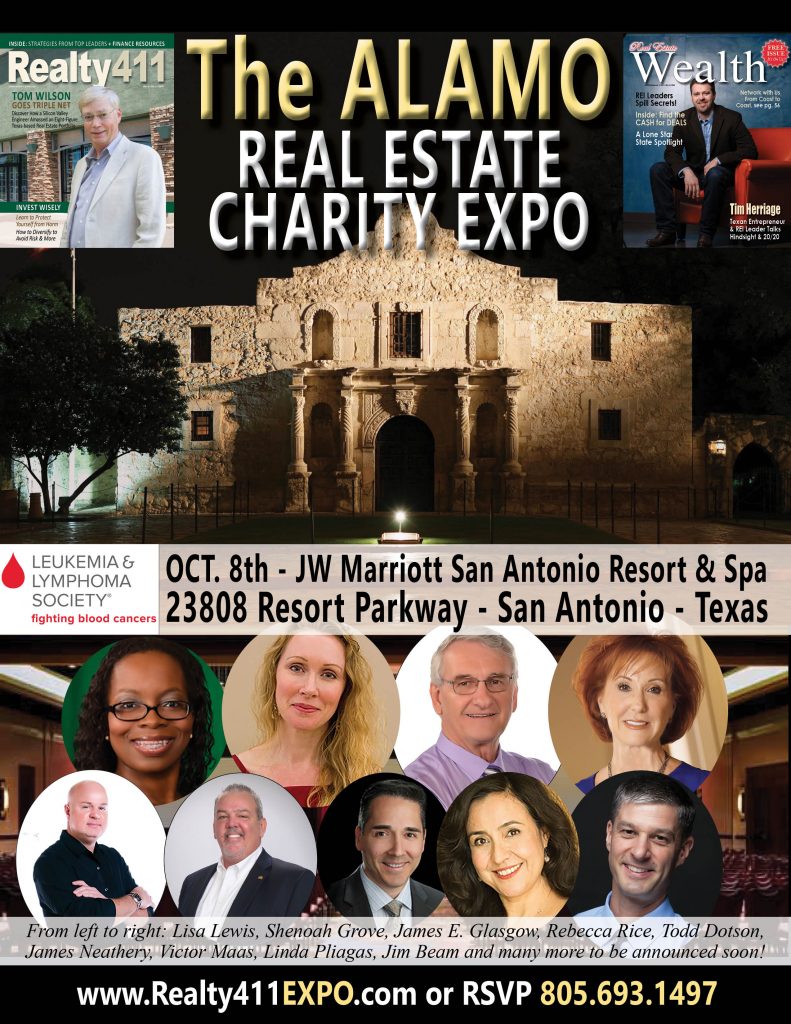 Realty411 will co-produce the event along with Lewis, who is on the ground in San Antonio working daily to ensure a successful event. Realty411 will provide sales and marketing support, strategic public relations, an advertising budget and financial support, plus creative resources from their office in California.
The Alamo Real Estate Charity Expo is already attracting influential leaders including, Shenoah Grove, James E. Glasgow, Rebecca Rice, Todd Dotson, James Neathery, Victor Maas, Linda Pliagas, Jim Beam and many more.
The expo will take place at the luxurious JW Marriott San Antonio Hill Country Resort & Spa, located at 23808 Resort Parkway, San Antonio, located in the heart of Texas Hill Country, and features a 36-hole golf course, an adult-only infinity pool, Lantana Spa, a 6-acre water park with a lazy river, and seven restaurants.
For more information about the Alamo Real Estate Charity Expo or other Realty411 expos and events, please visit: http://realty411guide.com/events and realty411expo.com

Please visit our websites regularly as updates will be posted daily. Our newest website addition is Realty411Magazine.com Realty411 has a goal to reach thousands of people with their expos and events for the next half of the year. Currently, Realty411 has nine expos scheduled and more events will be announced soon. The calendar is as follows:

July 23rd – Santa Barbara, CA
July 30th – Ft. Lauderdale/ Boca Raton, FL
August 26th – Pleasanton, CA
August 27th – San Jose, CA
September 24th – Long Island, NY
October 7th – San Antonio, TX
Oct. 22nd – Las Vegas, NV
November 12th – Arlington, TX
December 3rd – Times Square, NYC
Are you a professional speaker, educator or real estate leader? If so, we would love to work with you, please contact us @ 805.693.1497
Save
Save
Save
Save
Save
Save
Save
Save
Save
Save
Save
Save
Save
Save
Save