Celebrate Ten Years of Publishing with the Only Real Estate Investor's magazine owned by active California investors whose mission is to help others learn about the benefits of owning real estate as a means of creating long-term wealth.
Realty411 magazine, the nation's longest-running magazine and expo company owned by a California investor, is hosting a complimentary, all-day real estate investor's expo this Saturday at the Embassy Suites La Jolla in San Diego to increase the public's awareness about real estate investing.
The expo starts at 9 am with breakfast mixer where guests can get up-close and personal with their favorite speaker and get to know other like-minded people who are also interested in entrepreneurship and acquiring wealth-building knowledge.
Expo guest will learn about important strategies and tool sets to implement immediately into their life, business plan or legacy planning. Topics to be covered this Saturday, include:
Effective 1031 Exchanges
Maximum Asset Protection
Trade in the Trillion Dollar FOREX Market
Best Sectors and Cities Across the County to Invest in
How to Build a Legacy with Your Knowledge
Buying and Flipping Homes in CA and Out of State and More!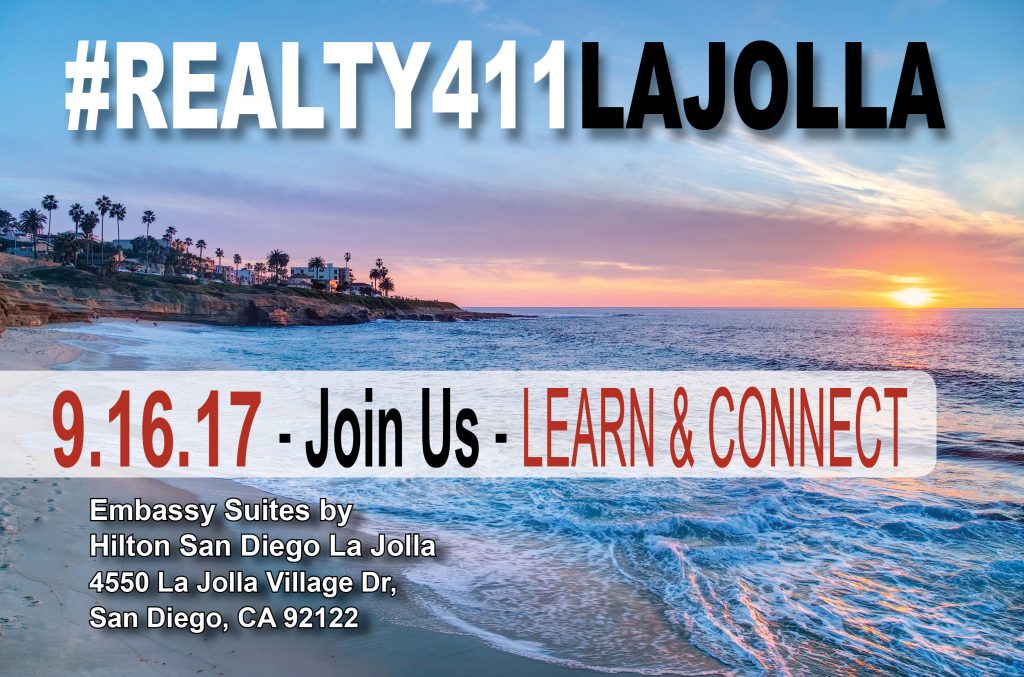 Coverage of this event can be seen in the local media, including the La Jolla Light, La Jolla Village News, San Diego Downtown News, Beach and Bay Press, among others. Don't delay, reserve your seat.
https://realty411.ticketleap.com/lajolla/
Find the FUNDS You Need to CLOSE More Deals
Learn Where National Investors are Going
Find Out How to 1031 Exchange Your way to Wealth
Leave a Lasting Legacy – Tips for Self Directing and Using Your IRA
Skyrocket Your Way to the Top with America's #1 Small Business Coach
Learn Fool-Proof Asset Protection – Find Out Tips from the #1 Home Buyer in America
Make Money in a $5 Trillion Dollar FOREX Market
Secrets for Residential and Commercial Success
Profit Vacant and Neglected Properties
Realty411 was founded in 2007, serves the needs of real estate investors, private lenders, real estate agents, brokers, service related professionals and is a must-read for anyone interested in growing long-term wealth through real estate. Realty411 has been hosting real estate mixers and events since 2006, prior to even starting our publication.
San Diego is the city where their monthly, digital-only issue, REI Wealth magazine (http://reiwealthmag.com), first began three years ago. The event is also hosted by the Outback Real Estate Investment Network, whose local club is in the area.
Some additional event highlights, include:
* Mingle with Companies * Meet Local Leaders & Out of Area Investors
* NON-Stop Tips for Real Estate Success ~ Hosting Our Events Since 2008
* We Want & Can Help YOU Succeed As We Have. Bring Lots of Cards.
* Mingle with Local Leaders & Industry Professionals from Around the Nation
REALTY411 has reached more magazine readers in person nationwide since the start of their publication than any other publication in the real estate investment industry. To see their national schedule and locate other events around the country, visit REALTY411 EXPO site (http://realty411expo.com)
For more information, please call Realty411's office directly @ 805.693.1497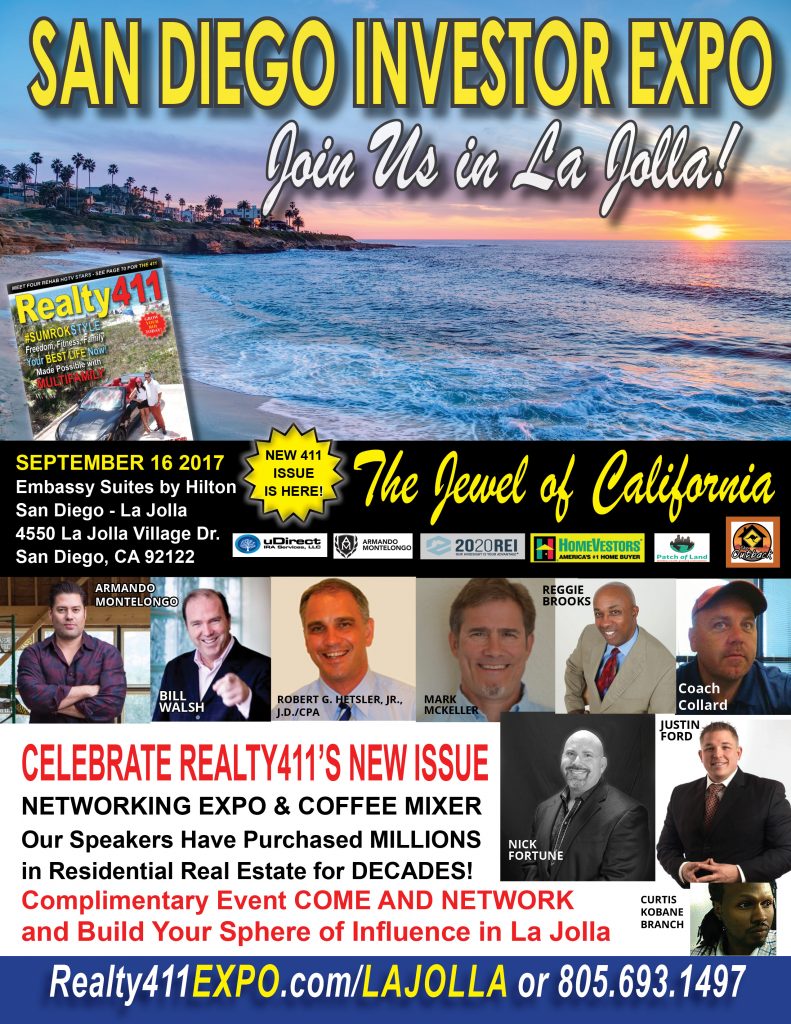 Save
Save
Save
Save
Save
Save
Save