Safety at real estate showings and open houses has become a top priority in 2016. So just how critical has it become, and what are some of the most effective tactics for smart self-defense on the real estate field?
Real Estate is DANGEROUS BUSINESS
The threat to the personal safety of real estate agents, brokers and investors has become of paramount concern in the industry. Data released by the Bureau of Labor Statistics in September revealed that the vast majority of on-the-job fatalities can be tied to real estate-related work or activities real estate professionals engage in every day. This includes auto accidents, construction incidents, animal attacks and homicides while showing properties or on property management rounds.
It's not just the number of attacks and real estate workplace deaths and injuries, but the statements of malicious attackers out to do "rich brokers" harm. In 2014 NAR reported that over 25% of REALTORS ® said they had encountered a threatening or harassing situation at work.
So with such high odds of REALTORS ® , investors, and property managers encountering physical attacks when showing houses and sitting at open houses what strategies and tactics can be put into play to stay safe?
10 Tips to Ensure Personal Safety
1. INSTALL SMARTER SYSTEMS
Dan Zito, of the Zito Realty Group – Keller Williams of Central PA, says, "I think it is important to, as often as possible, set an appointment to meet clients at the office prior to going through any homes with them. Not only does it allow me to meet them in a safe, 'public' environment, but it also allows for better customer service to the client. By meeting them at the office first, we are able to sit down and discuss their wants, needs, review homes that are currently on the market and answer financing questions, prior to visiting any homes."
2. VERIFY THE ID OF PROSPECTIVE BUYERS
It's far less likely that an agent or investor is going to be attacked if the prospect knows that their identification is on file. Requesting a copy of driver's licenses and keeping records of them is a great first step. The Birmingham Association of REALTORS ® , who released its own '10 Commandments of Agent Safety' all the way back in 1988, reportedly takes this even further by documenting the vehicle information of prospects, requesting references, and verifying them before showing property. Today, simply Googling prospects or hitting the most popular social media networks can reveal a lot about prospects too.
3. USE FORMS TO STAY ORGANIZED
It's too easy for industry professionals to become complacent about this issue or to fail because systems are fragmented. BirminghamRealtors.com offers downloadable PDF Agent ID, Prospect ID, and Agent Safety Itinerary forms to beat these challenges.
4. LIMIT ACCESS AND INTERACTION
Those lacking the bandwidth to ensure their personal safety when showing property or sitting open houses can opt for reducing risk by limiting time alone with prospects. This could mean installing keyless locks and allowing prospective renters and buyers to show themselves around. Or perhaps limiting viewings to a one-time event, invite-only events or broker-only opens. Or, there is now always the possibility of virtual open houses via Skype or Google Hangouts.
5. SAFER SHOWING STRATEGY
Veterans United Home Loans advises not to ride with strangers in your car. Let them meet you there. Don't show the way and have possible assailants behind you; let them go first instead. Keep showings during day light hours. Make sure you pull into the drive last so you aren't blocked in.
6. USE THE BUDDY SYSTEM
Let someone know where you'll be. Let a partner know who you are showing to, and where, and have them call you to check in with you. Certainly there has to be someone that would appreciate you doing the same for them. You may even want to tag team showings together.
7. CONDUCT SOME RECONNAISSANCE
Getting to know a listing in advance of showing can be a big help. Recognize if windows or exterior lighting has been tampered with. Know your exit routes. Ensure there is reliable mobile service so that you can reach out in an emergency. Don't have the SWAT team raiding your open house just because your signal was weak and your buddy couldn't get in touch.
8. DON'T LOOK LIKE A VICTIM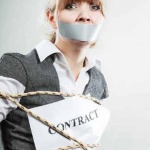 Conducting yourself with confidence can help prevent becoming the victim of an opportunist crime, just because you looked like an easy target. Personal security and identity theft expert Robert Siciliano suggests via his blog that wearing expensive jewelry can just make it too tempting for criminal not to attack, even when it is risky for them. This also certainly carries over to personal social media use and conduct when off the clock. Being a little too open and flamboyant may make you a mark. Pulling up to showings in an armored vehicle might go a long way to scare off any would-be muggers or assassins too.
9. FLEX YOUR TECH
Today's smartphones and tablets can also double as great security tools. The Field Guide to REALTOR ® Safety recommends using distress codes to communicate with other team members. Just don't make it too obvious. Apps like Guardly can reportedly launch GPS tracking, and connect to law enforcement or colleagues with a tap of a screen. Then there are apps like Salient Eye, which can turn your Android or iPhone into a security camera and even set off motion-triggered alarms. Via Facebook Ray Perry, a REALTOR ® at CPS Country Air in Santa Rosa has suggested, "Why not the real thing? An app called Glock works well, of course with a concealed carry permit."
10. UPGRADE YOUR PERSONAL SELF-DEFENSE CAPABILITIES
While packing a firearm or being known for carrying a new Galil or 'Mutant AK47' in your trunk might be a deterrent, it isn't always the answer. It could also make you a target or just ensure that attackers show up even better armed than they would otherwise. Plus, there is always the issue of actually having to use it, and the fact that no permit is going to automatically get you off the hook for taking a life.
Non-lethal options, such as pepper spray or stun guns, might be effective enough in most scenarios and give real estate pros time to flee to safety and get help, says Sensei Gilliland, Southern California real estate expert and founder of Black Belt Investors. Sensei doesn't just train in martial arts as a method of self-defense, he operates a chain of 360 Martial Art Academy locations. Self defense methods including Brazilian Jiu-Jitsu, Judo, Haganah and KravMaga provide some of the most effective types of self-defense and hand-to-hand combat training, even against armed assailants.
We encourage you to think of what other things you can do to stay safe and keep your team secure on the front lines of the real estate landscape.