It's almost time for Realty411's NEW Virtual Investor Expo being held on Saturday, October 17th and Sunday, 18th.
Beginning at 9 am PST (Pacific Standard Time), Realty411 will host a LIVE and interactive expo. Once again, top-industry leaders, both veteran, as well as burgeoning super-stars, will spill their secrets (and shortcuts) for ultimate success as a real estate investor.
TO RSVP, CLICK HERE:
https://us02web.zoom.us/webinar/register/WN_K765PpfmR4-a3HrvzTbqog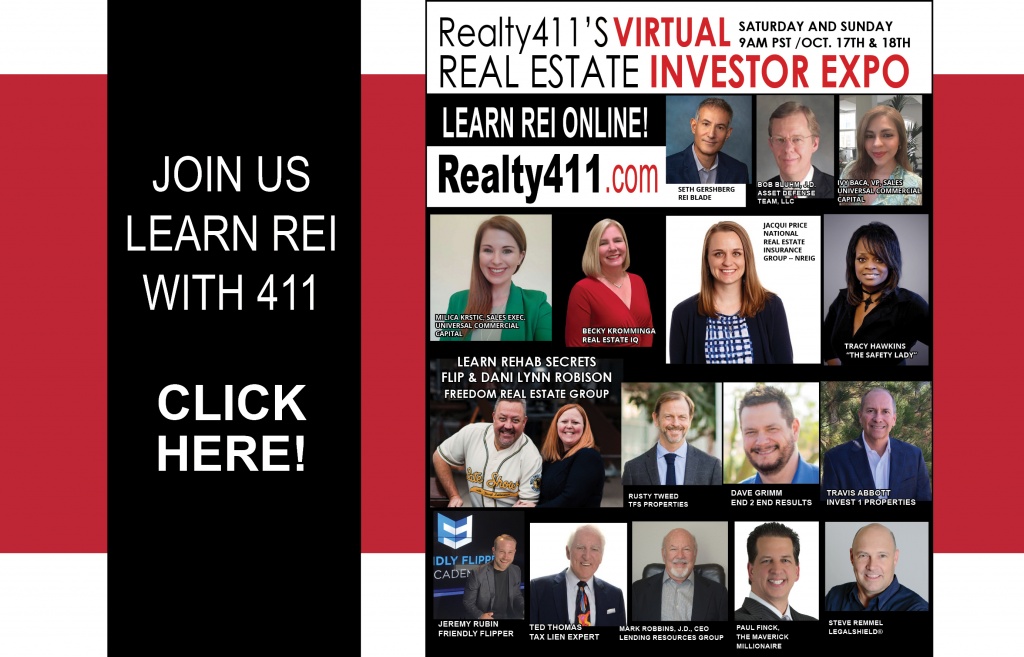 Important information covered at our October Virtual Expo, includes:
* Investing Safely Out of State — Learn how to grow a real estate portfolio in areas that are outside of your zip code.
* Discover the important role insurance plays on properly protecting your real estate assets.
* Get the Edge with Technology — Learn how software can enhance your opportunities to locate and control the best deals available.
* Financing Options for Investors During COVID-19 — Lending has changed during the pandemic, many companies are no longer even operating. Meet finance specialists ready and able to fund deals.
* Real-Time Feedback — Get LIVE tips, plus Chat with Active Flippers
* Acquire "Insider Secrets" from professional rehabbers across the country — Our experts are coming in LIVE from many TOP markets!
* Joining Us Will be TWO Prestigious Attorneys — This is the place to be to acquire expert information from two sought-after legal professionals ready to assist our guests with their questions.
* Hot Markets from Coast to Coast — Discover where some Realty411 readers are purchasing properties. Numerous key cities will be spotlighted. Gain insight on potential investor-friendly areas.

We Have Amazing National Educators Joining Us, Including:
TRAVIS ABBOTT – INVEST 1 PROPERTIES
Invest 1 Properties, one of our educators presenting, is dedicated to helping investors build wealth through conservative real estate investments. They have worked with individuals and private equity partners since 1996.
ROBERT J. BLUHM, J.D., ASSET DEFENSE TEAM, LLC
Joining us to shed insight and advanced knowledge for sophisticated investors will be Robert J. Bluhm, Attorney at Law.
REAL ESTATE IQ – BECKY KROMMINGA
The goal of Real Estate IQ is to bring technological advances, big data, intelligence augmentation, and predictive analytics into the real estate investment industry.
At this important two-day, live online event Universal Commercial Capital, a U.S.-based, private money lender, known for its flexible, common-sense underwriting and efficient, hassle-free loan programs, will be available LIVE, IN REAL-TIME TO DISCUSS FINANCE OPTIONS AVAILABLE!
NATIONAL REAL ESTATE INSURANCE GROUP – JACQUI PRICE
To educate our guests on property protection by selecting the right insurance policy is Jacqui Price, Senior Vice President of Sales at National Real Estate Insurance Group.
Joining Realty411's Virtual Investor Expo for the first time is Mark Robbins, J.D., CEO of Lending Resources Group, Inc. Mark has a rich history in both real estate and securities.
Rusty Tweed, CEO of TFS Properties and MoldZero, will be on hand to share his insight from 30-plus years of investing across numerous regions.
FLIP AND DANI ROBISON – FREEDOM REAL ESTATE GROUP, PLUS OTHER AMAZING COMPANIES! Flip and Dani Robison started in real estate in 2008 as REALTORS, they quickly transitioned to investing and over a decade later, they have bought and sold over 1,000 properties.
Ted Thomas – World's Leading Authority on Tax Lien Certificates and Tax Deed Auctions – Ted Thomas is a Florida-based educator, publisher and author.
PLUS, PAUL FINK, THE MAVERICK MILLIONAIRE; JEREMY RUBIN, THE FRIENDLY FLIPPER, DAVE GRIMM, END 2 END RESULTS, SET GERSHBERG, REI BLADE, LINDA PLIAGAS, REALTY411; AND MORE!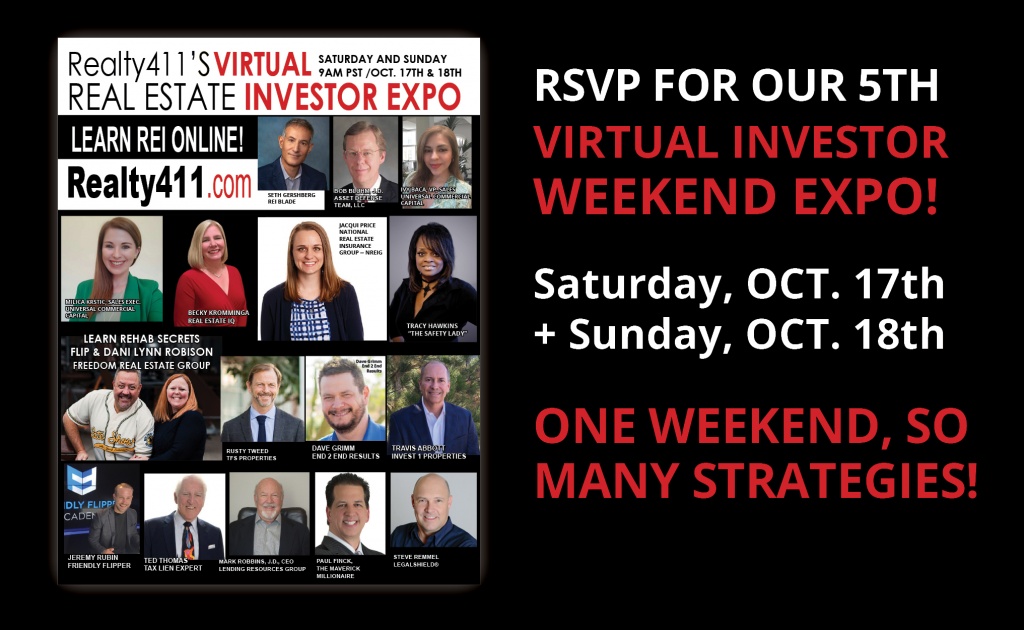 ---
Please check back for further updates up until the expo date.