Join Us for Our 3rd Lone Star State Expo
* REGISTER TODAY – For Assistance in Registering Your Team or Group or Sponsorship Information, please contact us at: 805.693.1497 or 310.994.1962
In tradition with our first Lone Star Expo, this event will be used as a forum to spotlight a local charity. Stay tuned for more information. Thank You!
This COMPLIMENTARY EXPO is Designed for YOU, to Help You BUILD Collaborations with Industry Leaders. Your Donation to Our Charity Pays for Your Admission!
BACKGROUND:
Our event in Arlington, Texas is scheduled for August 12th, 2017 – Our last event united HGTV Star Clint Harp from the hit show FIXER UPPER, as well as notable speakers, such as Kent Clothier, Sr., Dennis Henson, Dolf de Roos and many others!
Don't miss the opportunity to network and mingle with TOP INVESTORS from Texas and guests visiting from California, Arizona, Arkansas, Florida and more.
REALTY411, the longest-running real estate investor media and expo company owned by the same California owner/agent, is celebrating a brand new issue and a 10-year anniversary.
A new year and new administration is upon us and savvy investors want to forecast what's in store for them in 2017, and the next four to eight years.
Hosting this community and family-friendly FREE expo is REALTY411, (http://realty411expo.com) the longest-running media and marketing company in the real estate investor space. Since 2007, REALTY411 has been positively impacting the REI industry by sharing important real estate knowledge through their publications, national expos, podcasts, and webinars.
Additionally, this all day expo, which will be promoted in local media, as well as to national investors, will attract guests and company sponsors from around the country, including: Florida, Arizona, Texas, Arkansas, Nevada, Georgia and more. Expo guests will enjoy multiple breakout sessions so they can choose which topic they wish to learn about. The ballroom has been reserved for this fantastic networking expo and mixer, and complimentary coffee and pastries will be served to early-bird guests.
REALTY411 (http://realty411Magazine.com) is celebrating its brand new publication, as well as an anniversary of three years in producing their digital issue, REI WEALTH (http://reiwealthmag.com), a monthly interactive publication. As one of the most prolific publishers in the real estate investment industry, REALTY411 has dozens of events on schedule for 2017, as part of their national tour to celebrate a decade in business.
LEARN FROM LAST YEAR'S KEYNOTE SPEAKER: Clint Harp from HGTV's FIXER UPPER

We videotaped Clint's entire presentation for your to learn from, CLICK HERE
GET EXCITED ABOUT THIS EVENT – CHECK OUT OUR LAST YEAR'S PROMOTION:
LISTEN TO A RADIO PROMO ABOUT OUR EVENT HERE!!!
Special Thank You to Our Event Founder Dennis Henson, Director of the Arlington Association of Investors (AREA)
FEATURING AN INCREDIBLE LINEUP OF SPEAKERS!
Expo Discussions Include: Commercial & Residential Real Estate * Private Lending * Raising Capital * Networking Tips to Grow Your Influence * Strategies to Increase ROI * Gain Perspectives on TOP Local & National HOT Markets * Fix & Flips * Buy & Hold + Wholesaling, Mobile Homes, Credit Repair, Investing in Land, Notes & More.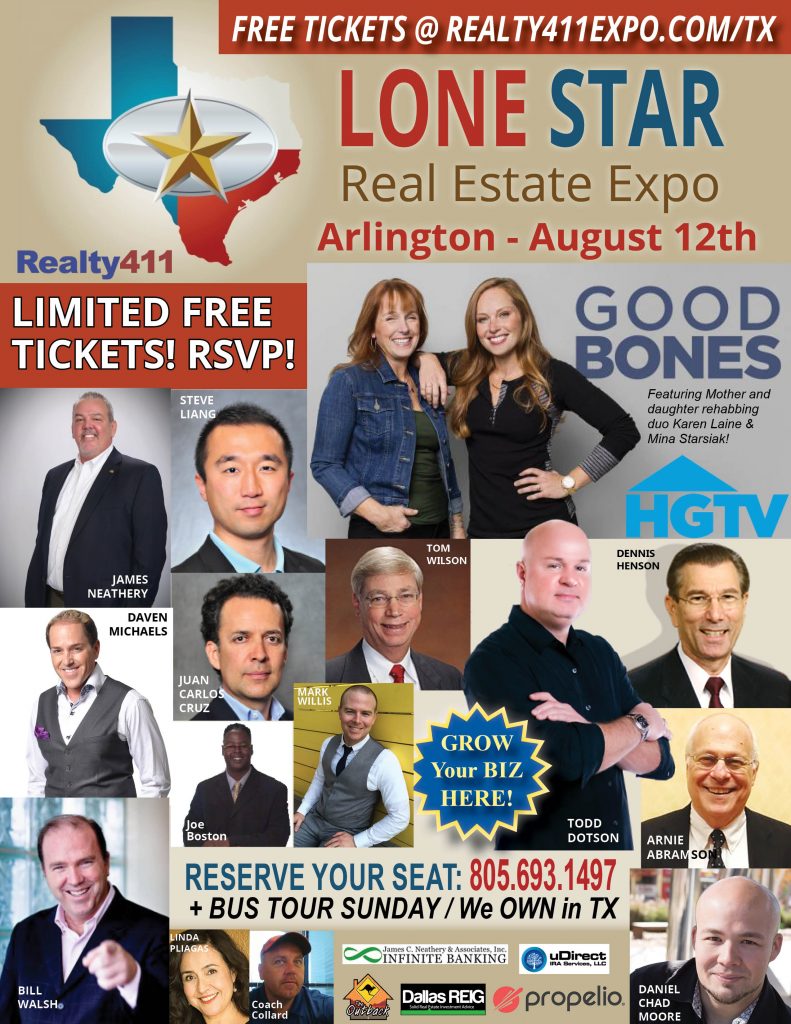 YOUR NET WORTH IS EQUAL TO YOUR NETWORK
We are hosting this event to help increase your contacts and to further your potential in this industry, so don't miss out!
Also, Inside Our Publications Discover FINANCE Leaders to help you close more transactions.

Join Us to Learn About These Companies and More!
ALSO JOIN OUR BUS TOUR ON SUNDAY!
Sunday's Bus Tour will Focus On:
Why are the DFW & Texas economies so attractive?
How to select the best property manager
Are commercial syndications right for you?
What are the best investor loans that are available?
How does a turnkey provider greatly reduce your risk?
How the experts select the best areas and products to invest in?
FOR MORE INFORMATION ABOUT THE BUS TOUR FOR NEW AND SOPHISTICATED INVESTORS, PLEASE CALL: 805.693.1497
– LEARN MORE ABOUT THE BUS TOUR AT OUR SATURDAY NIGHT VIP DINNER –
ALL EXPO GUESTS ARE INVITED TO OUR AFTER-EXPO PRIVATE VIP DINNER TO WRAP UP AN EXCITING DAY! MANY SPONSORS AND GUESTS WILL JOIN US.
Meet us at Saltgrass Steakhouse (Address: 2200 E Lamar Blvd, Arlington, TX 76006) right after the expo at 6:30 pm on Saturday, Nov 12th, for expanded networking, plus enjoy a luxurious meal. Upgrade your expo experience for only $59 and you will have the opportunity to get up close and personal with your favorite speakers and expo guests.
To learn more information about this amazing Saturday Expo and Post-Expo Dinner and Special Sunday Property Tour showcasing a variety of properties in the DFW area, call 805.693.1497 today!
Our readers have already purchased millions of dollars worth of investment properties in the Lone Star State. Discover why this is one of the best real estate markets.
~~~~~~~~~~~~~~~~~~~~~~~~~~~~~~~~~~~~~~~~~~~~~~~~~
Learn from the Top Names in Real Estate and Celebrate Our Publications! Mingle & Network with Awesome Companies from Around the Nation at the Largest and Still Absolutely Free Real Estate Expo in Arlington. Learn from Our TOP Educators Joining Us from Both Locally & Around the Country!
Create Massive Shift – Begin Your Journey to Real Estate Success
Join Us to Learn About Local and National Leaders Who Can HELP YOU Grow Your Portfolio, Such as:
DENNIS HENSON with the Arlington Real Estate Association of Investors (AREA)
Dennis Henson is President of Vanguard Marketing and Investments and the Arlington Real Estate Association of Investors(AREA). He is the author of "Becoming Wealthy in Real Estate," an Investors Guide to Riches. He is an expert at controlling property for profit without ever taking title and many other creative techniques. With over 38 years in the real estate investing experience Dennis has done numerous profitable real estate transactions throughout the Southern United States. Dennis specializes in single family investing and is experienced in all aspects of real estate investing—options, rent to own, installment land contracts, contracts for deeds, pre-foreclosure, foreclosure, bankruptcy, probate, contracts for purchase and sales, subject to, wrap around mortgages, seller carry back notes, land trusts, leases, creative financing and other areas of real estate investing.
As a mentor and teacher Dennis has helped hundreds of investors get off to the right start in this business. He also works with many experienced investors helping them take their business to the next level. Examples of his training can be seen on his website at http://www.dennisjhenson.com/.
While many people start investing in Real Estate to become wealthy—Dennis' goal was to improve his lifestyle. Real Estate has allowed him to live the life of his choice. He left behind his nine to five job, the long commutes and the need for a coat and tie. As a result he works when he wants to work and plays when the spirit moves him. Wealth has just been a by-product of his real estate pursuits. Armed with both a bachelor's and a master's degree in education–Dennis offers a unique, personal–one on one–mentoring system that provides individual training to new and experienced real estate investors throughout the United States. He has been helping students put their real estate investing businesses on steroids for many years.
JOINING US DIRECT FROM LAS VEGAS, NEVADA, BEST-SELLING AUTHOR AND ENTREPRENEUR, DAVEN MICHAELS
Daven Michaels is a best-selling writer and entrepreneur. He is known for his New York Times best-selling book Outsource Smart: Be Your Own Boss … Without Letting Your Business Become the Boss of You, published by McGraw Hill.
Daven Michaels started his first entrepreneurship project at the age of 15, a company that designed clothing for several established bands in the 1980s and 1990s, some of which aired on MTV. In 1987, Michaels started a telecommunications company, which expanded to 60 cities in the United States before being sold.
In 2006, Michaels founded 123Employee, an overseas outsourcing firm based in the Philippines that offers virtual assistants to small and medium-sized businesses. Daven is going to be teaching how to take your real estate investing career to the NEXT LEVEL the easiest way possible… by delegating as much as possible to the best people you can hire for the most reasonable rates possible.
Discover How to Take Your Real Estate Investing Buiness or Brokerage to the NEXT LEVEL.
LEARN FROM GRANT TREVILTHICK OWNER/PRESIDENT OF OWNER FINANCE HOMES, LLC.
Grant Trevithick is the owner and President of Owner Finance Homes LLC, a real estate investing firm in the Dallas Fort Worth area. In addition, Grant owners and manages Owner Finance Academy LLC, that trains those desiring to become real estate investors in the art of owner financing.
Grant also manages and directs HOPE Homes Inc. a non-profit real estate investing company that donates all profits to feed, clothe, house, educates, and finds jobs for the homeless, the poor, and those comping out of jails and prisons (we believe in redemption, that everyone deserves a second or third chance to create a magnificent life).
Before entering real estate, Grant retired from a 26-year corporate career with AT&T and EDS. All companies operated by Grant are run on the three core values: everything is done with absolute honesty and integrity, every transaction has to be a "win-win" with all parties in the transaction, and we recognize God as the source of all our blessings so we donate the first ten percent of all profits to charity to empower those less fortunate to create the life they love. Owner Finance Homes LLC is accredited by the Better Business Bureau, with an "A+" rating and zero complaints.
ALSO LEARN DIRECTLY FROM L. SCOTT HORNE
L. Scott Horne is an attorney with Horne and Associates, PC in Dallas, Texas. He has been practicing law in Texas for over 30 years. In addition to being a Title Company Fee Attorney with multiple offices in the Dallas Ft. Worth area, his firm specializes in working with Realtors and real estate investors in structuring and drafting creative real estate transactions as well as their other business's needs. Mr. Horne's unique approach comes from hands on experience through companies he operates, including companies which have:
Purchased, remodeled and sold, over 2,500 single homes;
Transacted and sold over $150MM in private mortgages;
Transacted approximately 4,000 asset based, hard money transactions totaling over $400MM;
Owned and operated afull service mortgage bankingcompany;
Has built 50 plus single family homes;
Having completed approximately 10,000 creative financed transactions, Scott brings an unparalleled level of knowledge and experience to the table.
Scott has spent years helping other investors take a deal from inception to completion. By providing his partners and colleagues with creative financing solutions, legal counsel, acquisition and rehab funding, and the fluid innovative thinking needed to succeed real estate investing, Scott contributes an unpatrolled level of knowledge, creativity and awareness.
DISCOVER THE LATEST IN REAL ESTATE TECHNOLOGY WITH MLS DEAL FINDER AND FASTCMA.CO
>> Special Topic: Intelligence in Real Estate Valuations
Real estate valuation is one of the most important part of your due diligence process. The problem is, real estate valuation is complex and extremely time-consuming.
Learn how artificial intelligence in real estate valuations can help you become a much more savvy real estate investor, and how it can help you unearth opportunities previously overlooked by everyone else.
LEARN FROM STEVE LIANG, CO-FOUNDER, SALES & MARKETING
A Physicist Converted to an Expert in Residential Home Data and Valuations
Steve Liang is a cofounder of MLS Deal Finder, a fast-growing software company focused on creating innovative automation solutions to real estate valuations.
Steve is a huge advocate for intelligence augmentation, and bringing automation to improve every aspect of our day-to-day life. He has been a speaker in multiple national conferences, most recently the Five Star Conference Force Rally.
After graduating from UC Berkeley and UCLA with distinctions, he worked for several Fortune 100 companies, and is an expert in project management, operations, business strategy and execution. His goal is to take MLS Deal Finder to the global level, bringing accurate and up-to-date real estate valuation to billions of users in the world.
LEARN FROM JUAN CARLOS CRUZ, ENTREPRENEUR/BROKER & CMA EXPERT
Juan Carlos Cruz is an entrepreneur, real estate broker, and CMA expert. In 2002, he successfully sold his Yellow Page business as a platform investment to a PEG, which took the company nationwide.
After the venture, he became a residential real estate investor and did about 200 deals buying and selling real estate investments. To be a successful investor he had to do thousands of CMAs. Over the years he has focused on creating algorithms and computer systems to automate and improve the creation of CMAs.
He has become a national expert in the CMA and AVM (Automated Valuation Analysis) work. He has been able to understand how computerized systems can better assist the real estate agent / investor / consumer to increase productivity.
JAMES NEATHERY – CEO, James C. Neathery and Associates
James Neathery specializes in providing strategic financial advice based on decades of research and experience in the fields of finance and economics. James is a disciple and student of R. Nelson Nash, the creator of the Infinite Banking Concept™. He is also a student of the Austrian school of economics.
James holds several designations, maintains multiple affiliations and is active in the financial services industry. He has been in the life insurance industry for more than 24 years, has been educating clients and personally practicing the Infinite Banking Concept™ for nearly a decade.
James C. Neathery & Associates, Inc. has provided sound, successful advice to thousands of clients. Over the years he has helped them protect millions of dollars in wealth and assets through several boom and bust cycles in the U.S. economy.
James is the Executive Producer of the best-selling documentary on the Infinite Banking Concept, Banking With Life. The powerful information in this film is being used by financial professionals across the country to educate their clients on how to take control of their money by solving the banking equation in their lives.
MEET JP MARONEY – Founder & CEO, Harbor City Capital
JP Maroney is an American entrepreneur, investor, and philanthropist with more than 26-years experience starting, building, buying, and selling companies in publishing, media, advertising, software, ecommerce, textiles, training, real estate, and consulting.
He's Founder & CEO of Harbor City Capital, a global alternative investment group specializing in buying, building and monetizing digital assets.
JP's business group includes a collection of companies and joint ventures involved in publishing, software, media, training, consulting and internet commerce. He also serves as adviser and/or board member with several other companies.
Current and past clients include: Wells Fargo, Century21, Precision AutoTune, The Maids, Metric Property Management / BlackRock, National Apartment Association, Independent Bankers Association of Texas, Texas Association of Business, Texas Credit Union League, and many other franchises, corporations, and trade associations.
JP Maroney is the best-selling author or co-author of more than 30 books and audio/video learning systems. His in-demand articles and columns have appeared in dozens of print and online publications throughout the US and Internationally. Additionally, he has collaborated, organized and published business and self-improvement books with more than 70 other industry authorities.
A popular keynote and seminar speaker with more than 2,500 presentations under his belt, JP Maroney inspires and educates audiences with his business principles, ideas and strategies that have been hammered out on the anvil of experience.
Learn from Tom K. Wilson, a California Investor Who Built His Eight-Figure Portfolio in the DFW Market!!
Tom K. Wilson is a five-decade investor who began building his personal real estate portfolio in the 70's. He first invested as a part-time activity, and then after thirty years managing manufacturing and engineering in some of Silicon Valley's pioneering technology companies, he put his business and management experience toward full-time real estate investing.
Since then Mr. Wilson has executed over $120M and 2,500 units of real estate investment transactions, including 7 apartment buildings, 4 commercial properties, 3 condo conversion projects, 7 syndications, over 500 house flips, and has many long term hold units in his personal portfolio.
One of his businesses is Wilson Investment Properties, a company that provides high quality residential and commercial properties to investors. Active in real estate associations, Mr. Wilson is a frequent speaker on real estate investing where his candor and competency makes him an audience favorite. As part of his outreach, Tom provides mentoring to new investors.
Mr. Wilson is also a weekly radio host of Real Estate Radio LIVE on San Francisco's KDOW 1220 am every Wednesday at 2 pm and his programs are also podcasts on his website (tomwilsonproperties.com), iTunes, and YouTube. Tom and his wife of 47 years, Weegi, are long time residents of Saratoga where they are active in their local church and community.
LISTEN TO A RADIO PROMO ABOUT OUR EVENT HERE!!!
REHABBING WITH HARD MONEY:
DISCOVER THE POWER OF LEVERAGE!
Learn from DHLC Mortgage – Your Local Leader in Private Finance
Real estate investing with other people's money! Learn how to leverage hard money to buy, rehab and sell real estate. Do more deals! Risk less money! Rob Barney, owner of DHLC Investments, started real estate investing in 1998. He is a successful rehabber, landlord, mentor, author, speaker and hard money lender.
Special IRA Education with Kaaren Hall, President of uDirect IRA Services
Despite being in the midst of a recession and mortgage market collapse, Kaaren Hall founded and made a resounding success of uDirect IRA Services. The single mom discovered a strategic way to put her 20+ years in mortgage banking, real estate and property management to use. The solution was an untapped market for both her skills and for investors – self-directed IRAs.
Because self-directed IRAs can have a dramatic impact on retirees' quality of life, Hall brings her full passion to educating Americans about the little-known investment vehicle. She has educated tens-of-thousands of investors and professionals on how to build wealth by taking control of self-directed IRAs. She says, "Financial literacy is not taught in schools, but our future depends on understanding it. Only about 4% of U.S. investors have a self-directed IRA. Why? Because most investors and many advisors simply aren't aware of it."
Prior to her years at Bank of America, Indymac Bank and Hall's own mortgage brokerage experience, she was an on-air news and traffic reporter and radio host. Now Hall broadcasts how to invest IRAs in real estate, land, startups and more. She takes pleasure in demystifying the subject via webinars, YouTube videos, live events, social media and her free weekly newsletter.
Through uDirect IRA, she has guided thousands of Americans through the process of diversifying their investments using self-directed IRAs. Learn more about Hall and her thriving company at uDirectIRA.com.
Learn the Difference Between Tax Liens vs Tax Deeds– Hype vs Reality with renowned investor Arnie Abramson!
What are the UNKNOWNS? How to make them KNOWN
What about Redemptions? Learn Everything About Tax Leeds Here!
The "resource group" is comprised of individual investors that have been investing in income producing real estate in Texas for many years. We have years of experience in all phases of real estate including tax sales since the early 1990's.
Be sure you get your information about Texas tax sales straight from 'the horse's mouth" and not from out-of-state gurus who do not know about Texas sales first hand!
Arnie Abramson, founder of Texas Tax Sales Resource GroupThe "resource group" is comprised of individual investors that have been investing in income producing real estate in Texas for many years. We have years of experience in all phases of real estate including tax sales since the early 1990's.
Be sure you get your information about Texas tax sales straight from 'the horse's mouth" and not from out-of-state gurus who do not know about Texas sales first hand!
Arnie began buying tax sale properties in 1992. For many years afterwards he was a buyer, seller, landlord, and teacher/speaker on all phases of real estate investing primarily in the Dallas-Fort Worth Metroplex and surrounding areas.
Don't Miss Arnie's Presentation – BE SURE TO STOP BY HIS BOOTH TO SAY HELLO!
~~~~~~~~~~~~~~~~~~~~~~~~~~~~~~~~~~~~~~~~~~~~~~~~~~~~~~~~~~~~~
Meet Author Rebecca Rice and Discover her "Living Benefits" Strategy
At age 37 Rebecca Rice suddenly became single with three small children. Without any source of income, Rebecca faced food scarcity and homelessness. "I know what it's like to be without," Rebecca said. "I made it my goal to never let that happen again."
She started working—and worked hard! She learned and advanced to the point where she started her own business. Along the way, she kept that passion for financial security for herself and for her clients. "I was drawn to financial services because it's such a concrete, specific way to prepare for the difficulties life throws at you," Rebecca said. For 24 years she read and studied books, journals, newsletters, and the leading trends to best help her clients secure their financial future.
In 2003 Rebecca discovered Nelson Nash's book, Be Your Own Banker. She stayed up all night reading it. It just didn't seem possible. So she asked her CPA to read it. He had never heard of the strategy either. Together they tried to punch holes in the theory behind Nash's book. They ran the numbers. They ran the numbers again. And it worked! When her CPA called and said he wanted to set up four accounts for his family, she knew they were on to an amazing secret. How could she not have known about this incredible wealth-building strategy before now?
Rebecca fully used this "Living Benefits" strategy. She tried it herself and found success. She used it more and more. To date she is fully vested in this strategy and has the comfort, control, and peace that financial security brings. As of 2014, Rebecca has written over 3,000 uniquely designed policies. She's gained certification in the knowledge and application of "Living Benefits" strategies. She's used the "Living Benefits" for herself and her clients in every way possible. She stands as the go-to expert for the "Living Benefits" strategy.
Matthew Pillmore – VIP FINANCIAL EDUCATION
Matthew Pillmore built a successful wholesale residential mortgage company in 2000. During that time he began investing in real estate. At age 23 he hired a creator of the original FICO score and the Nation's leading credit attorney to build the 760 Club.
One year later, he discovered a revolutionary cash flow formula which allows real estate investors to own real estate free and clear far more quickly & safely by turning the banks' rules against themselves. Today, Mr. Pillmore has been featured on hundreds of radio and television programs and is considered the foremost leading expert on the subjects of cash flow, debt, and both personal & business credit. He has a unique ability to accelerate nearly anybody's financial goals, using a simple 3 step recipe.
LEARN ASSET PROTECTION AND ENTITY FORMATION FROM NICK FORTUNE, CEO OF FORTUNE DNA
Nick Fortune is an inventor and intellectual creator for many asset protection and wealth strategy patents. Nick is an expert in evaluating complex macroeconomic legal issues and developing complex tax strategies for clients.
He is a frequent guest on a variety of talk and news shows. Nick is the author of "The CPA Survival Guide" and the Founder of the elite business and investor forum entitled Hush Hush Secrets of the Ultra Wealthy.
ARE YOU A VIP REALTY411 MEMBER YET? IT'S FREE CLICK HERE
No matter what, please mark your calendar so you don't miss out on this fantastic real estate and finance expo. Our goal is to provide fantastic resources to help you learn about real estate or grow as an investor. We know your time is valuable, so we have wonderful books, magazines, and other gifts to give away.
Close the year off right with spectacular networking!!! Build NEW friendships and business collaborations with some of the industry's TOP Leaders. Plus, guests will discover new resources to FUND deals. Joining us are incredible speakers, sophisticated investors, and VIP Industry Leaders from across the country.
LISTEN TO A RADIO PROMO ABOUT OUR EVENT HERE!!!
Meet Powerful Leaders! Here is our speakers from last year:
Phil and Shenoah Grove, REI Matcher
Ben Caballero, USA Homes, Inc.
Ben is the #1 Sales Agent in the U.S.!
Reggie Brooks, Teaches Probate
Dennis Henson, Single Family Fortunes
Nick Malis, Fortune DNA
Brad Sumrock, Multifamily Investments
Arnie Abramson, Discover Tax Liens
Anthony Patrick, New Harvest Ventures
Tom Wilson, Investing in Texas from CA
Randy Hughes, Mr. Land Trust
Pat James, Learn How to Reduce Taxes
John Jackson, Creative Lease Options
Kaaren Hall, uDirect IRA Services
Joe Boston, Dallas REIA
Tim Herriage, 20/20 REI Companies
Gene Guarino, ALF Academy
Todd Dotson, Get In, Get Out, Get Paid!
Pam Blanco, PamTexas.com
Colony American Finance and More!
Save
Save
Save
Save
Save
Save
Save
Save
Save
Save
Save
Save
Save
Save
Save
Save
Save
Save