Check out our new audio content!

---
Need a VIRTUAL Option for Realty411's
Upcoming In-Person Event in Las Vegas?
LET'S START THE LEARNING EARLY…
BONUS: VIRTUAL TRAINING THIS FRIDAY, OVERCOME LOW INVENTORY.
Don't miss our virtual BONUS SESSION celebrating our Realty411 Las Vegas event this week. Our first in-person event starts off at Noon on FRIDAY with an incredible VIRTUAL session.
Join Landvoice August 20st at 12:00 PM PT for a complimentary Bonus Session of our Las Vegas Real Estate Investor's Summit. They will be discussing:
How to Overcome Low Inventory & Buy More Properties Now.
Register to attend at: CLICK HERE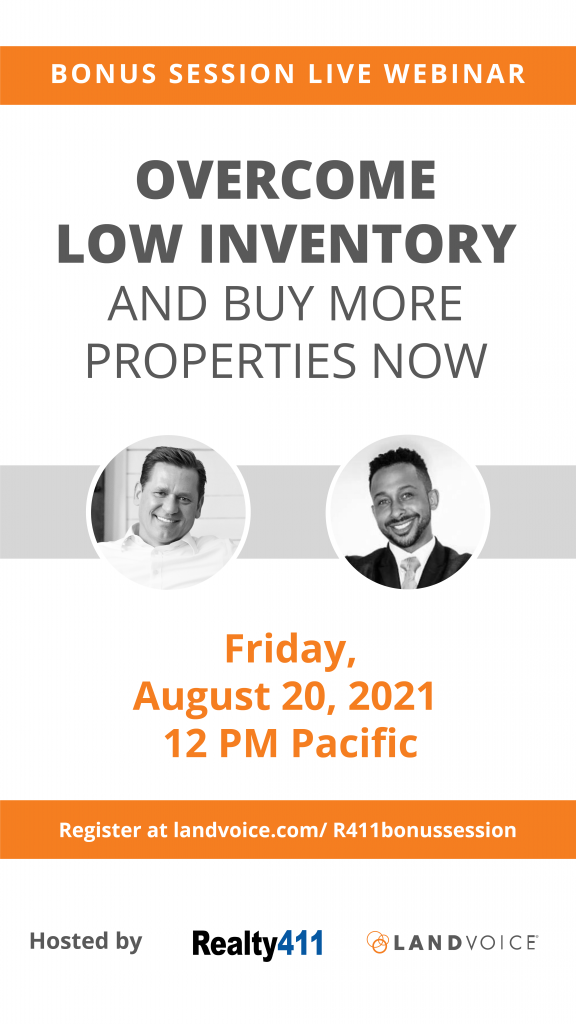 Landvoice will show investors where to focus their time and energy and how to dominate during times of low inventory.
Join national trainers, Christoph Malzl and Jonathan Metoyer, as they discuss strategies, habits and systems that work right now to find and approach homeowners who are motivated to sell. They will show you where the leads are and what is moving the needle in your area. They'll share scripts and tools used by top investors to consistently buy new properties.
Landvoice has been investing in real estate agent and investor success for nearly 30 years. They've helped real estate professionals thrive through all economic conditions. They make sure you wake up every day to a new list of local sellers, which includes property details, homeowner contact information with mobile numbers and even email addresses. Landvoice adds fuel to your fire so you can buy more properties.