Check out our new audio content!
Real estate agents and brokers take note: We've partnered with Landvoice to provide the team with a FREE TRAINING on June 16th at 1:00 PM. This is a virtual discussion on How to Overcome Low Inventory & Get More Listings Now.

Register HERE to get your access code to the live class.

About the Class
Learn how to dominate during times of low inventory and uncover motivated sellers in your local market, while creating a constant stream of fresh buyer leads through technology and automation. Sidestep the wannabes and crush it this summer!

Join national trainers, Christoph Malzl and Jonathan Metoyer, as they discuss strategies, habits and systems that work right now to find and approach homeowners who are motivated to sell.
They will show you where the leads are and what is moving the needle in your area. They'll share scripts and tools used by top agents to consistently add 3 to 5 more listings a month like clockwork to crush your listing goals!

Attendees will receive lots of free scripts and downloads. Check out the course flyer BELOW for more info. Plus, watch a short video invitation to the webinar by trainer Christoph Malzl.

Landvoice is really trying to help agents right now, so they've completely waived all regular class fees. That means we can all join for FREE. We hope you'll join us.

Realty411 Team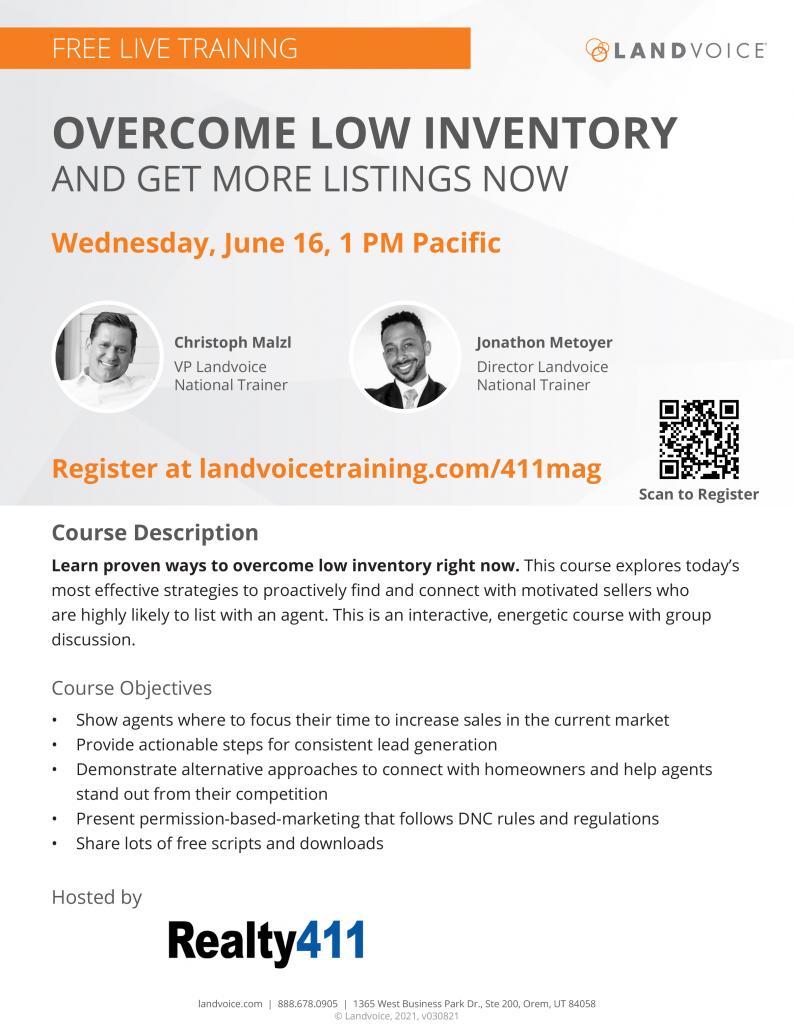 About Landvoice
Landvoice has been investing in real estate agent success for nearly 30 years. They've helped agents thrive through all economic conditions. They make sure you wake up every day to a new list of local sellers, which includes property details, homeowner contact information with mobile numbers and even email addresses. Landvoice adds fuel to your fire so you can list more properties and close more deals.