Check out our new audio content!
Dear Reader,
The other day, you received an invitation to join me and my associate, Bruce Mack, for a LIVE webinar where you'll learn how to solve that giant tax and asset protection problem facing ALL Real Estate Investors. Bruce is the perfect person to share this insight as he is a Licensed Financial Advisor, national speaker, author, and real estate investor.
Today, I want to give you one more nugget about this strategy.
They say that "the only guarantees in life are death and taxes." Well medical advances have been able to postpone death for a while.
But what about overpaying taxes? Can you postpone them too?
Actually, Bruce says you can. (In fact, Bruce adds that you can defer most of your tax liability in perpetuity.) They have a solution that completely solves that giant tax problem for ALL Real Estate Investors.
Using their Trust, you cannot be classified as a Real Estate Dealer. Real Estate Dealers are taxed at ordinary income rates, plus self-employment @ 15.3%, Medicare Surtax & AMT. That could easily be over 50% of your profits. OUCH!!
This strategy uses the tax code to legally keep most of the money you were going to send to Uncle Sam this year in your bank account and is 100% IRS compliant.
On this critical must-attend webinar, Bruce will also reveal how you can protect yourself financially — right now — in today's troubled and litigious times with bulletproof asset protection.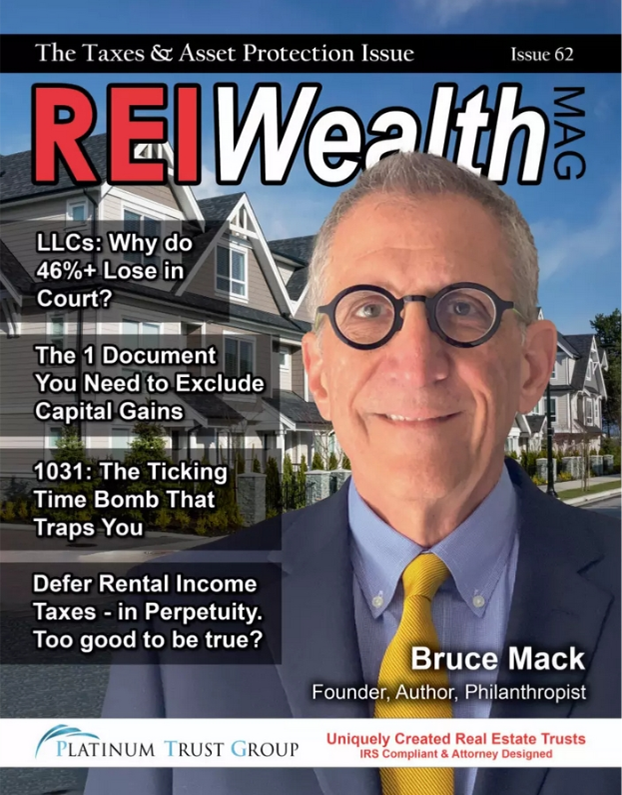 Reserve Your Seat here now!
November 14, 2023
5pm PST / 6pm MST / 7pm CST/ 8pm EST
To Your Success!
Linda Pliagas
Publisher/Editor/Investor
Realty411.com and REIWealthmag.com
P.S.: Make sure you stay until the end of the webinar! Bruce will tell you how you can get a complimentary 1 on 1 consultation ($250 value).
P.P.S.: With this proprietary Trust Brice states you will also receive absolute asset protection for yourself and your business. LLCs can easily be pierced.
Join us for this LIVE webinar and learn if you qualify to defer a good portion of your tax burden … LEGALLY, without having to move to another country to do so. Don't miss this informative webinar.

DOWNLOAD AND LEARN TODAY