Check out our new audio content!
VIRTUAL REPLAY:
The Power of INC
Tax Savings During Difficult Times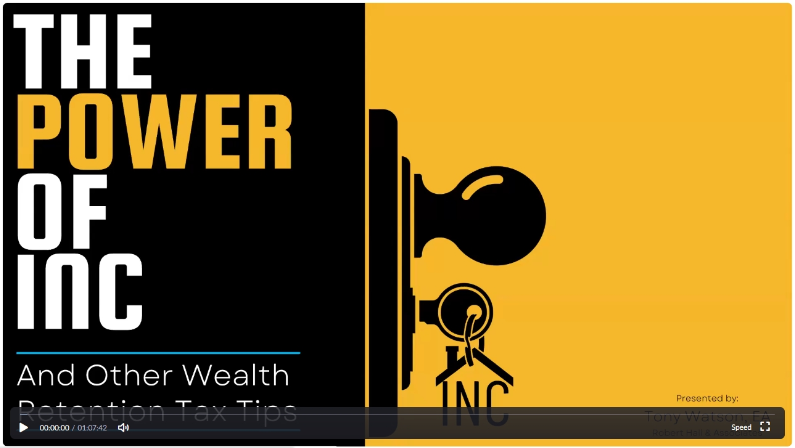 Did you miss our last educational webinar? Don't worry! We now have the entire replay available for you (and your team) to watch at your leisure.
Don't miss this insightful webinar, which will help answer so many questions about tax planning, entity selection and corporate structuring.
Watch the Replay Now: The Power of INC — Tax Savings During Times of Economic Uncertainty!
Topics for this webinar replay will include:
1. Entity selection: LLC, C Corp, S Corp – Tax implications of each
2. Is incorporating right for me?
3. How do I pay myself a reasonable salary?
4. Can I rent back my in-home office to myself?
5. Can I incorporate in a different state to save money?
6. The difference between an LLC, a trust, & an insurance policy
7. Changes in the tax code for 2022-2023
8. Plus, we will answer questions LIVE from our audience!
We encourage you to make time for this life-changing webinar replay. This information will help you understand how to form the proper structure to legally protect personal assets.
About Our Educator:

Tony Watson – Enrolled Agent / Tax Consultant/Keynote Speaker – Tax
Tony Watson personally manages clients with over $350 million dollars in real estate holdings. He has spoken for hundreds of trade organizations throughout the State of California. Holding a federal license as an Enrolled Agent tax practitioner, Tony can advise, represent, and prepare tax returns for individuals, partnerships, corporations, and any other entity with tax-reporting requirements. Aside from his full-time position at Robert Hall & Associates, Tony is an active real estate investor, entrepreneur and enjoys short and long-term trading.