JOIN US FOR ONE SPECIAL DAY OF NETWORKING, EDUCATION AND DEAL MAKING – TAKE YOUR REAL ESTATE KNOWLEDGE TO A WHOLE NEW LEVEL
Don't miss our complimentary real estate investor expo created and hosted by an accredited investor and real estate agent from California. Realty411 has been providing the resources investors need to be successful since 2007.
Long Island Real Estate Investors' EXPO and Networking Conference
Honoring East Coast REIA
Hilton Long Island
598 Broad Hollow Rd
Melville, NY 11747
Saturday, Sept. 17, 2016 — 9 AM to 5 PM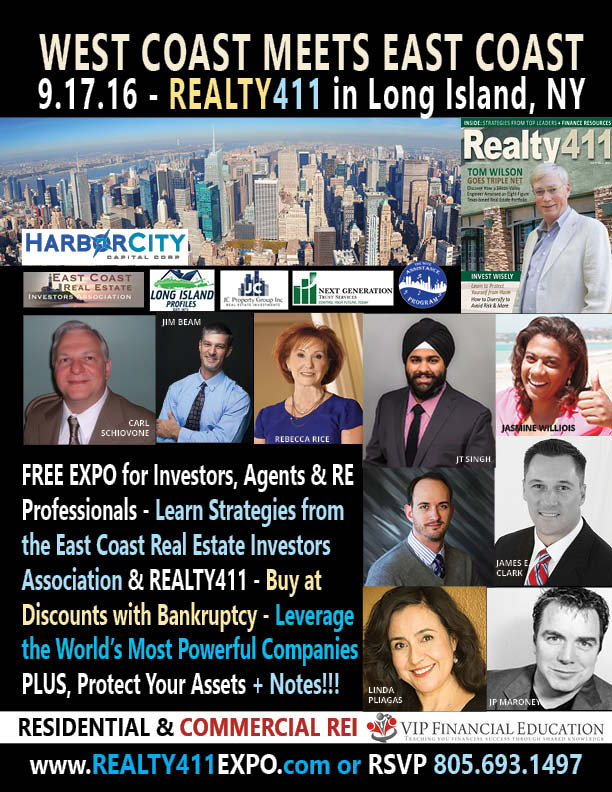 ~~~~~~~~~~~~~~~~~~~~~~~~~~~~~~~~~~~~~
Special Thanks to Our Sponsors:
James Clark, Esq.
Bankruptcy Court Secrets
JC Property Group, Inc.
Next Generation Trust Services
Bankruptcy Court Secrets
Note Assistance Program
VIP Financial Education
Rebecca Rice & Assoicates
Long Island Profiles
Harbor City Capital Group
EAST Coast REIA – HOST
Special Education By:
Expo Gift Bags Courtesy of uDirect IRA Services
Photography by:
Bill Moseley, President of BBA Photography Corporation
REAL ESTATE AGENTS/BROKERS Get Your Professional Headshots Here at HALF the Cost! Need a New Look? Need to Upgrade Your Business? Realty411 has the TOOLS you need to be Successful. Here.
GET YOUR NEW HEADSHOTS HERE FOR ONLY $50! We want to help you in your career and we are making it very easy for you to get a NEW HEADSHOT for your business!
Normally, one sitting with BBA Photography Corporation is $150 on location;
Today, receive your headshots for only $50.
Save
Save
Save
Save
Save
Save
Save