JOIN US FOR ONE SPECIAL DAY OF NETWORKING & MOTIVATION – TAKE YOUR REAL ESTATE KNOWLEDGE TO A WHOLE NEW LEVEL.
---
Don't miss our complimentary real estate investor expo created and hosted by an accredited investor and real estate agent from California. Realty411 has been providing the resources investors need to be successful since 2007. We visit New York twice per year because we love it so much! Join us for our Special ANNUAL Real Estate Expo in TIMES SQUARE celebrating REIA NYC.
---

New York City Real Estate Investor Conference and Expo

Honoring REIA NYC & Teresa Martin, Esq.
DoubleTree Suites by Hilton Hotel , New York City
TIMES SQUARE, 1568 Broadway, New York, NY 10036
Saturday, December 3, 2016 — 9 AM to 5:00 PM
~~~~~~~~~~~~~~~~~~~~~~~~~~~~~~~~~~~~~
OUR SPONSORS INCLUDE:
AUCTION.COM
HOME DEPOT
REIA NYC
PLUS:
AARON ORGANIZATION
AMERICAN EXPRESS
ANDERSON ADVISORS
CHRIS PREFONTAINE
EAST COAST REIA
HARBOR CITY CAPITAL CORP.
JC PROPERTY GROUP INC.
NOTE ASSISTANCE PROGRAM
REBECCA RICE & ASSOCIATES
REIA NYC
REI WEALTH MONTHLY
REALTY411 MAGAZINE
SMART REAL ESTATE COACH
VIP FINANCIAL EDUCATION
BANKRUPTCY COURT SECRETS
Expo Tote Bags by:
uDirect IRA, Services
~~~~~~~~~~~~~~~~~~~~~~~~~~~~~~~~~~~~~
* Mingle with Company Executives * Meet Local Leaders & Out of Area Investors
NON-Stop Tips for Real Estate Success ~ Make 2016 Your Year! We Want & Can Help YOU Succeed. Bring Lots of Cards.
NETWORK – LEARN – CONNECT – SKYROCKET IN 2016
BRING YOUR FLYERS OR BROCHURES FOR OUR "411" BOOTH
We know your time is VALUABLE. Time is the most valuable asset we have. We can always make more money; however, we cannot add more time to our life!
WE URGE YOU TO INVEST QUALITY TIME IN GROWING YOUR BUSINESS, CONNECTIONS, RESOURCES, KNOWLEDGE AND SPHERE OF INFLUENCE.
Hosted by Realty411 – Publisher of National Magazines
Since 2007 our events have attracted fantastic people and companies.
---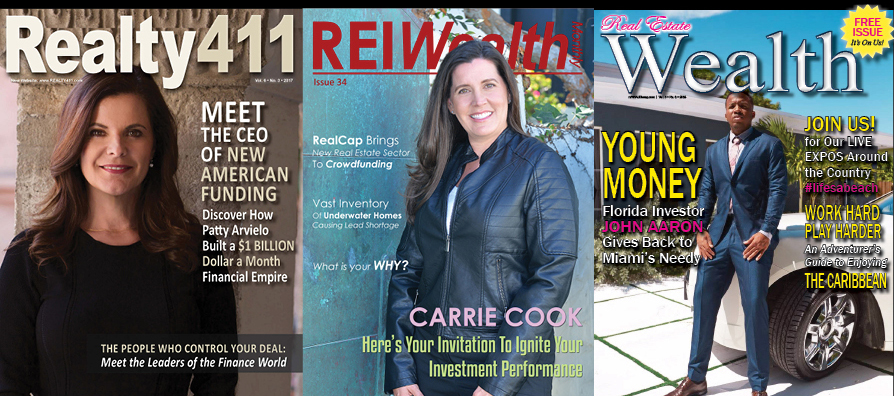 CONTACT US TO BE AN EXHIBITOR: 805.693.1497
All Guests Receive Our California-owned magazines, including:
Realty411, CashFlow Express & REI Wealth Monthly
Meet Local Leaders & Industry Giants – We are California Investors
Influential Real Estate People & Business Owners Attending!
Find Potential Partners, New Friends, Build Your Circle of Influence.
Remember Your Net Worth = Your Network
Mingle with Local Leaders & Industry Professionals from Around the Nation! Honoring the REIA NYC – OUR SPEAKERS INCLUDE:
---
Teresa R. Martin, Esq.
Attorney, Speaker, Financial Health Coach, Real State Investor
Teresa R. Martin, Esq. is a sought-after lecturer, keynote speaker, consultant, facilitator and educator; who demonstrates a deep understanding of the importance of financial education in business and in life. Her expertise is most adept for executive conferences, ministries and educational events. Teresa speaks passionately about self – realization, the importance of financial stewardship in business, the responsibility of personal development and influence in the pursuit of financial freedom.
Born in Long Island, NY, Teresa began her career in the legal industry in the late 90′s. Despite a paucity of mentors, Teresa was inspired to move up the corporate ladder to self-employment; creating her own successful law firm, the Law Offices of Teresa R. Martin, P.C. As principal of her own practice, she has honed her skills in the areas of real estate and bankruptcy; specializing in residential & commercial real estate transactions, foreclosure defense litigation and credit restoration services.
In addition to being an attorney, Teresa wears the hat of a seasoned real estate investor with a focus on creative acquisition strategies. Strategies that she developed, implemented and taught to others through her role as Counsel/Founder of Real Estate Investors Association NYC ("REIA NYC") and as Director and past President of the New York Chapter of Better Investing, the nation's largest non-profit organization dedicated to investment education.
Her financial literacy message endeavors to impart knowledge about attainable money management and business ownership skills for individuals of all ages, but she has an affinity for single and teen mothers. Through a hands on approach, Teresa's passion is to teach single and teen mothers to obtain a financial life before debt becomes a way of life and to encourage the utilization of generational wealth building principals.
Teresa has appeared as a legal and real estate expert on Voice of America, Real Estate Straight Talk and numerous radio programs. She has been featured in such publications as Money Magazine and Diva Zone Magazine. Teresa, has two adult daughters, is the very proud grandmother of two grandchildren and currently lives in Brooklyn, New York.
Chris Prefontaine – SMART REAL ESTATE COACH
Chris has been in real estate for 25+ years and has built over 100+ single family homes (1990's), has owned a Realty Executives Franchise (Massachusetts 1994-2000) and eventually sold his brokerage business as a realtor to Coldwell Banker in 2000. The 2000's included coaching people throughout US and Canada and doing condo conversions (multi family homes to condos) and "raise the roof" projects (converting single family ranches to colonials in growth neighborhoods).
Chris has been a big advocate of constant education and has participated annually in high end mastermind group ($25,000 each) personally with Ron LEGRAND. He also does JV deals with Ron Legrand for the $1mil + properties.
Chris's company Pre Property Solutions buys between 4-10 properties monthly and a large percentage of those are done via lease/options as well as selling via special terms lease. Chris and his family/team has done over 75 million in real estate transactions. Chris also coaches others throughout the country to do the same. He has passion in helping others in allowing them to grow to their full potential.
Rebecca Rice & Associates
* Discover How the Techniques that the Wealthy utilize to increase their return
* Learn How to Create a More Secure Financial Future while Protecting Loved Ones
* Review Examples of How Real Estate Investors Utilize this "Living Benefits Strategy"
* We Promise You Will Never See Real Estate Investing the Same Way Again!
Rebecca Rice has been a financial planner for 25 years; her breadth of experience helps her clients navigate all aspects of gaining financial freedom and wealth management. She is Managing Partner and Founder of her firm, RebeccaRice and Associates, which was established in 2001.
Rebecca is considered a master of the Living Benefits of Whole Life insurance among her peers. She can show you how to use Living Benefits to invest in real estate as well as build a business, pay off debt, build financial freedom, gain retirement income, and produce generational wealth—because she's done it all.
Rebecca holds two degrees from the University of Arkansas—a BSBA in Marketing and a BA in Management. Rebecca's people-oriented, friendly personality and faith based heart help her relate to her clients on a personal level, allowing her to build the best financial strategy possible. Her goal is to educate her clients on bettering their financial situations and offer them strategies that best fit their needs.
A current member of the National AALU and Life Insurance Product Committee for Mass Mutual, Rebecca has also served as past President of the GAMA Association through her relationship with a well-known life insurance company. She has written a book, entitled Multiply Your Wealth: Essential Secrets for Financial Freedom, published in 2014.
In her personal life, she is a Patron and Auxiliary member for Arkansas Children's Hospital as well as supporting and working with many other non-profit organizations. Rebecca is happily married, has 3 children, 2 grandchildren, and 2 beloved dogs, all of whom who live in Arkansas, close to her.
JIM BEAM with Rebecca Rice & Associates
Rebecca will be assisted in this presentation by Jim Beam. Jim consults with clients to expose the truths about the behavior of the dollar in their personal economic environments. In working with clients, Jim shows how much money will come into their personal economy during their lifetime and just how fast it can disappear if financial decisions are being made without intent.
What is intent? Intent is the act of performing with a clearly formulated or planned objective. Jim helps develop that objective.
Jim has two degrees in business management and spent the first 25 years of his career managing over $500,000,000 in real estate and major construction projects. He has a particular interest in working with real estate investors and small business owners to show them strategies that keep their dollar working in multiple places at the same time.
Jim has been married to his wife, Shannon, for 22 years and they have been blessed with four children. Together, they have enjoyed over 25 years in various aspects of business management and ministry outreach. Their life verse is Proverbs 3:5-6. Jim and Shannon share their passion to add value to their client's economy by illustrating proven processes to protect, use, and grow their wealth providing certainty in uncertain times.
Protect Your Assets with Garrett Sutton, Esq.
Garrett Sutton has been in practice more than thirty five years. Garrett assists entrepreneurs and real estate investors from around the world to protect their assets and maximize their financial goals through sound management and asset protection strategies. Garrett is highly sought after as a guest speaker and serves as a member of the elite group of "Rich Dad Advisors" for bestselling author Robert Kiyosaki.
Garrett has authored several successful books for business owners, including Start Your Own Corporation, Run Your Own Corporation, Writing Winning Business Plans and Loopholes of Real Estate. These books are part of the bestselling Rich Dad, Poor Dad wealth-building book series.
Garrett attended Colorado College and the University of California, Berkeley and obtained his law degree from Hastings College of the law, the University of California's law school in San Francisco. Garrett is licensed in Nevada and California. He serves on the boards of The American Baseball Foundation, based in Birmingham, Alabama and The Nevada Museum of Art and Sierra Kids Foundation, both based in Reno, Nevada.
Meet the Publisher of Realty411, the longest-running national real estate magazine and expo company in the nation. Realty411 has led the REI industry since 2007 as the fastest-growing magazine brand with their creative marketing. Their global visiblity has skyrocketed by their large social media following.
Linda Pliagas – Realty411, publisher/investor/agent
* Linda Pliagas has owned rentals in five states
* She has been a licensed agent for 16 years and has a bachelor's degree in journalism
* She has been a national publisher since the age of 25 and has also referred millions in real estate transactions. She has years of expertise in both industries
* Linda has been a landlord for over 20 years in California and Out of State
* Linda is a self-made millionaire and has been mortgage-free since age 39
MEET JP MARONEY – Founder & CEO, Harbor City Capital
JP Maroney is an American entrepreneur, investor, and philanthropist with more than 26-years experience starting, building, buying, and selling companies in publishing, media, advertising, software, ecommerce, textiles, training, real estate, and consulting.
He's Founder & CEO of Harbor City Capital, a global alternative investment group specializing in buying, building and monetizing digital assets.
JP's business group includes a collection of companies and joint ventures involved in publishing, software, media, training, consulting and internet commerce. He also serves as adviser and/or board member with several other companies.
Current and past clients include: Wells Fargo, Century21, Precision AutoTune, The Maids, Metric Property Management / BlackRock, National Apartment Association, Independent Bankers Association of Texas, Texas Association of Business, Texas Credit Union League, and many other franchises, corporations, and trade associations.
JP Maroney is the best-selling author or co-author of more than 30 books and audio/video learning systems. His in-demand articles and columns have appeared in dozens of print and online publications throughout the US and Internationally. Additionally, he has collaborated, organized and published business and self-improvement books with more than 70 other industry authorities.
A popular keynote and seminar speaker with more than 2,500 presentations under his belt, JP Maroney inspires and educates audiences with his business principles, ideas and strategies that have been hammered out on the anvil of experience.
Learn from a Local Multifamily Leader:
Robert G. Hetsler, Jr., J.D./CPA/CVA/CFF/CFFA/FCPA/CMAP/PFP
Mr. Hetsler has devoted his career to advising business owners and attorneys on all things related to business valuation, forensic accounting, 1031 exchanges, commercial real estate (Self-Storage specifically), financial planning, and mergers/acquisitions. He is the Managing Director of Hetsler Mediation & Valuation, Inc., a uniquely specialized accounting and consulting firm dedicated to providing business valuation, forensic accounting and Mergers & Acquisitions ("M&A").
Robert has valued businesses across all industries for divorce, partner or shareholder disputes, Estate & Gift tax, buy/sell agreements, dissenting shareholder actions, M&A's and Employee Stock Ownership plans ("ESOP"). Business valuations, 1031 Exchanges, forensic accounting, income producing property and retirement division through the preparation of Qualified Domestic Relations Orders (QDRO's) are the five key areas of Robert's innovative financial practice.
Robert has testified in numerous courts as an expert witness in, retirement division, business valuations and forensic accounting. He has also been appointed as a neutral business valuator in litigation cases. Prior to focusing all his time on the unique practice areas above, he was a civil/family mediator where he conducted over three thousand mediations ranging from high conflict business disputes to high net worth divorce cases. Robert operates as an M&A consultant to business & real estate owners wishing to liquidate or expand their business via selling their business or acquiring an existing business' or real estate. He has been involved in many transactions in industries such as self storage, billboards, manufacturing, technology, legal, construction, medical/dental practices, etc… as the lead consultant ensuring the transaction, along with all the intricate details, closes timely and smoothly.
HIs life passion has been real estate with his first personal transaction involving billboards. He now owns nine separate storage facilities, several other commercial properties and six investment homes. Fourteen years ago, the tax attorneys to whom Robert worked with in the business valuation world, asked him to operate as a Qualified Intermediary which was directly related to his passion for real estate investing. It was the perfect storm in that he could speak with like-minded people and have fellow investors as clients, which is the ideal opportunity to combine his passion with his education and skillset.
Thereafter, Robert has spent most of his professional life working in and around real estate as an investor, qualified intermediary, replacement property expert, and real estate agent. After Law School, he worked for a real estate attorney handling closings for three years. The results were a countless amount of national connections around the Nation from every possible angle in real estate.
Robert obtained a bachelor degree in Accounting along with an additional year of postgraduate studies in Accounting and Tax from University of North Florida.
He also acquired a Doctorate Degree in Jurisprudence from Florida Coastal School of Law. Finally, Robert is an active member of the, American Institute of Certified Public Accountants (Personal Financial Planning Section), the National Association of Certified Valuators & Analysts, and the Florida Institute of Certified Public Accountants (Valuation & Litigation Section).
~~~~~~~~~~~~~~~~~~~~~~~~~~~~~~~~~~~~~~~~~~~~~~~~~~~~
Learn From Sensei Gilliland with BLACK BELT INVESTORS
Black Belt Investors' Real Estate Master, Sensei Gilliland, has been honored as the nation's leading real estate expert and business mogul by Real Estate Wealth Magazine, and has now expanded his capacity for granting speaking engagements across the US.
Real estate investors frequently flock thousands of miles for words of wisdom from Sensei. His live training and coaching events are known for being value packed, overflowing with practical, quick to implement tactics, and energizing for both white belt and black belt level real estate investors and business owners.
Any real estate investor seeking to increase their own knowledge with a highly recognized and sought out industry will find Sensei packs a real punch when on the bill.
In a sentence, Sensei's education is – "No fluff, just hard hitting, real tactics investors can put into action effectively, delivered by a real estate master that has proven his mettle over two decades." Come hear one of the most powerful leaders in today's real estate industry.
Jasmine Willois – Note Assistance Program
The Note Assistance Program (N.A.P.)
The N.A.P was created with the individual note investor in mind. Working directly with self-directed IRAs and busy executives the program addresses the needs for protection and quality service in the distressed mortgage industry. Come take a N.A.P. and see why so many distressed note investors choose to get assistance from our team.
Jasmine Willois has been a real estate investor in short sales, deed-in-lieus, REO flips, rentals, and notes since 2005. She is a founder of Jazz Up Indy, Inc., an REO fund manager at AHRF, and an active Realtor in California. Her companies are known to provide security and comfort to real estate investors via independent research, property management, accredited investment opportunities, and live coaching. Her reputation for her judicious use of resources and results-oriented portfolio management style has opened many doors for her clients.
She received her B.A in Economics from CSU Long Beach and holds an MBA in marketing. She currently lives in San Diego, CA with her husband and two children. An advocate for responsible investing, she educates investors on conservative real estate cash flow strategies and the abundance of real estate-related opportunities that lie outside their backyards.
Benefits of Working with N.A.P.
* Each client will get their very own Note Assistance Manager
* We offer prohibited transaction protection for IRAs
* We are an extra barrier between the Disqualified Person, (their retirement) and the IRS
* Busy executives still take advantage of NPNs without the distractions of full time note investing.
Here is a Testimonial from an Investor in Northern California who recently attended our San Jose Expo in Silicon Valley recently:
"I need to thank you for a fabulous Real Estate Expo on Saturday. It was the best Expo that I have ever been! The very first vendor was immediately a business match. To my amazement, there was a business connection with EVERY vendor that was there! This certainly has never happened to me before. It was small enough to have the intimacy that makes deals and fosters my business….and large enough to give me a lot of follow-through work! And the speakers had so very much to teach! A big BRAVO."
~Charly P., San Jose Investor
MEET & MINGLE WITH YOUR LOCAL REIA LEADERS
---
LEARN FROM MATTHEW PILLMORE – VIP FINANCIAL EDUCATION
Matthew Pillmore built a successful wholesale residential mortgage company in 2000. During that time he began investing in real estate. At age 23 he hired a creator of the original FICO score and the Nation's leading credit attorney to build the 760 Club.
One year later, he discovered a revolutionary cash flow formula which allows real estate investors to own real estate free and clear far more quickly & safely by turning the banks' rules against themselves.
Today, Mr. Pillmore has been featured on hundreds of radio and television programs and is considered the foremost leading expert on the subjects of cash flow, debt, and both personal & business credit. He has a unique ability to accelerate nearly anybody's financial goals, using a simple 3 step recipe.
ATTENTION AGENTS/BROKERS:
It's time for you to add Creative Real Estate Techniques into your
* Plus, enjoy viewing REI Wealth Monthly,
our fully-interactive digital publication developed for Apple enthusiasts
* Learn Tips and Strategies on TOP Real Estate Niches:
Fix 'n' Flip, Wholesaling, Crowdfunding, Buy & Hold,
Local & Out-of-State, Private Lending, Commercial & Residential
~~~~~~~~~~~~~~~~~~~~~~~~~~~~~~~~~~~~~~~~~~~~~~~~~
FOR INFORMATION PLEASE VISIT:
CALL: 805.693.1497 | 24 Voice Mail: 310.499.9545
Realty411's main website at: http://realty411guide.com
Be sure to get your hands on our new release of Realty411 Magazine, Private Money411 and CashFlow Express either by mail, or by picking up a free copy at one of our events!
No matter what, please mark your calendar so you don't miss out on this fantastic real estate and finance expo. Our goal is to provide fantastic resources to help you learn about real estate or grow as an investor. We know your time is valuable, so we have wonderful books, magazines, and other gifts to give away. Build NEW friendships and business collaborations with some of the industry's TOP Leaders. Plus, guests will discover new resources to FUND deals. Joining us are incredible speakers, sophisticated investors, and VIP Industry Leaders from across the country.
The LATEST in Finance News and Updates – Learn Investor Tips to WIN in Real Estate in 2016
Join REALTY411 as we take our national tour across the country and the world… Realty411 is the leading real estate investor magazine and expo company in the country.
Since 2007, we have been providing individuals with the resources they need to succeed in real estate. Don't miss this important event!!
Our UNIQUE set of speakers are a part of REALTY411 to help YOU grow and learn. Come network and meet new friends and reconnect with old ones because they will be here too!
We are the ORIGINAL realty magazine for investors and our publication and network began in Los Angeles in 2007.
Save
Save
Save
Save
Save
Save
Save
Save
Save
Save
Save
Save
Save
Save
Save
Save
Save
Save
Save
Save