By Gary Massari and Bruce Kellogg
Introduction To Real Estate Matters
This is an initial article in a new series called, "Gary's Real Estate Matters" from Gary Massari, CEO of REI Fortunes and Bruce Kellogg, Real Estate Consultant.  In this article you will learn the importance of estimating repair and renovation improvements and how you can benefit financially!
Use With Contractors
When working with contractors, you can save money several ways; first, buy your own materials and only hire the contractor for labor. This will save you 20% on materials that contractors mark up.  Secondly, if you are a veteran, Home Depot will give you a 10% discount. If not, then find a friend who is a veteran to make your material purchases for you.
We are going to show you a template we use so you can see how it works, especially with contractors and sub-contractors for each area of rehab. It is important for the bidding to be uniform so that careful comparisons among bids can be made. If a bidder departs from the estimator, there must be discussion to reconcile any differences. Otherwise, you are comparing apples and oranges, as the saying goes.
Building Your Own Estimator
There are a lot of cost estimators you can get for free by searching Google, but designing your own to meet your specific needs is far better and more accurate.
When designing your estimator using an Excel spreadsheet, there are four summary parts you want to include to the estimator:
Exterior
Interior
Mechanics
Other
Exterior will look something like this…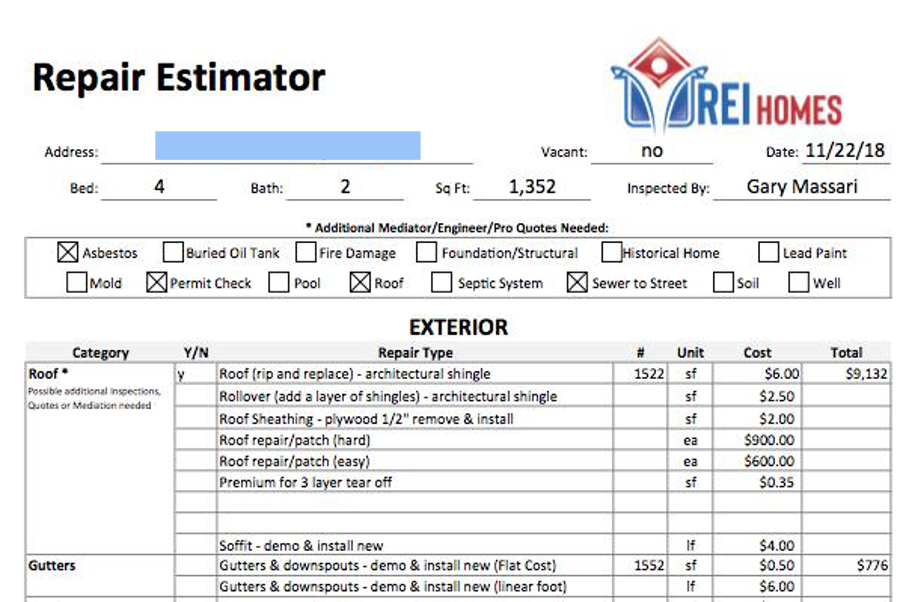 Notice that the UNIT SF works together with the COST (unit price) to calculate the total cost, as in this case for a new roof.  You can easily contact a roofing contractor in your area to get a square foot cost to replace a roof.
Here are the categories for the Exterior:
Roof
Gutters
Finish
Masonry
Painting
Windows
Garage
Landscaping
Concrete/Asphalt
Decks
Fence
Pool
Septic
Here are the categories for the Interior:
Painting
Hardwood
Carpet/Vinyl
Kitchen cabinets, flooring, counter tops, electrical & plumbing
Appliances
Bathroom
Framing
Insulation
Walls
Doors & Trim
Basement
Foundation
Mechanical
HVAC
Plumbing
Electrical
Other
Demo & Dumpsters
Termites/Mold
Permits
Concluding Remarks
The unit cost in our example is based on the San Francisco Bay area. They will need to be revised for areas that have substantially different cost structures. Input from local contractors submitting bids should make this possible.
In many markets around the country, sale prices are now declining. Therefore, it is critically important that rehab costs be estimated accurately, and an extra margin be added for safety.
Put a Yes/No column, and that way you can walk through a home in minutes and mark Y or N based on your observations. When you leave you can then calculate the cost.
Make sure you add a 10% to 20% contingency to the total project to cover unknowns. Some hard money lenders will only allow 5% overall contingency, so in that case pad your line items to include a sufficient contingency.
When doing major renovations, it is wise to get SKU numbers for your kitchens, bathrooms and mechanical items.
The best use of a detailed cost estimate is to assure that you have covered your bases to have a profitable project, and to convince your investor as a wholesaler of your accuracy and credibility.
Your cost estimator will also come in handy when you negotiate your final offer on a discounted property to assure profitability.
Let Gary and Bruce know if this article helped you, and write us to request other topics.  You can always reach either of us by calling us or emailing us…
Gary Massari, CEO REI Fortunes, https://reifortunes.com
925-451-1619 [email protected]
Bruce Kellogg, Real Estate Consultant, [email protected] (408) 489-0131