Realty411 magazine, known as the original realty magazine for investors, is currently featured in five publications in Southern California reaching millions of residents.
Their upcoming ROCKSTAR Investor Weekend (July 13th thru July 15th) promotions, which includes extended editorial coverage, has been seen in numerous daily and weekly publications.
Press coverage has included editorial placement in numerous publications from San Fernando Valley to Laguna Beach, California.
Media placement included a promotion on the front page of the Daily Breeze, a newspaper serving the coastal regions of Los Angeles, known as the South Bay.
Other media included a feature in The Tolucan Times spotlighting Realty411's TV pilot, Property Pitch, which will be presented at the ROCKSTAR Expo in Los Angeles on July 14th.
The Tolucan Times serves as an important news source for employees and executives of several entertainment studios surrounding the area.
The cast of Property Pitch will be onsite to discuss their experience in real estate, as well as why they took part in this unique production, which was filmed in three different states by a veteran television production team in Hawaii, California, and Massachusetts.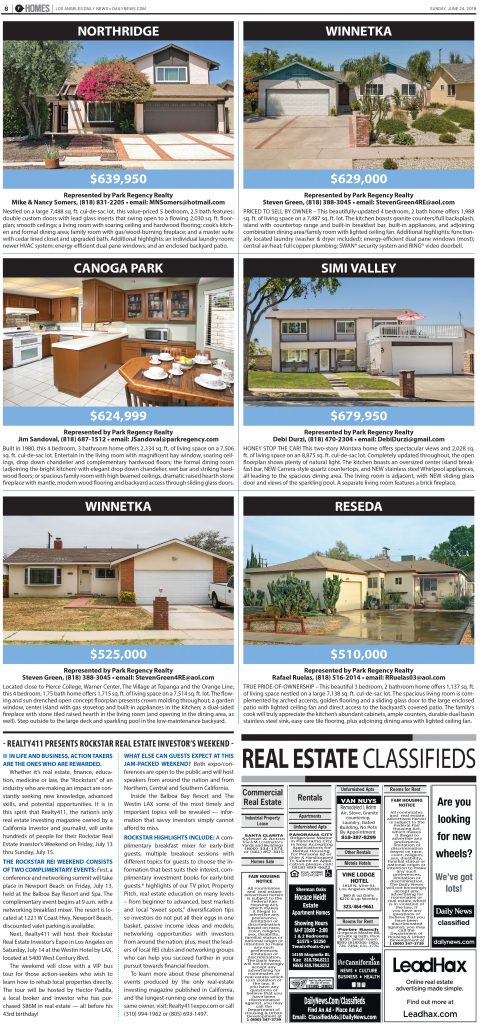 The ROCKSTAR REI Weekend begins in Newport Beach on Friday, July 13th for a complimentary all-day networking conference and mixer.
The Balboa Bay Resort and Spa will be the scene of this elegant, educational and fun conference.
The Westin LAX (5400 W. Century Blvd.) will be the location of their Saturday ROCKSTAR Expo. Realty411 has reserved the theater at this luxurious hotel for the first screening of their TV pilot, Property Pitch, which will soon be "pitched" to networks.
Realty411's mission is to spread knowledge and help others acquire the skills for success as investors.
---
For information about their events, please visit their individual websites:
In Newport Beach:
http://realty411expo.com/newport-beach-ca/
In Los Angeles:
http://realty411expo.com/los-angeles-ca/
---
Realty411 began a national press campaign last year to expand their coverage and visibility, their executed media plan resulted in clippings and mentions in media from Manhattan to San Francisco.
The company's in-house press team will be expanding to provide newly-added media relations, placement and services to their existing real estate clients as well.
Realty411 is published by Pliagas Enterprises, a woman-owned media company based in Santa Barbara County. Realty411 has been publishing resources for investors since 2007.
---
For more information about Realty411, their ROCKSTAR Investor weekend, or Property Pitch, please contact, Kasey Barrett @ 805.693.1497