Check out our new audio content!
We have exciting news regarding our FIRST In-Person Event in California. Our one-day conference will host incredible educators from around the country who'll be ready to share their years of knowledge.
Plus, we will have wonderful resources from companies exhibiting at our event. Guests will have access to private capital, plus business and commercial funding as well. Now is the time to grow your real estate business to new levels.
Thanks to our generous sponsors, subscribers and VIP members, our event is complimentary for everyone. Our early-bird guests will also enjoy a catered breakfast and gourmet coffee, plus plenty of networking opportunities.
Now is the moment to grasp this opportunity — the chance to network with sophisticated investors from California and around the country.
Be sure to pencil this date now and join us in-person to gain specialized insight and knowledge. The information shared on this day could catapult your portfolio to new levels. Broker/agents will receive valuable training on the latest technology available to close more transactions.
RSVP NOW @
https://www.eventbrite.com/e/realty411s-real-estate-investor-summit-learn-to-invest-live-in-irvine-tickets-156793779415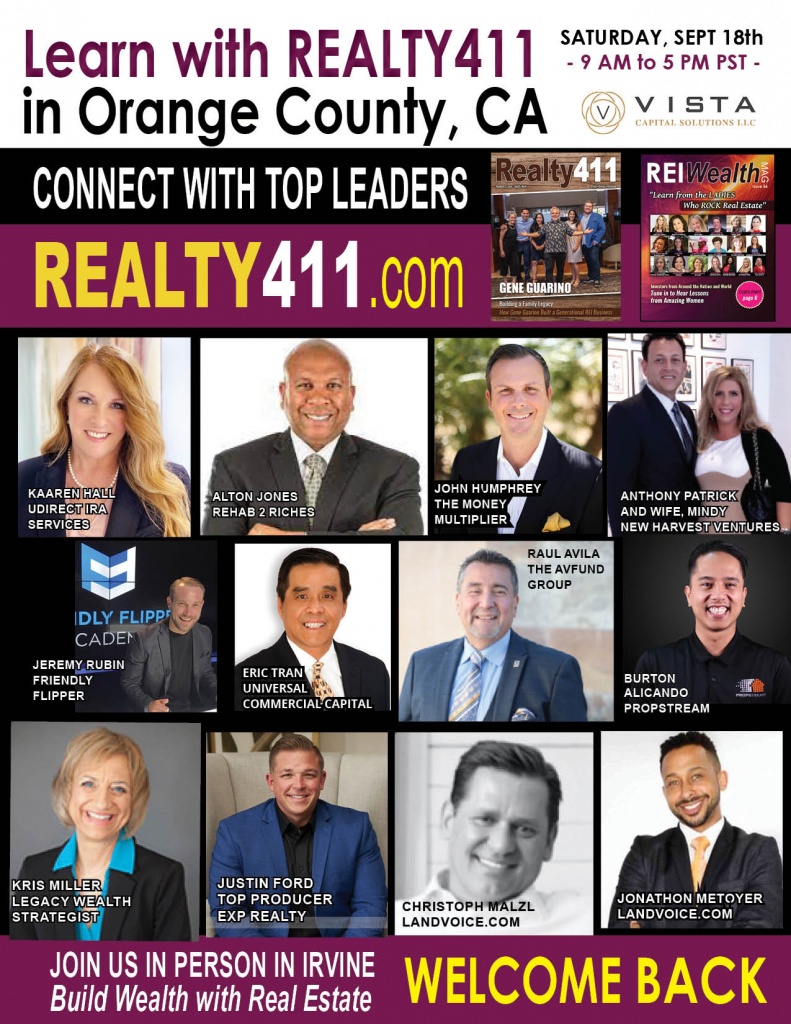 This one-day conference has something for everyone regardless of their experience level in real estate. Join this memorable day and receive knowledge for a lifetime.
Learn the Latest Niches in Real Estate + Connect with Influential Investors from across the nation right here in Irvine, California!
Join us and network LIVE AND IN-PERSON. This is our FIRST live event in California — Network with amazing leaders.
Are you ready to Grow Your Real Estate Business, Portfolio and Network?
We want this VIP EXPO TO EXPAND YOUR MIND and help you succeed.
Since 2007 Realty411 Has Been the Leader in REI Resources for Investors around the Nation, as Well as Our Readers Internationally.
Our outstanding educators and speakers, include renowned-industry leaders, such as:
* Kaaren Hall – CEO, uDirect IRA Services & OC REIA
* Bill Walsh – Powerteam International
* Matt Mccarthy – Pivotal Capital Group
* Anthony Patrick – CEO, New Harvest Ventures, LLC
* Alton Jones – Founder, Rehabs 2 Riches
* Raul Avila – Founder, CEO, The AvFund Group
* Christoph Malzl and Jonathon Metoyer – LandVoice
* John Humphrey – Founder, The Money Multiplier
* Eric Tran, CEO – Universal Commercial Capital
* Burton Alicondo – Product Specialist, PropStream
* Johnny Mejia – Lima One Capital
* Jeremy Rubin – The Friendly Flipper Academy
* Paul Finck – The Maverick Millionaire
* Kris Miller – Founder, Legacy Wealth Strategist
* Reed Blake – Business Finance Expert
* Robyn Mancell – Powur Solar
* Ginger and Rene Hernandez – Vista Capital Solutions
AND MANY, MANY MORE — JOIN US FOR AN AMAZING DAY!
OUR COMPLIMENTARY CONFERENCE IS THE #1 SOURCE FOR REI 411
This is Your Chance to meet TOP Leaders in REI, Local & National Experts
Learn from Leaders & Industry Pros
Meet Local PLUS Out-of-Area Investors
NON-Stop Tips for Real Estate Success
Bring Lots of Business Cards!
RSVP NOW @
https://www.eventbrite.com/e/realty411s-real-estate-investor-summit-learn-to-invest-live-in-irvine-tickets-156793779415
This event is produced and hosted by Realty411.com. Since 2007, we have dedicated our time, resources and energy to help expand real estate investing knowledge and education by producing complimentary magazines, virtual conferences, webinars, podcasts, and live events. We have touched the lives of thousands of investors.