Whether you're a real estate developer or own one or multiple properties for your own business use, the single predominant factor in generating a swift building sale is based on aesthetics.
First impressions count and that goes for the look of the property and exterior. If a building is in great shape and well maintained, this obviously brings potential buyers flocking. But if the landscaping is a sight for sore eyes, not only could this deter buyers but the few stragglers still interested need to account that the land will require an overhaul. And that costs cash so the negotiating table will need to account for a drop in sale price, in accommodating the price to renovate the land.
There's no excuse for a shoddy yard, even if you're selling within an industrial park setting: notorious for sparse or unimaginative gardens. Even if the exterior is not something you want to invest in before putting the property on the market, you may change your mind when you see the stats: excellent landscaping can add up to 28 percent ROI and result in a faster sale. According to John Harris, economist at HouseLogic, this fact now opens the door to what is perceived as 'excellent.' A good landscaper can charge a small fortune to keep up the grounds to excellent levels, so the high cost in maintaining the land may not really bring in the dough come time to sell. Offsetting these prices need to be accounted for before investing in designing an excellent landscape.
Or is there an alternative that's not only costs 25 percent less to maintain than a traditional gardener, but is more environmentally friendly, reduces your utility bills and gives you a lot more than a few daisies and pretty greenery?

Urban Produce Beds Are Booming
The team at Farmscape has been creating edible gardens within residential homes, offices, sporting attractions and industrial parks for near towards a decade. They're either contracted out from the start to design and plant vegetable gardens during construction or hired to install the produce beds once a third party designer has approved the landscape plans.
From working on Giant's Stadium, Oracle, North Face's headquarters and over 700 more properties on the west coast, Farmscape now maintain 300+ of these beds. Space permitting, they also create orchards and vineyards alongside native plants, so the surroundings are now as visually appealing as the building and come with unique bells and whistles.
Multiple Health & Cost Benefits
The company is the largest urban farming venture in the country and no space is too small for them to work with. Set up costs run from $25k per development. Once they've planted the vegetable beds, local farmers maintain these regularly. The farmers encourage residents or employees to dig and weed with them, an attraction that a standard farmer wouldn't usually propose. The locals are now de-stressing from a long day's work, chatting to neighbors or co-workers they'd usually not interact with. The bonus being that they take home the carrots, radishes and pears for dinner instead of racing to the crowded supermarket to pay overinflated prices for the same produce. The seasons change and so do the beds during quarterly crop rotations, giving approximately 2.5lbs per sq. ft. annually. Equate this to a 100 sq. ft. garden and you'll expect to see 250lbs a year (around 5 lbs per week) of produce. Account that nearly every Farmscape garden usually expands based on pure attraction over time, property owners could easily double or triple the beds and produce within 12 months. For example, Levi's Stadium allocated 3,000 sq ft for beds but within a year, it's now 6,000 sq ft and growing.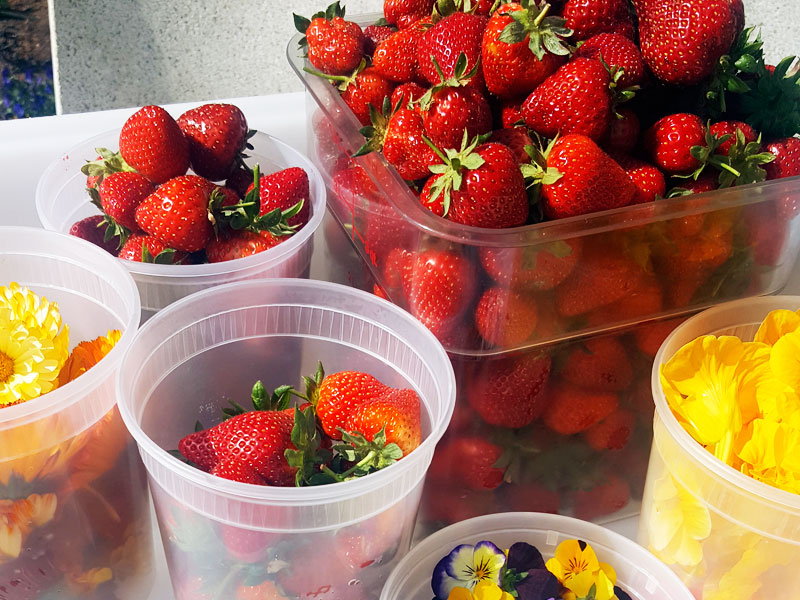 Using environmentally friendly and cost efficient drip irrigation systems, water costs are reduced. Mature trees are planted to keep properties cool in the summer and act as wind breakers in harsher weathers, again yanking down those utility bills. Then there's the benefit of planting money making trees, such as a large oak which can add $150 to a property value (National Tree Benefit calculator) while silver maples bounce the building value up by $2500 (HouseLogic). And by installing native plants, these pretty much self sustain so require little or no true maintenance.

Greens Bring in the Greens
Now imagine you place your property on the market, the photo gallery is streaming with brick & mortar images alongside a thriving garden ripe with plums, cauliflower and employees or residents getting their hands dirty in the soil. Compare this to an attractive building surrounded by a few weeds and a sad looking, solitary fir tree craving companionship. The second example property may be in a more attractive location yet the first opens new doors for growth since Farmscape confirms that for every property they maintain, nearby owners want in on the action. They regularly see nearby homes and office sites jumping on the bandwagon for a full Farmscape renovation, and edible garden they can proudly own. This accumulates to naturally increasing the full neighborhood property prices since everyone has kept up with the Joneses. When it comes time to flipping that property selling switch, neighbors are more than chomping at the bit to see the listing price, now higher than average. Green fingers producing edible gardens confirm that money can grow on trees…and broccoli.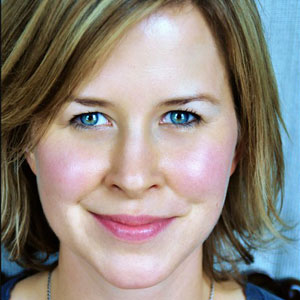 Lara Hermanson, Co-Founder & Principal, Farmscape
Lara Hermanson is co-founder and Principal at Farmscape, the nation's largest urban-farming company. Farmscape has worked on over 600 urban farming projects including Levi's Stadium, AT&T Park, and Oracle. Select clients is available on https://farmscapegardens.com/portfolio
Save