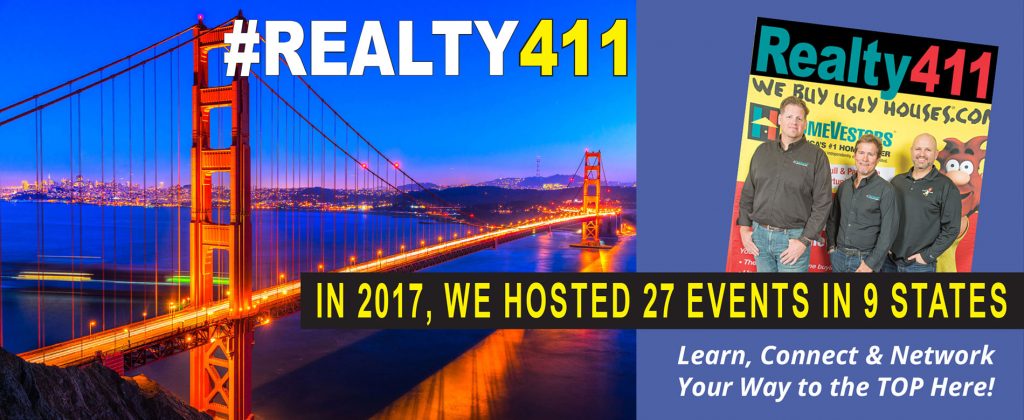 REALTY411 NATIONAL – Join us in 2018 to EXPLODE Your Growth
We are getting ready for 2018 NOW and positioning our company to take MASSIVE ACTION for explosive growth, visibility, and business. Our goal is to reach as many of our readers, followers and fans in person, and our plans include 20 plus events in 2018 all over the nation.
This Saturday, we will enjoy our LAST expo this year in spectacular Carmel-by-the-Sea, a quaint and luxurious coastal city in Northern California ( TO REGISTER CLICK HERE ).
NEXT, we will jump-start 2018 in the first state we invested in outside of our area: Arizona.
Enjoy a full day of education on the Local Market, Out of State Investing, Find the FUNDS You NEED to Grow, PLUS Do More Deals HERE with Multiple Sources. Learn to Invest the RIGHT Way, Discover Notes, FOREX, Wholesaling, Syndications and MORE!
After that, we return to Los Angeles to host our LEVERAGE EXPO in one of the most beautiful cities on the coast: Santa Monica, California.

HOLLYWOOD IS CALLING – ANSWER IT!
All guests of our LEVERAGE EXPO in Santa Monica will have an opportunity to meet our producers of PROPERTY PITCH in person.
Be sure to ask them questions to learn about breaking into the entertainment industry. Learn how to get your idea on TV.
Discover how to protect your intellectual property, and get other fantastic tips and ideas from award-winning producers who have active syndicated shows on the air.
Get a Behind-the-Scenes view on TV realty reality shows: How are they developed, pitched and produced?
Why are some picked up while others are not? How do you protect your intellectual property and TV script idea? Learn here at this special day celebrating our new issue.
Our Property Pitch producers will be featured at our event to answer questions and also film some roll for the TV pilot we are shooting and promoting at our national events across the nation. CLICK HERE RSVP!
BACKGROUND: Realty411 was approached to help develop and produce a TV pilot, we have been thrilled to be a part of the process of auditioning and assembling investors from around the country for this project. Learn more at out special event in Santa Monica. Plus, network with exhibitors, such as turnkey providers, mortgage brokers, private lenders, and local real estate groups.
ENJOY BREAKFAST FOR OUR EARLY-BIRD GUESTS WHO REGISTER QUICKLY:
DON'T FORGET ABOUT THIS SATURDAY'S EXPO IN CARMEL-BY-THE-SEA, CA:
DOWNLOAD OUR EVENT AGENDA – CLICK HERE – THANK YOU FOR YOUR INTEREST.