For real estate developers, there is always a single thought in mind: "How do I appeal to the buyer and sell my property?" In today's market, it is important to change that thought to, "How do I develop this property with a sexy stamp so that buyers instantly recognize my development portfolio? And how do I keep them coming back for more?"
Gone are the days of selling generic cookie-cutter properties in muted colors and dumbed-down designs. Today's buyer is smarter and in search of chic good looks as well as bold decor. It's the job of the developer to stay one step ahead of the trends to make the sale and beat out the competition. Consider for a moment sitting down for a meal at a popular five-star steakhouse and ordering the most appealing item off of the menu. Would you be happy to pay for your meal if it was simply a plain slab of steak thrown in the middle of your plate? No, you would be very disappointed, because you could have had that boring dish anywhere. The same holds true for property sales: Presentation is everything. Do not send your properties to the table without a seductive interior design stamp to ensure a successful sale.
This concept holds true for consumers in any industry. It is the reason people seek out their favorite and very specific brands when it comes to fashion, vehicles, and other lifestyle choices. A seductive stamp and a total package is key. Consumers resonate with this since they are searching for something that falls in line with their style (their personal brand, if you will). So why would it be any different for today's property buyer in search of a home or a commercial property? Buyers want to purchase real estate that not only reflects but enhances their personal brand and who they are. There is no better way to do this than to develop your properties with a signature style in mind. What is our market? Who do you foresee selling this property to? Closing is everything, but in the development process, a signature style for your property's interior will be the factor that puts the cherry on top and solidifies the sale.
The same holds true when it comes to a company: Its office is a considerable representation of its overall brand. The atmosphere of the space affects those who go to do business there; they are either drawn to or turned off by the design. Just as consumers want to live in a chic home, employees and staff want to work in a modern and cleanly designed office space. Office décor and interior design increase productivity and narrows a company's closing cycle for high end prospects.
So you can imagine the significance of appealing to property buyers in a direct and straightforward way. That's exactly what they're looking for when house-hunting: a streamlined, elegant, avant-garde dwelling that reflects their unique and individual personalities.
Imagine if you will one of the world's most successful real estate development moguls, Donald Trump, attempting to sell a naked property. Where is the enticing draw? There is a recipe for his success. He knows he must present an entire package with a well-personifie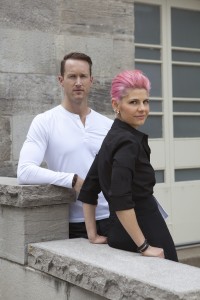 d interior. It is the developer's job to work closely with an experienced interior designer throughout the project so that together they create a balanced look that's both stylish and digestible to the client. This helps the buyer to visualize himself living in that home or working in that office. However, a clear vision is key. Will the look be minimalist, hip and vibrant, opulent, or professionally muted and neutral with modern undertones?
It is therefore your interior designer's job to turn that vision into a reality. It is the seductive stamp that is key to closing not just a single sale, but many. It will set any real estate developer apart from the competition, and will ensure that your next project sells faster than the one you sold right before it. Have you ever heard that you should dress for the job you want, not for the job you have? Dress your property for the sale price that you want. Real estate developers who invest in their own success see a much larger return on that investment.
Undoubtedly the client will be looking at other potential properties. That is why a striking, fearless design is all the more critical: You want to have a way for your project to stand out in his mind long after he's initially seen it. Give the client an interior design scheme he just can't forget. It's up to the developer to "wow" the consumer and generate excitement about a potential purchase. Present him with a visual representation of the personal brand he aspires to and the consumer will keep your name, as a developer, on the tip of his tongue for a long time to come.