Celebrate Real Estate Investing in FLORIDA with the only FREE real estate expo in Fort Lauderdale, Florida

– Hosted by The Millionaires Investment Group and Laura Alamery –
Celebrating Our Real Estate WEALTH Cover Featuring Local Investor John Aaron
THIS IS OUR 6TH EVENT IN FLORIDA – WE ARE GROWING!
Join Us at Our Outdoor & Indoor Beach Business and
Complimentary Real Estate Expo & Mixer!
Learn, Network, Grow – Suntan, Surf, Sail
REAL ESTATE EXPO & NETWORKING MIXER!
Are you ready to Grow Your Real Estate Business, Portfolio and Network?
YOUR NET WORTH IS LINKED TO YOUR NETWORK
We want this Florida Real Estate Beach Expo to EXPAND YOUR MIND and help you achieve success. Have you started to accomplish some goals for 2017? We want to make sure you do!
Learn from TOP Leaders in the Industry! We are hosting Local & National Experts
* Mingle with Vendors * Meet Local Leaders & Out of Area Investors
NON-Stop Tips for Real Estate Success ~ Make 2017Your Year!
We Want & Can Help YOU Succeed. Bring Lots of Cards.
Mingle with Local Leaders & Industry Professionals from Around the Nation!
Hosted by Realty411 – Publisher & Expo Company
** Come Meet Your Local Real Estate Leaders **
Realty411 magazine was first published in 2007 and is now the longest-running publication owned by the same owner – A 30-year veteran journalist, agent & active investor. We have reached thousands of readers & online followers in person and hope to meet you too!
Our mission is simple: We strive to provide information about real estate to expand knowledge about the benefits of investing to as many people as possible. We also believe in multiple streams of income and encourage other to owning your own business for total financial freedom.
Our Expo Reflects Our Goals and Mission – Join Us to Expand & Grow
Please bring LOTS OF BUSINESS CARDS, it's time to Network.
LEARN ALL ABOUT PRIVATE FINANCE SO YOU CAN GET YOUR DEALS DONE!!!
We give your the resources you need to CLOSE MORE TRANSACTIONS!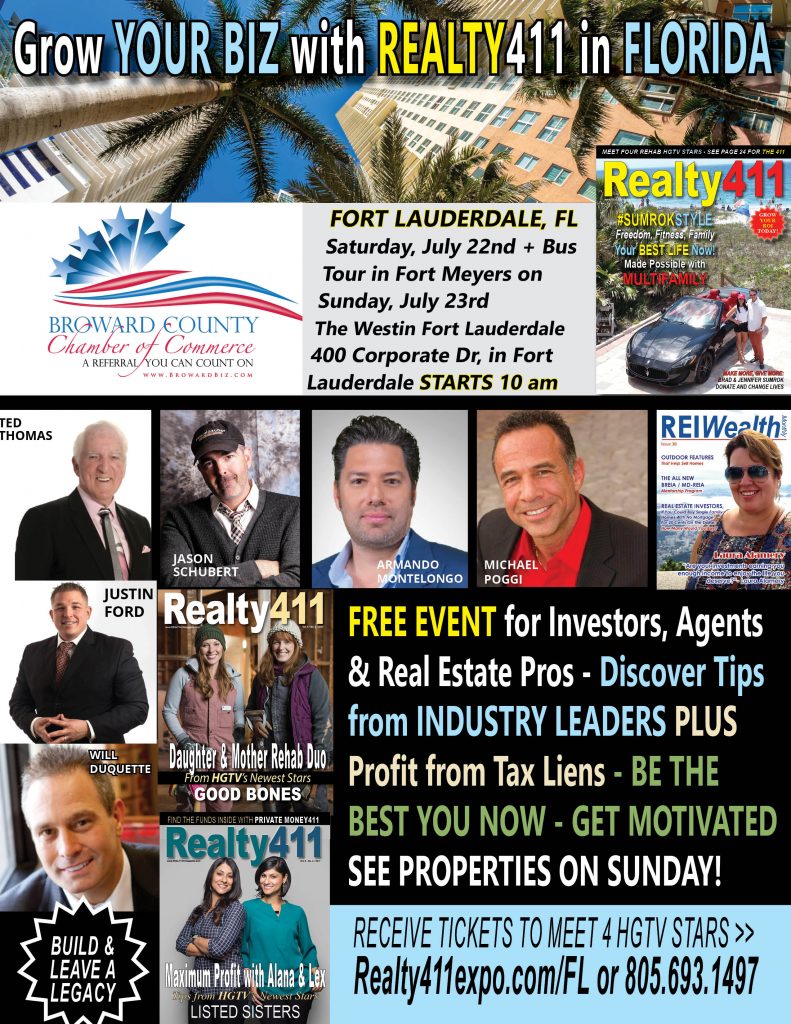 TOPICS INCLUDE: What's Happening in the Florida Market – Residential & Commercial – Vacation Home Investing – Buying Walmart Franchises – Florida Properties, Double-Digit Returns in a Single-Digit Economy – Pay Off Your Notes Faster – Discover How to Bulletproof Your Assets with Maximum Protection – Learn to Leverage America's Largest Financial Institutions and so Much More!!!
Learn from Michael Poggi – The Millionaires Investment Group
Michael Poggi is a nationally recognized public speaker, established author, and professional investor, with nearly two decades of experience. Michael speaks on advanced wealth strategies and how to invest in Real Estate and Businesses the right way .He presents topics such as: house flipping, purchasing apartment buildings, and building new construction homes, development projects, purchasing vacant lots in fast growing areas and buying businesses in your IRA or your old 401K plan. He teaches people how to make their IRA self-directed in the true sense, so you can use it for real estate. He also teaches people and mentors students on how to make their IRA cash flow monthly tax-free as well as how to invest properly.
In addition, Michael is the president and founder of The Millionaires Investment Group, based in Ft. Lauderdale, Florida. There are 10,000 members of the Millionaires Investment Group and 2500 Active Investors. The Millionaires Investment Group holds a meeting on a monthly basis to network and partner on real estate ventures, and businesses. Michael's company specializes in many aspects of commercial real estate, vacant land, development projects, new construction home projects and businesses. The group attracts top notch speakers from all around the country, who are featured monthly to provide additional education.
Michael is often a featured guest on the Money Talk radio show. His company, Build Wealth with Land, LLC, is one of the largest land providers in the U.S., providing hundreds of vacant lots to investors and builders yearly. Michael has bought and sold over 1000 vacant lots and houses in the last 10 years, tax free.
Laura Al-Amery – RAPID REI RICHES
Laura Al-Amery has been a real estate investor and mentor for almost 30 years. She has been a pioneer of several real estate investing strategies before they became mainstream, from wholesaling to raising private money. Everything she teaches has been developed from personal experience.
She runs real estate clubs in several cities from Chicago to Atlanta and South Florida. Plus, now she is expanding to the West Coast: Las Vegas, Los Angeles, and more! (Be on the lookout!)
Her focus today is to streamline the real estate investing business by simplifying the process while exponentially growing the financial results. In other words, how to truly live a financially and active lifestyle, without trading time for dollars. Her signature program is Rapid REI Riches.
~~~~~~~~~~~~~~~~~~~~~~~~~~~~~~~~~~~~~~~
Justin Ford – Difference Maker, Champion, Entrepreneur, Leader, Visionary
From struggle to success, Justin Ford truly lives the saying "It's not how to start but how you finish." At the age of 19, with his life in disrepair, Justin made the critical decision to turn it all around. Now at the age of 34, Justin has become a successful Entrepreneur, Business Owner, Real Estate Broker, Investor, Motivational Speaker, TV talk show host, Author, and Mentor. He has earned numerous achievement awards, and demonstrates daily that talent, drive and ambition really do lead to success. Justin also excels as an inspirational youth and marketplace speaker. People can feel his powerful presence when he walks into the room. He wants to make a difference, and he takes that responsibility extremely seriously. Justin's passion and desire to see people rise to success leaves a lasting impact as he challenges all to become the champion they were created to be.
Justin lives in Metro Detroit with his wife and four children. The love and support of his family helps fuel his passion for success in all avenues that he pursues. In his spare time, Justin loves to travel and donate his time to The Positive Zone Project Foundation, which empowers high school students through character education and leadership development, while providing tools for building successful lives.
REHAB SECRETS WITH ARMANDO MONTELONGO FORMER STAR OF A&E's "FLIP THIS HOUSE"
Armando Montelongo, Star of "Flipping Nightmares" and former star of A&E's "Flip This House" – Armando is the ORIGINAL real estate reality star, and is consistently ranked as one of the most successful Hispanics in business.
The OG of house flipping, Armando Montelongo, is back with a new television show, new houses to flip and the same 'don't-give-a-#%&$!' attitude that made him famous.
Armando first burst onto the scene in 2006 with a nearly three-year run on "Flip This House," and then largely steered clear of television. He made a few appearances, including a 2015 episode of CBS' "Undercover Boss," and some others. Meet Armando IN PERSON at this event!
PLUS, LEARN STRATEGIES FROM CLIFF GAGER – A VETERAN CALIFORNIA INVESTOR!
Cliff Gager has been in the real estate business since 1992, when he started in the residential mortgage lending world as a loan officer for a national mortgage company. Struggling at first to make commissions doing loans for Realtor's clients, Cliff soon discovered he was in a business dominated by much older, more experienced, and more established mortgage lenders and brokers. But Cliff was able to discover a niche market opportunity that these more established lenders and brokers had overlooked – and wound up creating his own client base in the private lending world. Working with several non-institutional financial investors, Cliff hit upon the idea of originating private mortgage purchase money loans for real estate investors who were buying, fixing, and selling residential houses.
After watching many of these "house flipping" investors make money doing these deals, Cliff saw the clear potential for profitability, jumped in with both feet, and started to buy, fix, and sell houses, all the while continuing to perform in his already existing position as a residential lender and mortgage broker. Beginning around September of 1997, while working through some difficult times, Cliff began working in the real estate seminar industry for many of the late night TV "infomercial" gurus you likely know today!
In 2010 Cliff started working independently with students of his own, and is now bringing his training directly to the people that need it the most. Cliff teaches real world strategies that work in the real market.
Jason Schubert, EAS Investors
Jason has done it all from purchasing multiple houses a year using subject to and lease options, to rehabbing multiple houses a month. Jason has built homes, a national real estate speaker, an entrepreneur, a commercial real estate mentor and coach, a hotelier, and a master of buying properties with none of your own money and deal structuring.
~~~~~~~~~~~~~~~~~~~~~~~~~~~~~~~~~~~~~~~~~~~~~~~~~~~~~~~~~~~~~~~~~~~
DISCOVER THE WORLD OF PRIVATE FINANCE AND ALWAYS HAVE MONEY FOR YOUR DEALS RIGHT HERE!
***Speakers subject to change due to availability – this page will be updated regularly with updates and will include the agenda shortly***
~~~~~~~~~~~~~~~~~~~~~~~~~~~~~~~~~~~~~~~~~~~~~~~~~~~~~~~~~~~~~~~~
WE PRODUCE EXPOS AROUND THE NATION! Commercial & Residential Real Estate * Private Lending * Raising Capital * Networking Tips to Grow Your Influence * Strategies to Increase ROI * Gain Perspectives on TOP Local & National HOT Markets * Fix & Flips * Buy and Hold + Wholesaling, Notes & More…
EXCLUSIVE THOUGHT-PROVOKING EDUCATION!
This is your chance to gain insight into the local real estate market as well as gain perspective of some of the top areas around the country to invest in. All guests receive TOP Investment publications. Vital industry and "top insider" information will also be made available at this important event, such as:
1. Where can local investors acquire Private Funds and Hard Money Loans for Investing?
2. What are some Prime Areas to invest in the Local Market?
3. Where are Savvy Investors going to find top Cash Flow markets out of state?
4. What's going on at the Local Courthouse and with the Foreclosure Market?
5. Who are the TOP brokers and agents in the local area and how can they help Investors find, secure and acquire those deals.
6. Discover about other Industry Events happening, which are important to attend – We promote specific important industry events where hundreds of like-minded individuals unite for networking.
7. Meet the publisher of Realty411, who is an active real estate investor. Linda was able to pay her home off in Los Angeles by age 39 by buying and holding rental properties across the country. She is one of the most active proponents in the REI industry. Her publications reach tens of thousands of investors around the world.
8. What areas are being scoped out by Local Investors? Find Out…
PLUS, MEET THE PUBLISHER AND COMPANY OWNER!
Linda Pliagas, CEO of REALTY411 – Owner of the Longest-Running Media Company Publishing Real Estate Resources for Investors around the World.
Realty411 was founded in 2007 by Linda Pliagas, who is the Publisher/CEO. Linda has personally invested in rental properties in five states — all by the age of 38.
Linda has purchased single family homes, multifamily units, vacation rentals, probates, REOs and short sales. Linda Pliagas has worked simultaneously in media and real estate. She began her media career at age 18 as a reporter for her high school newspaper.
She holds a bachelor's degree in print journalism from California State University, Long Beach. She was a recipient of the Bobit Magazine Scholarship for her accomplishment in publishing her first national magazine while still at CSULB. She also studied real estate, accounting and general studies at Santa Monica College.
In addition to publishing two magazines and a local newspaper in Los Angeles, Linda has also freelanced for numerous national magazines, local newspapers and global websites.
Other Business Ventures:
Linda has been an active landlord in California consecutively since the age of 25. In addition to her family's ventures in real estate and media, they are also owners of HRS Clocks (Horological Restoration Services) the oldest timepiece repair, restoration and sales shop in Santa Barbara County. HRS serves a select client base of collectors, and their company repairs some of the most valuable antique timepieces in existence.
LEARN ABOUT OUR PUBLICATIONS AND RECEIVE A FREE ISSUE!
Meet Local Leaders & Industry Giants – We are referring California Investors
Influential Real Estate People & Business Owners Attending!
Find Potential Partners, New Friends, Build Your Circle of Influence.
YOUR NET WORTH IS EQUAL TO YOUR NETWORK
We are hosting this event to help increase your contacts
and to further your potential in this industry, so don't miss out!
~~~~~~~~~~~~~~~~~~~~~~~~~~~~~~~~~~~~~~~~~~~~~~~~~
* Plus, enjoy viewing REI Wealth Monthly, our fully-interactive digital publication
developed for Apple enthusiasts by an investor from San Diego, California
* Learn Tips and Strategies on TOP Real Estate Niches:
Fix 'n' Flip, Wholesaling, Crowdfunding, Buy & Hold,
Local & Out-of-State, Private Lending, Commercial & Residential
~~~~~~~~~~~~~~~~~~~~~~~~~~~~~~~~~~~~~~~~~~~~~~~~~
FOR INFORMATION PLEASE VISIT http://realty411expo.com
CALL: 805.693.1497 | 24 Voice Mail: 310.499.9545
***Speakers subject to change due to availability – this page will be updated regularly with updates and will include the agenda shortly***
Save
Save
Save
Save
Save
Save
Save
Save
Save
Save
Save
Save
Save