>> LAS VEGAS REAL ESTATE CONFERENCE
Grow Your Business & Portfolio in Nevada!

Date: Saturday, July 15, 2017
EARLY-BIRD REGISTRATION STARTS AT 8 AM!!! GET THERE EARLY – OUR EARLY-BIRD GUESTS WILL RECEIVE A TICKET FOR BREAKFAST AND LUNCH!
Time: 9 am to 6 pm
Venue: Embassy Suites Convention Center
3600 Paradise Rd.,
Las Vegas, NV 89169
HOSTED BY LAS VEGAS REAL ESTATE INSIDER CLUB, AND LAS VEGAS INVESTMENT CLUB – JOIN US AND LEARN FROM TOP INVESTORS.
—- AN INCREDIBLE LINEUP, INCLUDING —-
> Success by Design with Bill Walsh, America's Leading Business Expert
> Learn what the Best Kept Secret in Real Estate Is…. and it's not a house!

> Learn from HomeVestors, We Buy Ugly Houses – America's #1 Home Buyer in the Nation. They have purchased 75,000 homes in total thus far!
> Discover Strategies and Techniques from Ciff Gager, who has been Rehabbing Properties and in the Real Estate Business for Twenty Plus Years

> Meet the Leader of the Las Vegas Investment Club and discover why their Group is so Unique from All the Other Clubs in the Country

> Find Out Why Diversification is So Important – Learn How to Build MSI (Multiple Streams of Income)
> Learn FOREX – the Largest Economy in the World, which Trades Trillions of Dollars PER DAY!! Meet a Real Estate Broker who is adding Trading Into His Life and Portfolio. Find Out Why, How and Where He Trades – Don't miss this inspirational presentation
> Discover How Armando Montelongo Became the #1 Real Estate Investor in the Country and Why He is Starring in His New Show FLIPPING NIGHTMARES – Armando is also the 2nd most successful Hispanic in real estate in the nation, according to Inc Magazine!
COMPLIMENTARY NETWORKING COFFEE MIXER – THIS IS THE PLACE TO BE!

NETWORK WITH EXHIBITORS, COMPANIES, REAL ESTATE GROUPS, CLUBS, AND SERVICE PROFESSIONALS

* Mingle with Companies * Meet Local Leaders & Out of Area Investors
NON-Stop Tips for Real Estate Success ~ Hosting Our Events Since 2008
We Want & Can Help YOU Succeed As We Have. Bring Lots of Cards.
Mingle with Local Leaders & Industry Professionals from Around the Nation!
Hosted by Realty411 – Publisher of National Real Estate Magazines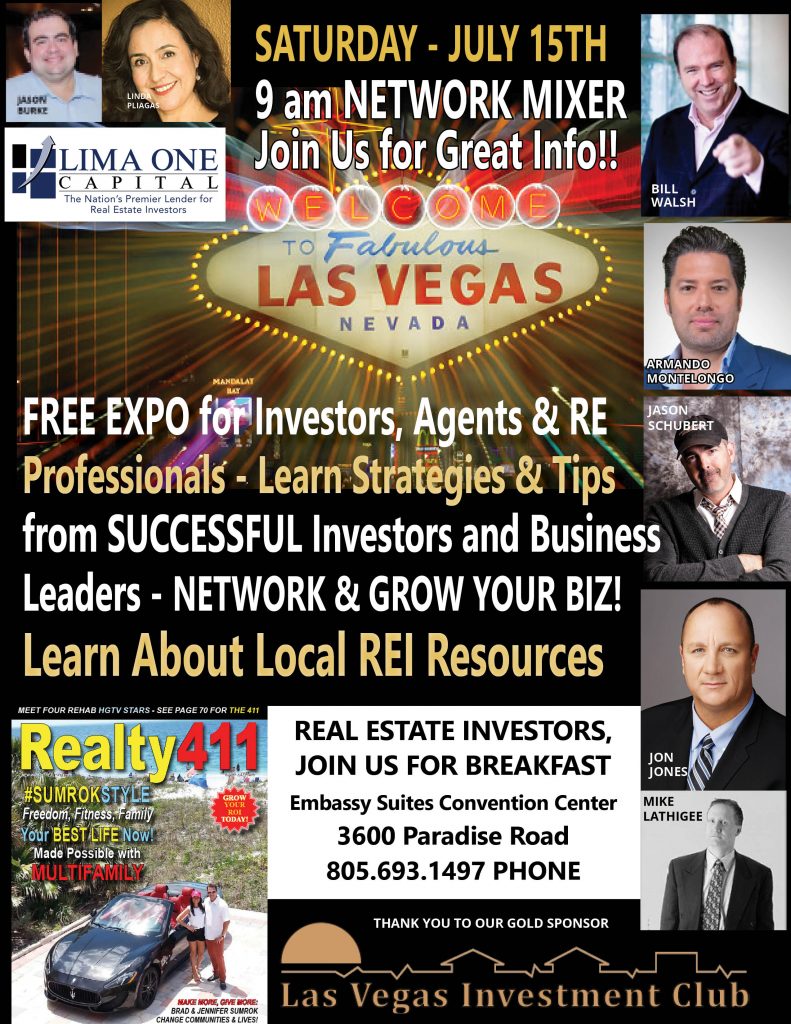 Come celebrate the only national real estate investment publication, expo and network founded and based in California!
CONTACT US TO BE A SPONSOR: 805.693.1497
or email us directly at: [email protected]
All Guests Receive Our California-based Investments Magazines
Meet Local Leaders & Industry Giants – Hosted by Active Investors
Influential Real Estate People & Business Owners Attending!
Find Potential Partners, New Friends, Build Your Circle of Influence.
Remember Your Net Worth = Your Network
Celebrate Real Estate in Your Market! Our discussions cover a wide range of topics:Commercial & Residential Real Estate
* Private Lending * Raising Capital * Networking Tips to Grow Your Influence * Strategies to Increase ROI * Gain Perspectives on TOP Local & National HOT Markets * Fix & Flips * Buy and Hold + Wholesaling, Notes & More…
We have investors joining us from many states!
YOUR NET WORTH IS EQUAL TO YOUR NETWORK
We are hosting this event to help increase your contacts
and to further your potential in this industry, so don't miss out!
Also, Inside Our Publications Discover Finance Leaders. Our VIP Advertisers in the Finance Industry Include: Ignite Funding, Civic Financial Services, New American Finance, Pacific Private Money, Zinc Financial, B2R Finance, and Security National Mortgage among others!
~~~~~~~~~~~~~~~~~~~~~~~~~~~~~~~~~~~~~~~~~~~~~~~~~
Learn Tips and Strategies on TOP Real Estate Niches: Fix 'n' Flip, Wholesaling, Crowdfunding, Buy & Hold, Local & Out-of-State, Private Lending, Commercial & Residential Real Estate, Notes, Credit Optimization, Trust Deeds & More.
~~~~~~~~~~~~~~~~~~~~~~~~~~~~~~~~~~~~~~~~~~~~~~~~~
No matter what, please mark your calendar so you don't miss out on this fantastic real estate and finance expo. Our goal is to provide fantastic resources to help you learn about real estate or grow as an investor. We know your time is valuable, so we have wonderful books, magazines, and other gifts to give away.Start the year off right with spectacular networking!!! Build NEW friendships and business collaborations with some of the industry's TOP Leaders. Plus, guests will discover new resources to FUND deals. Joining us are incredible speakers, sophisticated investors, & VIP Industry Leaders.
Our Outstanding Speaker Line-Up, Includes:
LIMA ONE CAPITAL – YOUR SOURCE FOR FUNDING
Lima One Capital is the nation's premier lender for residential real estate investors. Our mission is to make it easy for you to finance all of your investment projects including fix and flips, rental purchases and refinance, portfolios, new construction, cash-outs and more. Why are we one of the fastest growing national REI lenders in the nation? Because our rates and terms are very competitive and transparent with no hidden costs or junk fees, we are a fully funded direct lender that services our own loans, and we have built a winning culture of honor, discipline, and world class customer service.
Jon Jones is a world class speaker, trainer, and business coach. His background includes peak performance coaching with Anthony Robbins, consulting small business owners, and motivational speaking. Today, Jon is the Head of Business Development for Lima One Capital specializing in residential REI loan programs. Jon has presented to hundreds of business organizations and companies across the country on the topics of increasing sales, marketing, business development, and wealth building strategies. You will find Jon Jones to be a powerful resource and a sincere friend as you pursue your REI goals here in Las Vegas.
BILL WALSH – America's Small Business Expert®
Bill Walsh a venture capitalist and is the CEO/Founder of the Success Education/Business Coaching firm Powerteam International. Bill hosts and speaks at events all over the world! His passion is to empower entrepreneurs and business owners to create massive success. He is the best selling author of the book "The Obvious", is an amazing speaker, radio personality and movie celebrity. He has a very successful background in finance and marketing. He has spent over two decades working with start-ups to major global brands to help them increase sales, productivity and overall success. He is an innovator with a remarkable ability to determine and build success plans to help business owners seize immediate market opportunities.
For everyone that owns a business or would like to capitalize their entrepreneurial dream, his message will enlighten them with knowledge and action principles to turn that passion into success! Bill has an extensive background in foreign currency trading, real estate development and building businesses in more than 30 countries. Over the past two decades, his firm has specialized in helping companies launch, grow and create exponential valuation in the market.
In 2005, he formed his own company, Powerteam International to spread his message to a wider audience. Powerteam International provides Success Education programs around the world. The programs are designed for individuals, companies, and organizations that are interested in creating even more success. Bill is committed to raising the awareness of entrepreneurs, business owners and organizations world wide!
Bill is Sharing How to Build 7-Figure Business
Turn your passion into a Real Business

Sales and Marketing Automation

Time Management Secrets

How to generate 24/7 Income

How to Maximize Your Internet Marketing
Armando Montelongo, Star of "Flipping Nightmares" and former star of A&E's "Flip This House" – Armando is the ORIGINAL real estate reality star, and is consistently ranked as one of the most successful Hispanics in business.
The Las Vegas Investment Club – (LVIC) – Learn About their Monthly Meetings Hosting Some of the Most Prominent People in the Industry!
Don't be fooled by the thrill-seeking location. The Las Vegas Investment Club (LVIC) is a group of serious investors who engage in national opportunities, and certainly don't gamble with their money. The LVIC meets regularly in San Diego, California, and Las Vegas, Nevada, bringing together sophisticated investors and thoroughly vetted and carefully managed investment opportunities.
The LVIC was conceived as an alternative to the traditional financial services route, which has seen repeated abuses of consumers and investors over the last decade(s). The alternative presented is one designed to empower individuals with an educational program in order to enable a superior understanding of what they are investing in. The group's performance, high-level information, and savvy management has investors flying in each month — even from as far as away as Alaska. This certainly says something about the value members feel they are getting.
Monthly meetings are held at the Orleans Hotel in Las Vegas and at the Mission Valley Hyatt in San Diego. The meetings include prominent economists and financial analysts as guest speakers, followed by reviews of the current LVIC portfolio as well as analysis on specific investments under consideration for the future. Each investor has the choice to opt-in or out of any individual investment. In addition to monthly club meetings there are special events, as well as the annual two-day LVIC, 'EconoSummit.' Recent club speakers include: Federal Reserve senior economist, Bill A. Strauss, enterprise writer for CNN Politics, Thomas Lake, and Dr. Michael Gunter, MD/VIP.
Justin Ford – Difference Maker, Champion, Entrepreneur, Leader, Visionary
From struggle to success, Justin Ford truly lives the saying "It's not how to start but how you finish." At the age of 19, with his life in disrepair, Justin made the critical decision to turn it all around. Now at the age of 34, Justin has become a successful Entrepreneur, Business Owner, Real Estate Broker, Investor, Motivational Speaker, TV talk show host, Author, and Mentor.
He has earned numerous achievement awards, and demonstrates daily that talent, drive and ambition really do lead to success. Justin also excels as an inspirational youth and marketplace speaker. People can feel his powerful presence when he walks into the room. He wants to make a difference, and he takes that responsibility extremely seriously. Justin's passion and desire to see people rise to success leaves a lasting impact as he challenges all to become the champion they were created to be.
Justin lives in Metro Detroit with his wife and four children. The love and support of his family helps fuel his passion for success in all avenues that he pursues. In his spare time, Justin loves to travel and donate his time to The Positive Zone Project Foundation, which empowers high school students through character education and leadership development, while providing tools for building successful lives.
Justin will introduce our guests to an amazing financial strategy: FOREX. Trading foreign currencies is a trillion-dollar a day industry and individuals, as well as insitutions and corporations are capitalizing on movement of currency. All trading can be done on your phone, 24 hours per day. Justin and his team are actively trading on FOREX with a company that has opened up the knowledge and access to trading to average, regular people without a traditional financial background.
Learn how to Implement a NEW Strategy into Your Portfolio and LIFE for FINANCIAL FREEDOM and to also diversify your holdings and knowledge. We never stop learning and growing and neither should you.
Here is more information about FOREX from Investopedia:
What Is Forex?
The foreign exchange market is the "place" where currencies are traded. Currencies are important to most people around the world, whether they realize it or not, because currencies need to be exchanged in order to conduct foreign trade and business. If you are living in the U.S. and want to buy cheese from France, either you or the company that you buy the cheese from has to pay the French for the cheese in euros (EUR). This means that the U.S. importer would have to exchange the equivalent value of U.S. dollars (USD) into euros. The same goes for traveling. A French tourist in Egypt can't pay in euros to see the pyramids because it's not the locally accepted currency. As such, the tourist has to exchange the euros for the local currency, in this case the Egyptian pound, at the current exchange rate.
The need to exchange currencies is the primary reason why the forex market is the largest, most liquid financial market in the world. It dwarfs other markets in size, even the stock market, with an average traded value of around U.S. $2,000 billion per day. (The total volume changes all the time, but as of August 2012, the Bank for International Settlements (BIS) reported that the forex market traded in excess of U.S. $4.9 trillion per day.)
One unique aspect of this international market is that there is no central marketplace for foreign exchange. Rather, currency trading is conducted electronically over-the-counter (OTC), which means that all transactions occur via computer networks between traders around the world, rather than on one centralized exchange. The market is open 24 hours a day, five and a half days a week, and currencies are traded worldwide in the major financial centers of London, New York, Tokyo, Zurich, Frankfurt, Hong Kong, Singapore, Paris and Sydney – across almost every time zone. This means that when the trading day in the U.S. ends, the forex market begins anew in Tokyo and Hong Kong. As such, the forex market can be extremely active any time of the day, with price quotes changing constantly.
Read more: Forex Tutorial: What is Forex Trading?
REHAB SECRETS WITH ARMANDO MONTELONGO FORMER STAR OF A&E's "FLIP THIS HOUSE"
Armando Montelongo, Star of "Flipping Nightmares" and former star of A&E's "Flip This House" – Armando is the ORIGINAL real estate reality star, and is consistently ranked as one of the most successful Hispanics in business. The OG of house flipping, Armando Montelongo, is back with a new television show, new houses to flip and the same 'don't-give-a-#%&$!' attitude that made him famous.
Armando first burst onto the scene in 2006 with a nearly three-year run on "Flip This House," and then largely steered clear of television. He made a few appearances, including a 2015 episode of CBS' "Undercover Boss," and some others. Meet Armando IN PERSON at this event!
Jason Schubert, EAS Investors
Jason has done it all from purchasing multiple houses a year using subject to and lease options, to rehabbing multiple houses a month. Jason has built homes, a national real estate speaker, an entrepreneur, a commercial real estate mentor and coach, a hotelier, and a master of buying properties with none of your own money and deal structuring.
~~~~~~~~~~~~~~~~~~~~~~~~~~~~~~~~~~~~~~~~~~~~~~~~~~~~~~~~~~~~~~~~~~~
DISCOVER THE WORLD OF PRIVATE FINANCE AND ALWAYS HAVE MONEY FOR YOUR DEALS RIGHT HERE!
Save
Save
Save
Save
Save
Save
Save
Save
Save
Save
Save
Save
Save
Save
Save
Save
Save
Save