Check out our new audio content!
We are proud to reveal our Ladies Who ROCK Real Estate Event, which goes LIVE this Saturday, February, 20th, 2021.
See the following agenda below and get ready to soar this Saturday. Have you registered for this special one-of-a-kind event? Please do so here:
https://us02web.zoom.us/webinar/register/WN_D2DVLp-VTcaMjs8CixCZdA
Ladies Who ROCK Real Estate
February 20th, 2021 – Event Agenda

Morning Session Hosted by Linda Pliagas, Publisher and Investor
ALL SESSIONS ARE PACIFIC STANDARD TIME

9: 00 to 9:10 AM PST – Welcome by Linda Pliagas, Realty411 & REI Wealth
Meet the Publisher of the Longest-Running Magazines for Real Estate Investors – Linda is an Accredited Investor,a Partner in a Renowned Antique's Shop in Solvang, Calif., she holds a Bachelor's in Journalism and was a Real Estate Agent for 16 years
9:10 to 10:00 AM PST – Jill Lublin – MEDIA AND PR EXPERT
Use Media & PR to to Position Yourself, Your Brokerage or Investment, Business for More Profitability and Visibility in the Marketplace

10:00 to 11:00 AM PST – Becky Kromminga – REAL ESTATE IQ
The goal of Real Estate IQ is to bring technological advances, big data, intelligence augmentation, and predictive analytics into the real estate investment industry
11:00 to Noon – Teresa Grobecker, MBA, CPRC – US CAPITAL GLOBAL
(Real Estate/Investment Banking & Tech Expert) – Trends in Real Estate: Winners and Losers, Plus What's In Store for the Year Ahead. Get The Edge on 2021
Noon to 12:30 – Milica Krstic – Sales Executive
UNIVERSAL COMMERCIAL CAPITAL
Learn About the Latest Opportunities with Private Capital for Investors, Whether You're Seasoned or New to Rehabbing, Let Our Experts Help You
– LUNCH BREAK –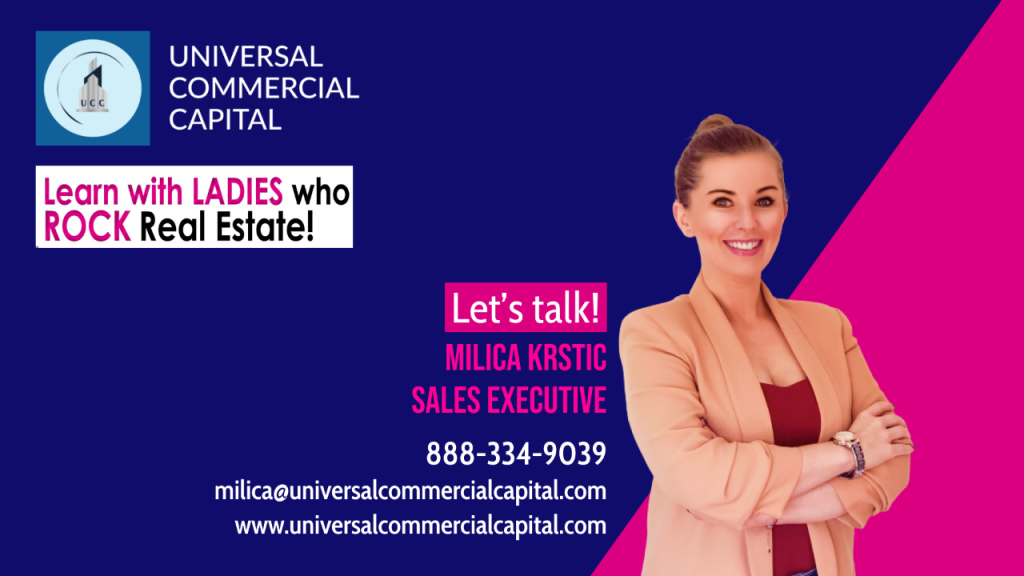 SEE YOU AGAIN IN 30 MINUTES
---
LADIES WHO ROCK REAL ESTATE

Saturday, February 20th — AFTERNOON SESSION

Session Hosted by Desiree Doubrox, HomWork

1:00 – 2:00 PM PST – Jasmine Willois – NOTE ASSISTANCE PROGRAM
Dive Deep into Mortgage Notes and Learn About this Specialized Niche. Jasmine and Her Team Have Been Educating About Notes for Many Years
2:00 – 2:45 PM PST – Jillian Sidoti, Esq. – MULTIFAMILY WAR ROOM
Discover How to Raise Private Capital Like a Rockstar, An Attorney and Former Syndication Lawyer Shares Tips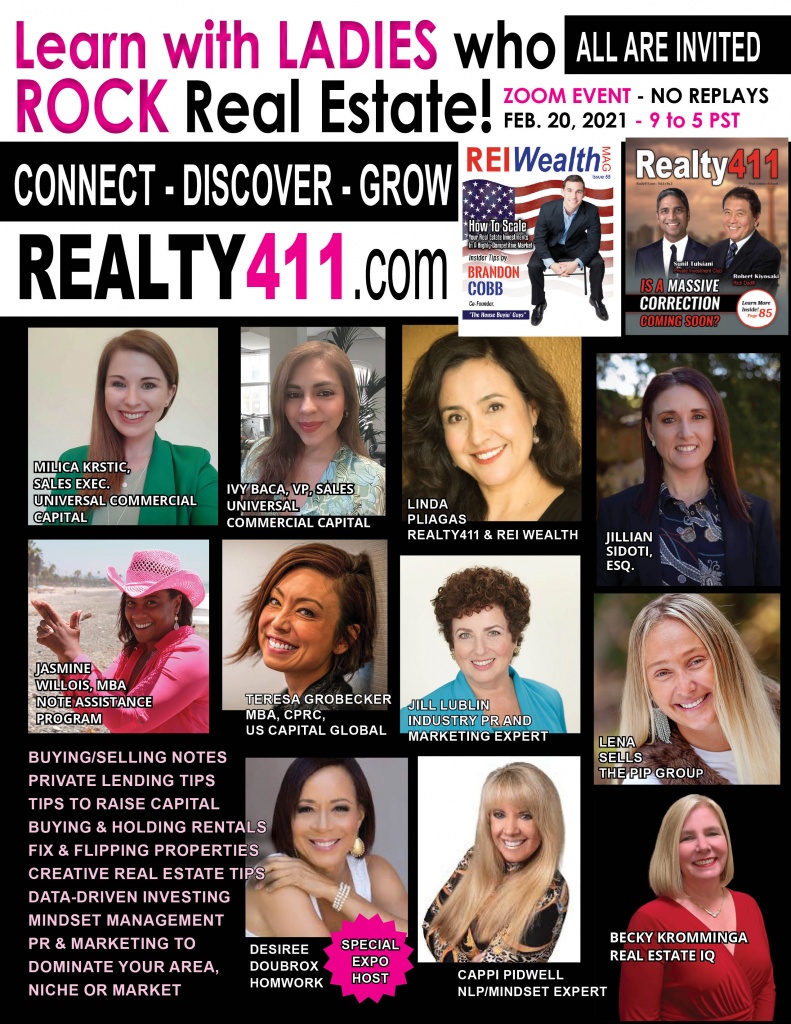 2:45 – 3:30 PM PST – Lena Sells – THE PIP GROUP
Find Out Why Savannah, Georgia, is A Favorite Place to Invest – Plus, Discover How You Can Do Deals in This Market Too
3:30 – 4:00 PM PST – Desiree Doubrox – HOMWORK
Live Where Your Work, Work Where You Live – Desiree Doubrox Will Explain this Creative Concept
4:00 – 5:00 PM PST – Cappi Pidwell – NLP & MINDSET EXPERT
Implement Clinical Hypnotherapy and Neuro–Linguistic Programming. Into Your Investment Company, Brokerage or Lending Business for a More Balanced, Productive, and Profitable Practice
BONUS VIP SESSION – MINGLE WITH AWESOME LADIES!!!
Join Our VIP Guests and Speakers for a Networking Session
Come On Video After the Event — VIP Tickets Only $27 Online
CONNECT, COLLABORATE AND LET'S DO BUSINE$$
Your Event Emcees: Linda Pliagas & Desiree Doubrox
Technical Director: Dave Grimm
---
THANK YOU SPONSORS OF LADIES WHO ROCK REAL ESTATE
PLATINUM SPONSOR:
REAL ESTATE IQ
Plus, Thank You:
HOMWORK
JILL LUBLIN
THE PIP GROUP
US CAPITAL GLOBAL
MULTIFAMILY WAR ROOM
NOTE ASSISTANCE PROGRAM
UNIVERSAL COMMERCIAL CAPITAL
Brought to You By: Realty411 & REI Wealth Magazines
Download Our Agenda Below:
---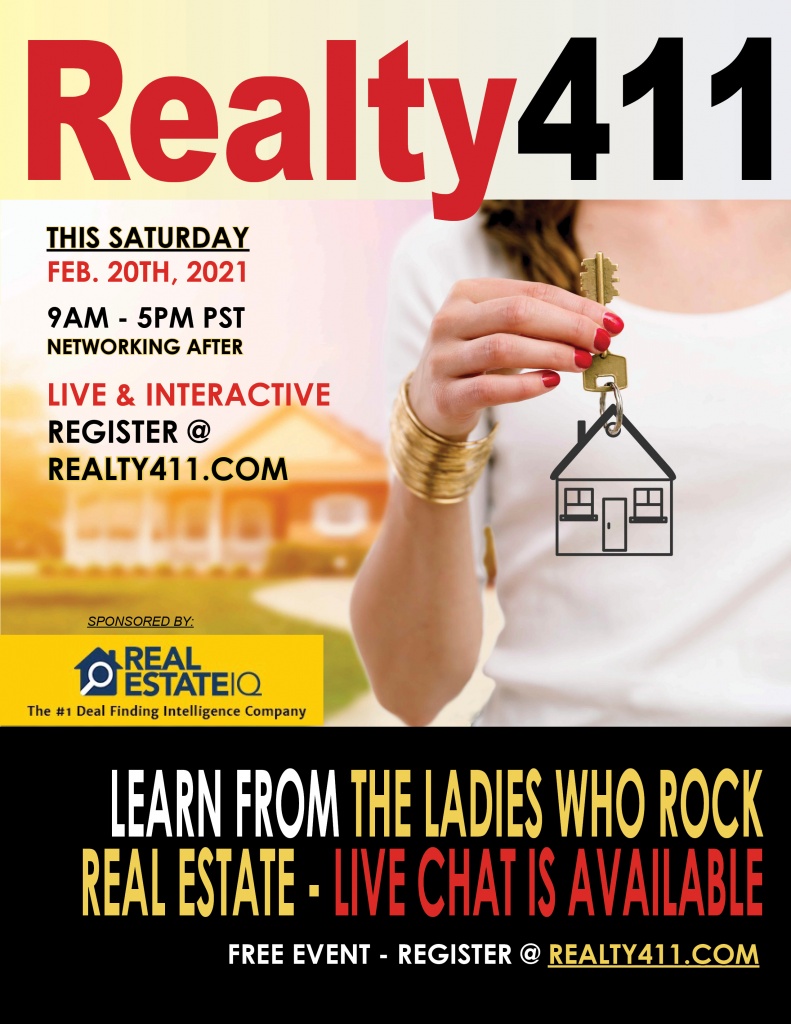 ---