> Or Visit Our Eventbrite Page: https://Realty411OC.eventbrite.com
California Creative Real Estate Educators & Local Professionals Gather in Irvine with National Real Estate Leaders to Celebrate REALTY411 Magazine!

WE ARE CELEBRATING REAL ESTATE AND BUSINESS SUCCESS IN ORANGE COUNTY
Enjoy a Complimentary Buffet Breakfast, Fantastic Networking, Deal Making with Heavy Hitters, AND MORE!
REALTY411, the longest-running real estate investor media and expo company owned by the same California owner/agent, is celebrating a brand new issue and 11 years in the industry.
Join us in Irvine on SATURDAY, MARCH 10TH to discuss real estate trends, markets, ideas and investment strategies. LEVERAGE OUR YEARS IN THE BUSINESS. Our speakers have owned real estate in California for many generations and have experienced numerous cycles. Gain unique perspectives that ONLY LOCAL CALIFORNIA INVESTORS can teach with experience and first-hand knowledge.
Hosting this community FREE Expo and Real Estate Investor Conference is REALTY411, (http://realty411expo.com) the longest-running media and marketing company in the real estate investor space. Since 2007, REALTY411 has been positively impacting the REI industry by sharing important real estate knowledge through their publications, national expos, podcasts, and webinars. We take pride in our flawless reputation, in our community involvement, and veteran media experience, including:
OUR SPEAKERS INCLUDE A DYNAMIC TEAM, such as:
* OUR LOCAL HOST: Kaaren Hall, founder and owner of one of the fastest-growing Self-Directed IRA companies in the nation and hostess of the monthly OC REIA group
* 30-Minute Millionaire Marketing — Make Money Now! Learn from Best-Selling Amazon author Gary Massari
* Need Earnest Money Deposit FUNDS? Business Capital Experts has the Money You Need for Your Real Estate or Business Expansion
* Learn where the BEST Cashflow markets are around the nation with our featured speaker: Kathy Fettke
* Charles Sells with Platinum Investment Properties – Discover How to Buy Properites for Pennies on the Dollar with Tax Sales – Learn All About this Profitable Niche
* The Living Legend, Dr. Albert Lowry, will be sharing some of the most valuable Golden Nuggets he's learned in his 40 years of investing!
* Discover Land Banking in Southern California and Learn Why this is One of the BEST Investments to Make with Your IRA with Christopher Meza

* Meet America's Top Business Authority, Bill Walsch – Bill will show Investors, Entrepreneurs, and Brokers/Agents and Deal Makers to Create Monthly Cash Flow from their IDEAS
* Learn How to Fully Protect Your Assets Today with Daniel McNeff – Legally Mine
*Get the Latest Scoop on Our TV Pilot, PROPERTY PITCH, and Meet Some of the Cast Members: Scott Mednick and Reed Blake
Additionally, this all day expo, which is being advertised to local investors and real estate professionals in the local media, is also attracting national investors. We host events enjoyed by guests and sponsors from around the country, including: Florida, Arizona, Texas, Arkansas, Nevada, Georgia and more. Expo guests will enjoy multiple breakout sessions so they can choose which topic they wish to learn about.
---
OUR SPEAKERS INCLUDE A DYNAMIC TEAM OF EXPERIENCED INVESTORS: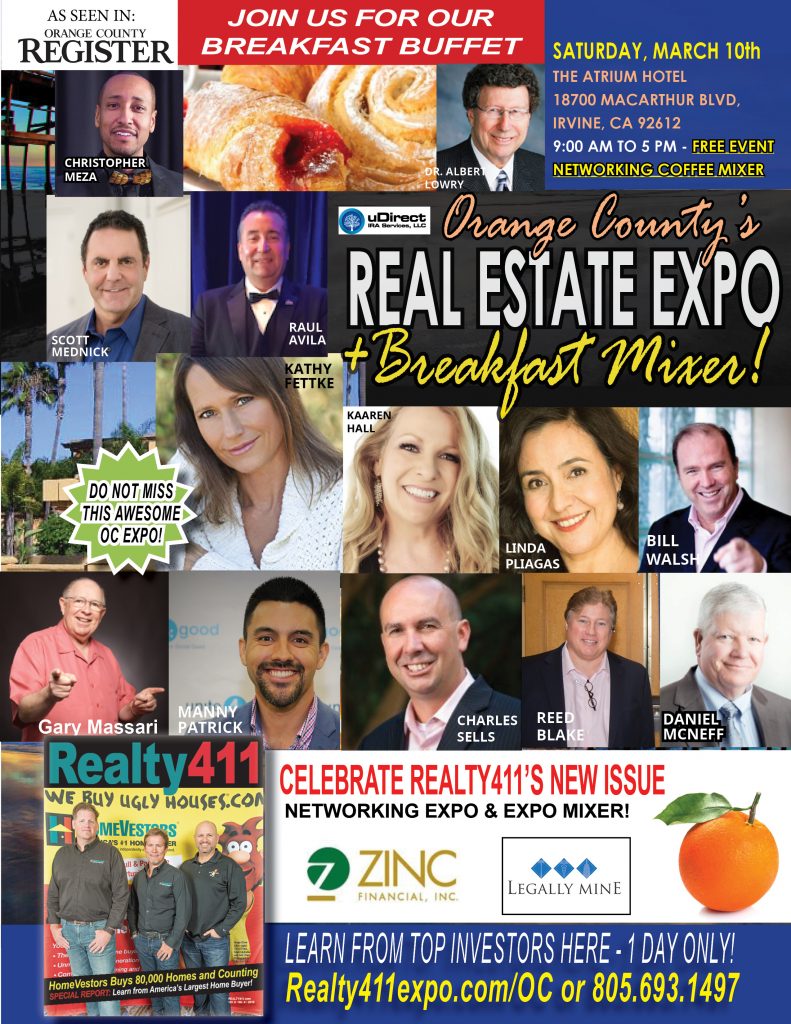 PRODUCED BY THE LONGEST-RUNNING REAL ESTATE INVESTOR'S MAGAZINE IN THE NATION, OWNED BY THE SAME PUBLISHER. SINCE 2007 REALTY411 HAS PUBLISHED THE MOST POPULAR RESOURCES FOR REAL ESTATE INVESTORS.
REALTY411 (http://realty411Magazine.com) is celebrating its brand new publication, as well as an anniversary of three years in producing their digital issue, REI WEALTH (http://reiwealthmag.com), a monthly interactive publication. As one of the most prolific publishers in the real estate investment industry, REALTY411 has dozens of events on schedule for 2017, as part of their national tour to celebrate a decade in business.
To reserve your complimentary ticket to this wonderful event to celebrate REALTY411, please call: 805.693.1497 – Sponsorship & speaking opportunities are available, let us exponentially grow your business!
Realty411 Magazine (https://realty411.com) is a free print and online resource guide developed to assist investors in the acquisition, management and growth of their real estate portfolios. Realty411 is an advocate for education, and some of the greatest Masters of Creative Real Estate have been featured in the publication.
Realty411 also publishes a monthly digital publication, REI WEALTH. (http://www.reiWealthmag.com)
Don't Miss this Informative, Educational & Exciting Expo in ORANGE COUNTY California hosted by the ONLY Real Estate Investor magazine founded and published by California investors.
NETWORK WITH EXHIBITORS, COMPANIES, REAL ESTATE GROUPS, CLUBS, AND SERVICE PROFESSIONALS – THIS IS THE PLACE TO BE!
Mingle with Companies * Meet Local Leaders & Out of Area Investors
NON-Stop Tips for Real Estate Success ~ Hosting Our Events Since 2007
We Want & Can Help YOU Succeed As We Have. Bring Lots of Cards.
Mingle with Local Leaders & Industry Professionals from Around the Nation
All Guests Receive Our California-based Investments Magazines
Meet Local Leaders & Industry Giants – Hosted by Active Investors
Influential Real Estate People & Business Owners Attending!
Meet and Mingle with REI Group Leaders from Southern AND Northern California!
Find Potential Partners, New Friends, Build Your Circle of Influence.
Remember Your Net Worth = Your Network
Celebrate Real Estate in Your Market!
Our discussions cover a wide range of topics: Commercial & Residential Real Estate
Private Lending * Networking Tips to Grow Your Influence * Strategies to Increase ROI * Gain Perspectives on Local & National Markets
* Fix & Flips * Multifamily Syndications * Buy and Hold + Wholesaling, Notes & SO MUCH MORE… We have investors joining us from many states!
YOUR NET WORTH IS EQUAL TO YOUR NETWORK
We are hosting this event to help increase your contacts
and to further your potential in this industry, so don't miss out!
Also, Inside Our Publications Discover Finance Leaders: Our VIP Advertisers in the Finance Industry Include: Pacific Private Money, Aztec Financial, Patch of Land and Security National Mortgage, among others. Learn about these financial resources at this event.

Learn Tips and Strategies on TOP Real Estate Niches:
Fix 'n' Flip, Wholesaling, Crowdfunding, Buy & Hold, Local & Out-of-State, Private Lending, Commercial & Residential Real Estate, Notes, Credit Optimization, Trust Deeds & More.

— DON'T WORRY, THIS IS A FREE EVENT!

Learn Investor Tips to WIN in Real Estate in 2016 at this Event, Join Us! No matter what, please mark your calendar so you don't miss out on this fantastic real estate and finance expo. Our goal is to provide fantastic resources to help you learn about real estate or grow as an investor. We know your time is valuable, so we have wonderful books, magazines, and other gifts to give away.
Build NEW friendships and business collaborations with some of the industry's TOP Leaders. Plus, guests will discover new resources to FUND deals. Joining us are incredible speakers, sophisticated investors, & VIP Industry Leaders.
Learn Directly from Real Estate Leaders – Both from the Local Area as Well as Nationwide
THANK YOU TO OUR HOST AND EXPO PARTNER:
Kaaren Hall, founder of uDirect IRA Services and OC REIA
Despite being in the midst of a recession and mortgage market collapse, Kaaren Hall founded and made a resounding success of uDirect IRA Services. The single mom discovered a strategic way to put her 20+ years in mortgage banking, real estate and property management to use. The solution was an untapped market for both her skills and for investors – self-directed IRAs.
Because self-directed IRAs can have a dramatic impact on retirees' quality of life, Hall brings her full passion to educating Americans about the little-known investment vehicle. She has educated tens-of-thousands of investors and professionals on how to build wealth by taking control of self-directed IRAs.
She says, "Financial literacy is not taught in schools, but our future depends on understanding it. Only about 4% of U.S. investors have a self-directed IRA. Why? Because most investors and many advisors simply aren't aware of it."
Prior to her years at Bank of America, Indymac Bank and Hall's own mortgage brokerage experience, she was an on-air news and traffic reporter and radio host. Now Hall broadcasts how to invest IRAs in real estate, land, startups and more. She takes pleasure in demystifying the subject via webinars, YouTube videos, live events, social media and her free weekly newsletter.
Through uDirect IRA, she has guided thousands of Americans through the process of diversifying their investments using self-directed IRAs. Learn more about Hall and her thriving company at uDirectIRA.com
Gary Massari, Founder of Make Money Now Real Estate Investors

Do Not Miss this Fantastic Top Real Estate Investor and Trainer!
Gary ran a very successful real estate and mortgage, peak-performance school and trained over 3000 realtors and loan officers to be income top income performers. Gary was the managing partner with Diablo Funding Group, the largest mortgage brokerage company in Northern California, where he became their top trainer. He is noted for his very popular radio show in the San Francisco Bay area where he taught financial literacy to over 25,000 weekly listeners.
Bestselling Amazon author in four different categories. Founder of 30-Minute Millionaire Marketing with over 300 publications. One of the top 10 LinkedIn contributors with over 14,000 connections and over 220,000 in his social network. He owns several companies including 30-Minute Millionaire Marketing Wealth Creators, Dolphin Consulting, and GLM Fix and Flips.
Discover How the Most Successful Home Buyers in America Buy Houses!!!
Mark McKeller with HomeVestors of America The Nation's Largest Home Buyer in the Nation! Mark McKeller shares how HomeVestors® has purchased over 55,000 houses to become the #1 Home Buyer in America!! HomeVestors is the "We Buy Ugly Houses" company.
The company has bought over 55,000 houses, making them America's #1 Homebuyer. Mark McKeller has been buying houses with HomeVestors for the past 12 years. He and HomeVestors are experts on how to get calls and buy houses from motivated sellers that other investors can't find. "We buy properties that are not listed and aren't REO or foreclosures, so there's much less competition."
In addition to buying houses, Mark spends time coaching those new to HomeVestors on how to get the most deals out of their calls. Mark can tell you how to work with America's #1 Homebuyer to buy more houses, and maybe get some of your own calls from the "hidden city of sellers" that only HomeVestors knows how to find.
AND SO MANY MORE! DO NOT MISS THIS EXPO AND NETWORKING CONFERENCE!
LEARN FANTASTIC INFORMATION, SUCH AS:
* What is the best property type to buy and why
* Where are the best markets in the US now
* When is the real estate cycle going to be the best in various markets?
* How to start buying quality real estate THIS MONTH!
* Property Management techniques to save you money

* Financing secrets of the most successful investors

* How to protect your assets with the right entity formation

ATTENTION INVESTORS, AGENTS, BROKERS, BUSINESS OWNERS
NETWORK WITH EXHIBITORS – WIN PRIZES – BRING THE FAMILY
PLUS, MANY MORE FANTASTIC INFORMATION AND TIPS!
---
We have these amazing speakers and industry leaders PLUS MANY MORE scheduled to attend this phenomenal conference. Please check back on a regular basis for further updates and information. You may also visit our numerous websites for further information, including:
REALTY411 OR REALTY411 EXPO OR REALTY411 MAGAZINE
*please note speaker schedule to change without notice due to conflicts, weather or other circumstances beyond our control. Thank you.
WHAT MAKES US UNIQUE
Since 2007, Realty411 has been a positive force in the real estate industry providing valuable insight, resources and information to help investors improve their lives and expand their realty knowledge and portfolios. Our only mission is to help others succeed in real estate and to be a positive example for our industry.
GROWING STEADILY AND STILL GOING STRONG
Founded by a 22-year veteran publisher and journalist, Realty411 remains the fastest-growing publication having gone from a 12-page newsletter in 2007 to publishing nearly 200 pages of real estate news and strategies in July 2016 with their print magazine as well their online REI Wealth Monthly issue. Currently, Realty411 produces and hosts expos and events around the country.
---
FOR INFORMATION PLEASE CONTACT US:
CALL: 805.693.1497 | 310.994.1962
Realty411 publishes complimentary real estate resources, the online and print publications reach a global audience of investors. Realty411 was founded in 2007 by Linda Pliagas, who is the Publisher. Linda has been in media since the age of 18 and has been a national publisher for over 25 years. She has also been a licensed California real estate sales agent for 16 years.
Linda and her family have owned rental properties in five states and are active investors. Realty411 also owns, manages and operates a number of other websites and social media groups with thousands of followers. Please be sure to join the Realty411 Ning Network or join their 75,000 plus social media following on either Facebook, LinkedIn, Google+, Pinterest, Youtube or Instagram. Realty411 is celebrating more than a decade of business this year and has a stellar reputation of service.
---
---
IMPORTANT uDirect IRA Disclaimer
uDirect IRA Services, LLC does not render tax, legal, accounting, investment, or other professional advice. If tax, legal, accounting, investment, or other similar expert assistance is required, the services of a competent professional should be sought.
Circular 230 Notice
As required by U.S. Treasury rules, we inform you that if any Federal tax advice is contained in this page (in spite of our best efforts not to provide any tax advice), it is not intended or written to be used, and cannot be used, by any person (1) for the purpose of avoiding any penalties that may be imposed by the Internal Revenue Service, or (2) to promote, market, or recommend to another party any matter addressed herein.
Confidentiality
This email message and any attachments are intended solely for the use of the addressee(s) and may be confidential. Any unauthorized review, use, disclosure, copying or distribution is expressly prohibited. If you are not the intended recipient, please contact the sender by reply email and destroy all copies of the original message and any attachments.
REALTY411 DISCLAIMER:
The publications, events, expos and mixers produced and promoted by Realty411guide.com, reWEALTHmag.com, CashFlow Express, REI Wealth Monthly and/or their owners, employees, agents, and affiliates (collectively "411") are for informational and entertainment purposes ONLY. The information and presentations provided therein do not constitute an offer or solicitation to buy or sell securities or real estate. Please be aware that real estate investing is VERY RISKY. 411 is not responsible for any of the information provided and/or statistical data presented, and 411 does not represent that any information or opinions expressed and data provided reflect the opinions, advice and research of the publishers, editors, columnists, vendors, speakers, sponsors, or guests who are in attendance at the events, and do not reflect the opinions, advice or research of 411. By attending 411 events you acknowledge that the investment strategies mentioned may not be suitable for you, that any real estate investment is inherently risky, that all investments are subject to risks, which could result in the entire loss of your investment, and that 411 is not responsible for any losses or outcome of any investment made by you from or after 411 events, or as a result of contacts made at these events as well as after reading 411 publications. You personally are 100% responsible for your due diligence, for all investment information and for all decisions with respect to any potential investment or transaction. 411 does not endorse, and has not performed due diligence on any of the columnists, advertisers, vendors, speakers, sponsors, companies and guests who appear at our events or in our publications. The information presented at any 411 event related to any potential real estate investment is general in nature and does not constitute legal, tax or investment advice. 411 strongly recommends that you seek the advice of your trusted attorney, broker, CPA and/or financial adviser before taking action as an investor. If you have had an unpleasant experience with a speaker or company sponsorsing our current or past expos, please contact us: (805) 693.1497.
**Real estate, and all investing, is risky and may result in the entire loss of your principal investment. PLEASE invest responsibly. **
—
Save
Save
Save
Save