San Diego, CA – REI Wealth Monthly just unleashed their latest magazine for real estate investors, high level net worth individuals, as well as Agents, Brokers and industry leaders.
For the cost of a latte, REI Wealth Monthly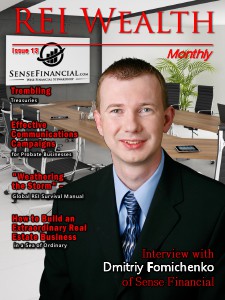 provides timeless tips, vital industry information, and motivation to take you to a whole new level of SUCCESS — Let our caffeine keep you going…
Founded in San Diego, more than one year ago, REI Wealth Monthly was created specifically for the Apple Newsstand by an active investor and Apple fanatic. REI Wealth Monthly is the ONLY monthly Real Estate Investment magazine for the personal investor who wants to skyrocket their portfolio, wealth and purpose in business and life.
Realty411 merged with the REI Wealth Monthly team four months ago. Our publications are the ONLY California-based real estate magazines serving the needs of investors in the Golden State. California investors are the cornerstone of the REI industry and their capital reaches investments across the nation and world. We are also the only real estate media company operated by licensed real estate professionals and active investors.
Our publications, Realty411 and REI Wealth Monthly, now reach a global audience and serves thousands of readers in nearly every state in our nation. Fully interactive, REI Wealth Monthly has access to videos and other special surprises not available anywhere else.
REI Wealth Monthly is LIVE ~ Apple Users Click Here:
https://itunes.apple.com/us/app/rei-wealth-monthly/id552053319?mt=8
Not an Apple Addict? Access REI Wealth Monthly Here: