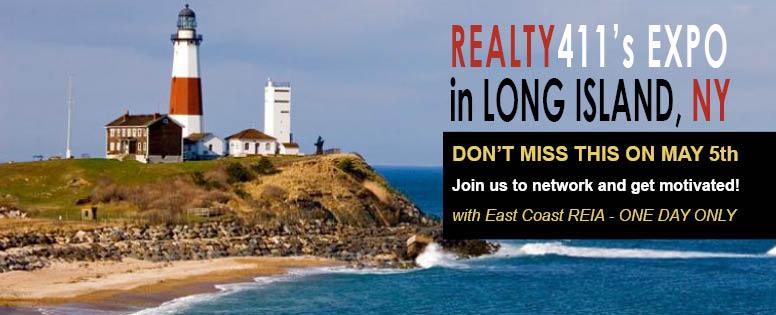 ---
JOIN US FOR ONE SPECIAL DAY OF NETWORKING, EDUCATION AND DEALMAKING – TAKE YOUR REI KNOWLEDGE TO A WHOLE NEW LEVEL
Don't miss our complimentary real estate investor networking conference! Realty411 has been providing the resources investors need to be successful since 2007. At this event, Realty411 is spotlighting the work of the East Coast REIA, a long-standing supporter of our publication.

Long Island Real Estate Expo & Networking Conference for Sophisticated Investors

Honoring East Coast REIA
Four Points by Sheraton, 333 S. Service Road, Plainview, NY
333 S. Service Road, Plainview, NY 11803
Saturday, May 5 2018 9:00 AM — 5:00 PM
Discover Tools, Tips and Techniques from TOP National Speakers – Our Goal is to Help You Succeed in Real Estate, Just As We Have.

---

---
* Mingle with Company Executives
* Meet Local Leaders & Out of Area Investors
* We Want & Can Help YOU Succeed
* Bring Lots of Business Cards to Connect
LEARN – CONNECT – SKYROCKET IN 2018 | BRING YOUR FLYERS OR BROCHURES FOR OUR "411" BOOTH
We know your time is VALUABLE. Time is the most valuable asset we have. We can always make more money; however, we cannot add more time to our life!
WE URGE YOU TO INVEST QUALITY TIME IN GROWING YOUR BUSINESS, CONNECTIONS, RESOURCES, KNOWLEDGE AND SPHERE OF INFLUENCE.
Hosted by Realty411 – Publisher of National Magazines – Since 2007 our events have attracted fantastic people and companies.
PLEASE CONTACT US FOR SPONSORSHIP INFORMATION: 805.693.1497
All Guests Receive Our Fantastic Publications!

Meet Local Leaders & Industry Giants from Around the Nation

Influential Real Estate People & Business Owners Attending!
Find Potential Partners, New Friends, Build Your Circle of Influence.
Remember Your Net Worth = Your Network
---
THANK YOU TO OUR VIP SPONSORS:
AARON ORGANIZATION
REED BLAKE
BUSINESS CAPITAL EXPERTS
EAST COAST REIA
EXP REALTY
HOMEVESTORS OF AMERICA
JAMES E. CLARK
KINGDOM WEALTH PARTNERS
NOTE ASSISTANCE PROGRAM
ARMANDO MONTELONGO
QUALIFIED INTERMEDIARY CAPITAL ADVISORS
WILL HOLLY PROPERTY SOLUTIONS
REALTY411 MAGAZINE
Expo Tote Gift Bags by:
uDIRECT IRA SERVICES, INC.
---
A FANTASTIC DAY AWAITS YOU!
Learn from National Trainer and Performance Coach Carl Schiovone:
"Getting Explosive Results Remodeling and Flipping Properties"
In this exciting segment, we will highlight critical objectives in creating a successful real estate flipping business model. Carl Schiovone will leverage his over 35 years of industry experience to help you fast-track to your desired performance goals. You will leave this segment with a specific action plan you can implement the very next day; you don't want to miss this one!
OUR SPECIAL SPEAKER LINE-UP WILL HELP YOU ACHIEVE SUCCESS!
* Discover How the Techniques that the Wealthy utilize to increase their return
* Learn How to Create a More Secure Financial Future while Protecting Loved Ones
* Review Examples of How Real Estate Investors Utilize this "Living Benefits Strategy"
* We Promise You Will Never See Real Estate Investing the Same Way Again!
PLUS: Eilene Schiovone, Vice President
Eilene currently manages all operations of our companies and has over 10 years of business and office management experience. Eilene will also be responsible for managing member services. In addition, Eilene is a successful Real Estate Investor and is Project Manager for our property flipping business model.
This is your chance to gain insight into the local and national real estate market as well as gain perspective of some of the top areas around the country to invest in. All guests receive our TOP Investment publications.
---

Investors: Learn How to Take Better Care of Your Asset with Tips from Will Holly, Owner of One of the Most Well-Known Property Management Companies in the East Coast
Will Holly is an ex-banker who has mastered the real estate industry. Prior to leaving the banking industry, he ascended to become one of the top bankers at Commerce Bank, and is also the former owner of Apex Mortgage. By the age of just 24 years old, Will started a real estate holding company and turned a six-figure profit after just three months in the business. He is one of the most creative deal makers in the tri-state area and currently the owner of the Holly Nance Group, a real estate private equity firm.
Since its inception in 2006, HNG has turned around over 1,000 distressed assets for investors, private lenders and banks. HNG has been nationally recognized as one of our countries top turn-key investment firms. He believes that focusing on important values such as trust, integrity and commitment are what makes any business profitable."
---
JASMINE R. WILLOIS – MANAGING DIRECTOR OF THE NAP (NOTE ASSISTANCE PROGRAM)
Jasmine R. Willois has owned rentals and FLIPPED out-of-state properties since 2005. She is the investor relations manager for American Home Recovery Fund, the founder of The Note Assistance Program ©, Lady Landlords of San Diego, Lien Lords of Orange County© and an active Realtor in the state of CA. Her companies provide additional security and education on real estate investing, specifically with non-performing notes and retail FLIPS.
Jasmine has been a licensed real estate agent in California since 2004 and continues to do traditional sales and short sales for a small group of clients. With a reputation for the judicious use of resources and result oriented management style her experience with short sales has opened many doors. Combining executive leadership skills, rare team-building strengths and a strong foothold for financial services, Jasmine offers a unique blend of experience. She received her B.A in Economics from California State University at Long Beach, and enthusiastically accepted her first job as an equity trader with Joseph Stevens, in New York, NY.
She emotionally ended her 7-year long career on Wall Street as financial advisor with Morgan Stanley Dean Witter after losing colleagues to the world trade center attacks. An advocate for responsible investing she spends her time educating her audience on conservative real estate cash flow strategies and the abundance of opportunities that lay out side of their backyards.
She offers free education for novice note investors at her Note Lunch & Learn hosted every Thursday from12 noon to 1pm at her Orange County office. Jasmine serves on the board of 2 non profits, Hope Ranch and the National Association of Black Professional Golfers; and proudly sponsors The All Star Golf Tour, Team Joyce and Bec Rawlings UFC fighter. Jasmine enjoys traveling in her spare time traveling and exposing her young ones to the many different cultures our county has on display. She has two cats, 2 dogs, 2 turtles, 16 horses 9 chickens and two children.
---
James Clark, Attorney at Law – "Making the Jump to Commercial Real Estate"
Most residential real estate investors dream of eventually getting into commercial real estate, owning multi-unit apartments, office buildings and retail properties. The problem is that very few know where to start. Commercial real estate is not difficult, but you need to know the basics to get started.
This presentation will delve into the legal and financial considerations for those looking to make the switch. Whether you're looking to get into commercial real estate now, or just want to make it a part of your eventual goals, this presentation will give you the roadmap.
---
MEET YOUR PRIVATE MONEY MAN – MR. REED BLAKE
Reed Blake is the founder of BUSINESS CAPITAL EXPERTS, the fastest growing small business funding company in its area of expertise.
A former Vice President of a firm, who raised over $1 Billion in funding for its clients in 7 years, as well as an accomplished speaker, who has spoken to tens of thousands of people on business funding.
BCE specializes in Unsecured Business Lines of Credit and Unsecured Cash Loans (YES – we can do this for Real Estate Investors!). The BCE team has between 6 and 25 years of experience and the relationships needed to get our clients operating capital, traditional investment funding and to take our client's companies public.
We can also fund your growth, portfolios and notes…real estate transactions from $25K to $22 Million – this includes residential, industrial and commercial transactions.
You will find Mr Blake's presentation not also enlightening, but also highly entertaining.
---
* Mingle with Company Executives * Meet Local Leaders & Out of Area Investors
NON-Stop Tips for Real Estate Success ~ Make 2016 Your Year!
We Want & Can Help YOU Succeed. Bring Lots of Cards.
NETWORK – LEARN – CONNECT – SKYROCKET IN 2018
---
Armando Montelongo, Star of "Flipping Nightmares" and former star of A&E's "Flip This House"
Armando is the ORIGINAL real estate reality star, and is consistently ranked as one of the most successful Hispanics in business. He is visiting us San Antonio, Texas!
Don't miss the very rare opportunity to learn directly from the founder of a company who has invested over one billion dollars. Armando has been doing this business longer than most people in the industry. Thi is his passion and it shows.
Starting off with no credit, experience, or knowledge, Armando is now known as one of the top real estate investors in the country. How did he go from living in his family-in-law's garage to owning a multi-million dollar company?
FLIPPING HOUSES
After deciding to leave California to move back to his hometown in Texas, Armando made his very first deal. His first wholesale introduced him to a whole new world – and it was only the beginning.
As Armando continued buying, rehabbing, and selling more and more properties, he kept in mind what worked and what didn't work. The more houses he flipped, the more he noticed a pattern. He wrote the pattern out and realized that he had come up with an excellent formula to successfully flip houses. The best part was that he didn't even have to use his own money!
SHARING THE KNOWLEDGE
In his first 3 years of investing, Armando was able to bring in a net profit of $3 million. As his expertise was increasingly being sought after, Armando has created a multi-million dollar real estate education program that has helped aspirant house flippers. For instance, Armando's Flip and Grow Rich System teaches you how to find, fund, fix, and flip properties in the most efficient ways.
Residential real estate and in particular, flipping houses, is the most popular way to get started for anyone looking to get into the property game. Armando got his start in real estate by flipping houses and creating his system to gain the highest profit possible. Even though he has branched into other business ventures, Armando is still very active in residential and commercial real estate.
---
PLUS, MEET THE PUBLISHER – INVESTOR, JOURNALIST, ENTREPRENEUR



Linda Pliagas, CEO of REALTY411 – Owner of the Longest-Running Media Company Publishing Real Estate Resources for Investors.
Realty411 was founded in 2007 by Linda Pliagas, who is the Publisher/CEO. Linda has personally invested in rental properties in five states — all by the age of 38.
Linda has purchased single family homes, multifamily units, vacation rentals, probates, REOs and short sales. Linda Pliagas has worked simultaneously in media and real estate. She began her media career at age 18 as a reporter for her high school newspaper.
She holds a bachelor's degree in print journalism from California State University, Long Beach. She was a recipient of the Bobit Magazine Scholarship for her accomplishment in publishing her first national magazine while still at CSULB. She also studied real estate, accounting and general studies at Santa Monica College.
In addition to publishing two national magazines, her first publication — at age 25 — was distributed in bookstores across the nation. Linda also owned a popular local lifestyle newspaper in Marina del Rey, a coastal community in Los Angeles. She has also freelanced and worked as an independent media professional for numerous national magazines, local newspapers, and global websites.
Other Business Ventures: Linda has been an active landlord in California consecutively since her early 20s. In addition to her family's ventures in real estate and media, they are also owners of HRS Clocks (Horological Restoration Services) the oldest timepiece repair, restoration and sales shop in Santa Barbara County. HRS serves a select clientele of collectors, and their 40-year-old shop has restored some of the most valuable antique timepieces in existence.
---
Expo Photography by: Bill Moseley, President of BBA Photography Corporation
REAL ESTATE AGENTS/BROKERS Get Your Professional Headshots Here at HALF the Cost!
Need a New Look? Need to Upgrade Your Business? Realty411 has the TOOLS you need to be Successful Here.
GET YOUR NEW HEADSHOTS HERE FOR A DISCOUNTED RATE OF ONLY $50 AS A SPECIAL OF THIS EXPO. We want to help you in your career and we are making it very easy for you to get a NEW HEADSHOT for your business! Normally, one sitting with BBA Photography Corporation is $150 on location.
PLEASE CHECK BACK FOR ADDITIONAL INFORMATION AND SPEAKERS, MORE TOPICS WILL BE ADDED SHORTLY!