Check out our new audio content!
By Linda Pliagas, publisher
A celebration of life for Aaron Norris, a charismatic real estate executive, educator, investor and popular industry leader, is scheduled for Saturday, August 13th, 2022. The tribute will take place from 11 AM to 2 PM at The Grove Community Church located at 19900 Grove Community Drive, in Riverside, Calif.
Aaron, an engaging national real-estate speaker and frequent media contributor, left a long-lasting impression on the tens of thousands of people he touched though his videos, articles, podcasts, educational events, and charity work.
He captivated audiences at "I Survived Real Estate", the popular annual black-tie gala attended by the Who's Who of the REI industry, which so far has raised almost $1 million for various charities.
The highly-regarded industry event is produced by The Norris Group, a private lending and real-estate education firm owned by his father, Bruce Norris.
Aaron Norris, MBA, APR, received a Master's of Business Administration from University of California, Irvine. Aaron also attended California State University, Fullerton for his general education, as well as the American Musical and Dramatic Academy.
Aaron's early artistic training was evident as he was a captivating orator who mesmerized layman and professionals alike, whether at a real estate conference or community event. A frequent contributor to Forbes magazine, Aaron was a member of The Public Relations Society of America and held an Accreditation in Public Relations (APR) designation.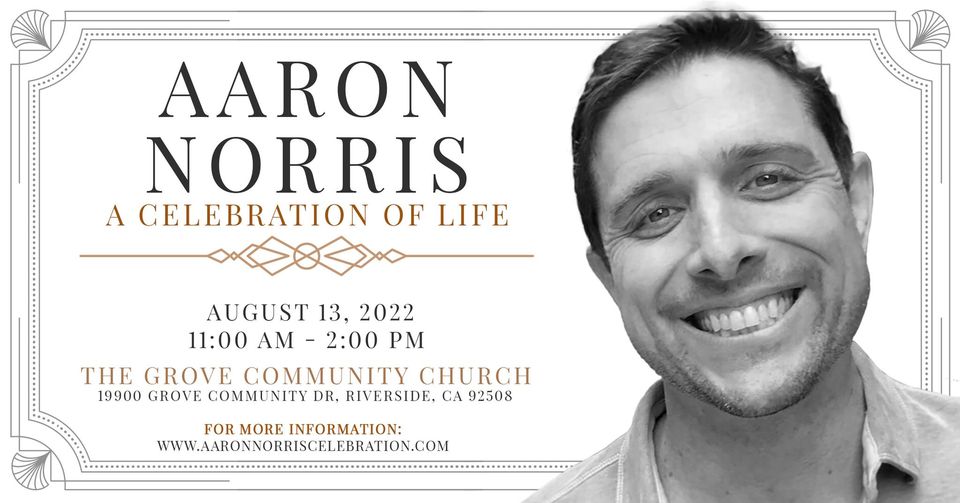 Recently, Aaron had taken on an executive role as Vice President of Market Insights for PropertyRadar.com. According to his profile on Forbes.com, Aaron's focus was to "help Main Street real estate professionals discover trends, understand opportunities, connect with people, and drive automation."
A life-long learner, Aaron was also a Certified Specialist in Planned Giving (CSPG), a California real estate broker, and California and Florida mortgage broker.
Additional information can be found online at https://AaronNorrisCelebration.com