Celebrate Real Estate Investing in FLORIDA with the only FREE real estate expo in Fort Lauderdale
Hosted by The Millionaires Investment Group
Celebrating Our Real Estate WEALTH Cover Featuring Local Investor John Aaron
THIS IS OUR 5TH EVENT IN FLORIDA
WE ARE GROWING!
Join Us at Our Outdoor & Indoor Beach Business and
Complimentary Real Estate Expo & Mixer!
Learn, Network, Grow – Suntan, Surf, Sail
REAL ESTATE EXPO & NETWORKING MIXER!
Are you ready to Grow Your Real Estate Business, Portfolio and Network?
YOUR NET WORTH IS LINKED TO YOUR NETWORK
We want this Florida Real Estate Beach Expo to EXPAND YOUR MIND and help you achieve success. Have you started to accomplish some goals for 2017? We want to make sure you do!
Learn from TOP Leaders in the Industry! We are hosting Local & National Experts
* Mingle with Vendors * Meet Local Leaders & Out of Area Investors
NON-Stop Tips for Real Estate Success ~ Make 2017Your Year!
We Want & Can Help YOU Succeed. Bring Lots of Cards.
Mingle with Local Leaders & Industry Professionals from Around the Nation!
Hosted by Realty411 – Publisher & Expo Company
** Come Meet Your Local Real Estate Leaders **
Realty411 magazine was first published in 2007 and is now the longest-running publication owned by the same owner – A 30-year veteran journalist, agent & active investor. We have reached thousands of readers & online followers in person and hope to meet you too!
Our mission is simple:

We strive to provide information about real estate to expand knowledge about the benefits of investing to as many people as possible. We also believe in multiple streams of income and encourage others to own their own businesses for total financial freedom. Our Expo Reflects Our Goals and Mission – Join Us to Expand & Grow
Please bring LOTS OF BUSINESS CARDS, it's time to Network.
LEARN ALL ABOUT PRIVATE FINANCE SO YOU CAN GET YOUR DEALS DONE!!!
We give your the resources you need to CLOSE MORE TRANSACTIONS!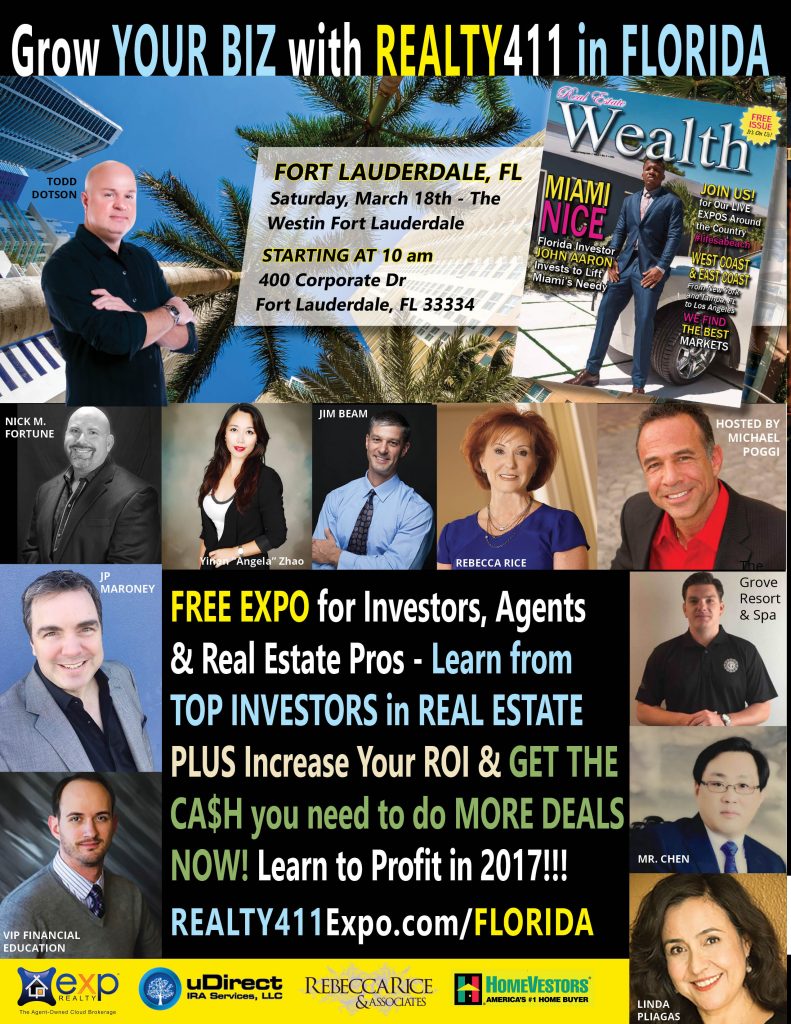 Learn from Michael Poggi – The Millionaires Investment Group
Michael Poggi is a nationally recognized public speaker, established author, and professional investor, with nearly two decades of experience. Michael speaks on advanced wealth strategies and how to invest in Real Estate and Businesses the right way .He presents topics such as: house flipping, purchasing apartment buildings, and building new construction homes, development projects, purchasing vacant lots in fast growing areas and buying businesses in your IRA or your old 401K plan. He teaches people how to make their IRA self-directed in the true sense, so you can use it for real estate. He also teaches people and mentors students on how to make their IRA cash flow monthly tax-free as well as how to invest properly.
In addition, Michael is the president and founder of The Millionaires Investment Group, based in Ft. Lauderdale, Florida. There are 10,000 members of the Millionaires Investment Group and 2500 Active Investors. The Millionaires Investment Group holds a meeting on a monthly basis to network and partner on real estate ventures, and businesses. Michael's company specializes in many aspects of commercial real estate, vacant land, development projects, new construction home projects and businesses. The group attracts top notch speakers from all around the country, who are featured monthly to provide additional education.
Michael is often a featured guest on the Money Talk radio show. His company, Build Wealth with Land, LLC, is one of the largest land providers in the U.S., providing hundreds of vacant lots to investors and builders yearly. Michael has bought and sold over 1000 vacant lots and houses in the last 10 years, tax free.
~~~~~~~~~~~~~~~~~~~~~~~~~~~~~~~~~~~~~~~
Robert G. Hetsler, Jr., J.D./CPA/CVA/CFF/CFFA/FCPA/CMAP/PFP
Mr. Hetsler has devoted his career to advising business owners and attorneys on all things related to business valuation, forensic accounting, 1031 exchanges, commercial real estate (Self-Storage specifically), financial planning, and mergers/acquisitions. He is the Managing Director of Hetsler Mediation & Valuation, Inc., a uniquely specialized accounting and consulting firm dedicated to providing business valuation, forensic accounting and Mergers & Acquisitions ("M&A").
Robert has valued businesses across all industries for divorce, partner or shareholder disputes, Estate & Gift tax, buy/sell agreements, dissenting shareholder actions, M&A's and Employee Stock Ownership plans ("ESOP"). Business valuations, 1031 Exchanges, forensic accounting, income producing property and retirement division through the preparation of Qualified Domestic Relations Orders (QDRO's) are the five key areas of Robert's innovative financial practice.
Robert has testified in numerous courts as an expert witness in, retirement division, business valuations and forensic accounting. He has also been appointed as a neutral business valuator in litigation cases. Prior to focusing all his time on the unique practice areas above, he was a civil/family mediator where he conducted over three thousand mediations ranging from high conflict business disputes to high net worth divorce cases. Robert operates as an M&A consultant to business & real estate owners wishing to liquidate or expand their business via selling their business or acquiring an existing business' or real estate. He has been involved in many transactions in industries such as self storage, billboards, manufacturing, technology, legal, construction, medical/dental practices, etc… as the lead consultant ensuring the transaction, along with all the intricate details, closes timely and smoothly.
HIs life passion has been real estate with his first personal transaction involving billboards. He now owns nine separate storage facilities, several other commercial properties and six investment homes. Fourteen years ago, the tax attorneys to whom Robert worked with in the business valuation world, asked him to operate as a Qualified Intermediary which was directly related to his passion for real estate investing. It was the perfect storm in that he could speak with like-minded people and have fellow investors as clients, which is the ideal opportunity to combine his passion with his education and skillset.
Thereafter, Robert has spent most of his professional life working in and around real estate as an investor, qualified intermediary, replacement property expert, and real estate agent. After Law School, he worked for a real estate attorney handling closings for three years. The results were a countless amount of national connections around the Nation from every possible angle in real estate.
Robert obtained a bachelor degree in Accounting along with an additional year of postgraduate studies in Accounting and Tax from University of North Florida.
He also acquired a Doctorate Degree in Jurisprudence from Florida Coastal School of Law. Finally, Robert is an active member of the, American Institute of Certified Public Accountants (Personal Financial Planning Section), the National Association of Certified Valuators & Analysts, and the Florida Institute of Certified Public Accountants (Valuation & Litigation Section).
~~~~~~~~~~~~~~~~~~~~~~~~~~~~~~~~~~~~~~~~~~~~~~~~~~~~~~~~~~~~~~~~
LEARN ASSET PROTECTION AND ENTITY FORMATION FROM NICK FORTUNE, CEO OF FORTUNE DNA
Nick Fortune is an inventor and intellectual creator for many asset protection and wealth strategy patents. Nick is an expert in evaluating complex macroeconomic legal issues and developing complex tax strategies for clients.
He is a frequent guest on a variety of talk and news shows. Nick is the author of "The CPA Survival Guide" and the Founder of the elite business and investor forum entitled Hush Hush Secrets of the Ultra Wealthy.
MEET JP MARONEY – Founder & CEO, Harbor City Capital
JP Maroney is an American entrepreneur, investor, and philanthropist with more than 26-years experience starting, building, buying, and selling companies in publishing, media, advertising, software, ecommerce, textiles, training, real estate, and consulting.
He's Founder & CEO of Harbor City Capital, a global alternative investment group specializing in buying, building and monetizing digital assets.
JP's business group includes a collection of companies and joint ventures involved in publishing, software, media, training, consulting and internet commerce. He also serves as adviser and/or board member with several other companies.
Current and past clients include: Wells Fargo, Century21, Precision AutoTune, The Maids, Metric Property Management / BlackRock, National Apartment Association, Independent Bankers Association of Texas, Texas Association of Business, Texas Credit Union League, and many other franchises, corporations, and trade associations.
JP Maroney is the best-selling author or co-author of more than 30 books and audio/video learning systems. His in-demand articles and columns have appeared in dozens of print and online publications throughout the US and Internationally. Additionally, he has collaborated, organized and published business and self-improvement books with more than 70 other industry authorities.
A popular keynote and seminar speaker with more than 2,500 presentations under his belt, JP Maroney inspires and educates audiences with his business principles, ideas and strategies that have been hammered out on the anvil of experience.
>>> Meet Linda Pliagas, publisher of Realty411 magazine, the longest-running real estate investment publication and national expo company. In business since 2007, Realty411 has helped thousands of investors expand their knowledge and connections with their complimentary magazines and events.
Linda has been a real estate agent for 14 years and a landlord for over 20 years. Linda's family also owns a luxury business restoring and selling fine watches and clocks. Her family also owns several other businesses in California.
Learn Directly from Real Estate Leaders
Joining Us from Our Texas: Todd Dotson!
Todd Dotson of Arlington, Texas is the founder of TIER ONE Real Estate® and the Nation's foremost authority on Getting In, Getting Out and Getting Paid. Todd brings a reality-based approach to the business of real estate investing with an emphasis on "buying and selling" to create immediate cash and a system for parlaying that into wealth.
As the developer of the Industry's first On-Site Mentoring Program, Todd and his team have the unique advantage of having mentored students in every major market in the United States – A claim that only he and his team can make! Hands on experience allows him to seamlessly combine wholesale buying and purchase option strategies -Anywhere, USA, because in the end "The Checks Don't Lie!"™
Please bring LOTS OF BUSINESS CARDS, it's time to Network.
NETWORK WITH EXHIBITORS – WIN PRIZES – BRING THE FAMILY
ENJOY A WONDERFUL BREAKFAST MIXER – GROW YOUR BUSINESS!
***Speakers subject to change due to availability – this page will be updated regularly with updates and will include the agenda shortly***
~~~~~~~~~~~~~~~~~~~~~~~~~~~~~~~~~~~~~~~~~~~~~~~~~~~~~~~~~~~~~~~~
WE PRODUCE EXPOS AROUND THE NATION!
Commercial & Residential Real Estate * Private Lending * Raising Capital * Networking Tips to Grow Your Influence * Strategies to Increase ROI * Gain Perspectives on TOP Local & National HOT Markets * Fix & Flips * Buy and Hold + Wholesaling, Notes & More…
EXCLUSIVE THOUGHT-PROVOKING EDUCATION!
This is your chance to gain insight into the local real estate market as well as gain perspective of some of the top areas around the country to invest in. All guests receive TOP Investment publications.
Vital industry and "top insider" information will also be made available at this important event, such as:
1. Where can local investors acquire Private Funds and Hard Money Loans for Investing?
2. What are some Prime Areas to invest in the Local Market?
3. Where are Savvy Investors going to find top Cash Flow markets out of state?
4. What's going on at the Local Courthouse and with the Foreclosure Market?
5. Who are the TOP brokers and agents in the local area and how can they help Investors find, secure and acquire those deals.
6. Discover about other Industry Events happening, which are important to attend – We promote specific important industry events where hundreds of like-minded individuals unite for networking.
7. Meet the publisher of Realty411, who is an active real estate investor. Linda was able to pay her home off in Los Angeles by age 39 by buying and holding rental properties across the country. She is one of the most active proponents in the REI industry. Her publications reach tens of thousands of investors around the world.
8. What areas are being scoped out by Local Investors? Find Out…
PLUS, MEET THE PUBLISHER AND COMPANY OWNER!
Linda Pliagas, CEO of REALTY411
– The Longest-Running Publication for Investors Owned By the Same Owner
Realty411 was founded in 2007 by Linda Pliagas, who is the Publisher/CEO. Linda has personally owned and managed 24 multifamily units and three single family homes simultaneously in five states — all by the age of 38.
Linda has purchased single family homes, multifamily units, vacation rentals, probates, REOs and short sales. Linda Pliagas has worked simultaneously in media and real estate for the past 18 years.
She holds a bachelor's degree in print journalism from California State University, Long Beach. She was a recipient of the Bobit Magazine Scholarship for her accomplishment in publishing her first national magazine while still at CSULB. She also studied real estate, accounting and general studies at Santa Monica College.
A journalist since the age of 18, Linda has also freelanced for numerous national magazines, local newspapers and global websites.
Other Business Ventures:
Linda has been an active landlord in California consecutively since the age of 25. In addition to her family's ventures in real estate and media, they are alos owners of HRS Clocks (Horological Restoration Services) the oldest timepiece repair, restoration and sales shop in Santa Barbara County. HRS services a select client base of collectors and their company repairs some of the most valuable antique timepieces in existence. They serve a sophisticated clientele worldwide.
LEARN ABOUT OUR PUBLICATIONS AND RECEIVE A FREE ISSUE!
Meet Local Leaders & Industry Giants – We are referring California Investors
Influential Real Estate People & Business Owners Attending!
Find Potential Partners, New Friends, Build Your Circle of Influence.
YOUR NET WORTH IS EQUAL TO YOUR NETWORK
We are hosting this event to help increase your contacts
and to further your potential in this industry, so don't miss out!
~~~~~~~~~~~~~~~~~~~~~~~~~~~~~~~~~~~~~~~~~~~~~~~~~
* Plus, enjoy viewing REI Wealth Monthly, our fully-interactive digital publication
developed for Apple enthusiasts by an investor from San Diego, California
* Learn Tips and Strategies on TOP Real Estate Niches:
Fix 'n' Flip, Wholesaling, Crowdfunding, Buy & Hold,
Local & Out-of-State, Private Lending, Commercial & Residential
~~~~~~~~~~~~~~~~~~~~~~~~~~~~~~~~~~~~~~~~~~~~~~~~~
FOR INFORMATION PLEASE VISIT http://realty411expo.com
CALL: 805.693.1497 | 24 Voice Mail: 310.499.9545
***Speakers subject to change due to availability – this page will be updated regularly with updates and will include the agenda shortly***
REALTY411 DISCLAIMER:
The publications, events, expos and mixers produced and promoted by Realty411guide.com, reWEALTHmag.com, CashFlow Express, REI Wealth Monthly and/or their owners, employees, agents, and affiliates (collectively "411") are for informational and entertainment purposes ONLY. The information and presentations provided therein do not constitute an offer or solicitation to buy or sell securities or real estate. Please be aware that real estate investing is VERY RISKY. 411 is not responsible for any of the information provided and/or statistical data presented, and 411 does not represent that any information or opinions expressed and data provided reflect the opinions, advice and research of the publishers, editors, columnists, vendors, speakers, sponsors, or guests who are in attendance at the events, and do not reflect the opinions, advice or research of 411. By attending 411 events you acknowledge that the investment strategies mentioned may not be suitable for you, that any real estate investment is inherently risky, that all investments are subject to risks, which could result in the entire loss of your investment, and that 411 is not responsible for any losses or outcome of any investment made by you from or after 411 events, or as a result of contacts made at these events as well as after reading 411 publications. You personally are 100% responsible for your due diligence, for all investment information and for all decisions with respect to any potential investment or transaction. 411 does not endorse, and has not performed due diligence on any of the columnists, advertisers, vendors, speakers, sponsors, companies and guests who appear at our events or in our publications. The information presented at any 411 event related to any potential real estate investment is general in nature and does not constitute legal, tax or investment advice. 411 strongly recommends that you seek the advice of your trusted attorney, broker, CPA and/or financial adviser before taking action as an investor. If you have had an unpleasant experience with a speaker or company sponsorsing our current or past expos, please contact us: (805) 693.1497.
**Real estate, and all investing, is risky and may result in the entire loss of your principal investment. PLEASE invest responsibly. **
Save
Save
Save
Save
Save
Save
Save
Save
Save
Save
Save
Save
Save
Save
Save
Save
Save
Save
Save
Save