Don't Miss this Informative, Educational & Exciting Expo & Cash-flow Conference hosted by REALTY411 & REI WEALTH!
SINCE 2007, REALTY411 HAS PRODUCED COMPLIMENTARY EXPOS AND PUBLICATIONS – OUR MISSION IS TO INCREASE FINANCIAL EDUCATION AND HELP AS MANY AMERICANS AS POSSIBLE INVEST IN REAL ESTATE!
Realty411 expos are created and hosted by a California accredited investor & 16-year real estate agent with 24 years experience in journalism. Realty411's publisher has owned property and invested in California since 1993 and is an active accredited investor.
>> SILICON VALLEY REAL ESTATE AND STOCK SUMMIT
Learn How to Profit in this NEW Economy with Real Estate, Stocks, and Personal Finance Strategies to Position You for Wealth in 2017
Date: Saturday, July 29 2017
Time: 9 am to 5 pm
Venue: Biltmore Hotel and Suites
Address: 2151 Laurelwood Road | Santa Clara, CA 95054
NETWORK WITH EXHIBITORS, COMPANIES, REAL ESTATE GROUPS, CLUBS, AND SERVICE PROFESSIONALS – THIS IS THE PLACE TO BE!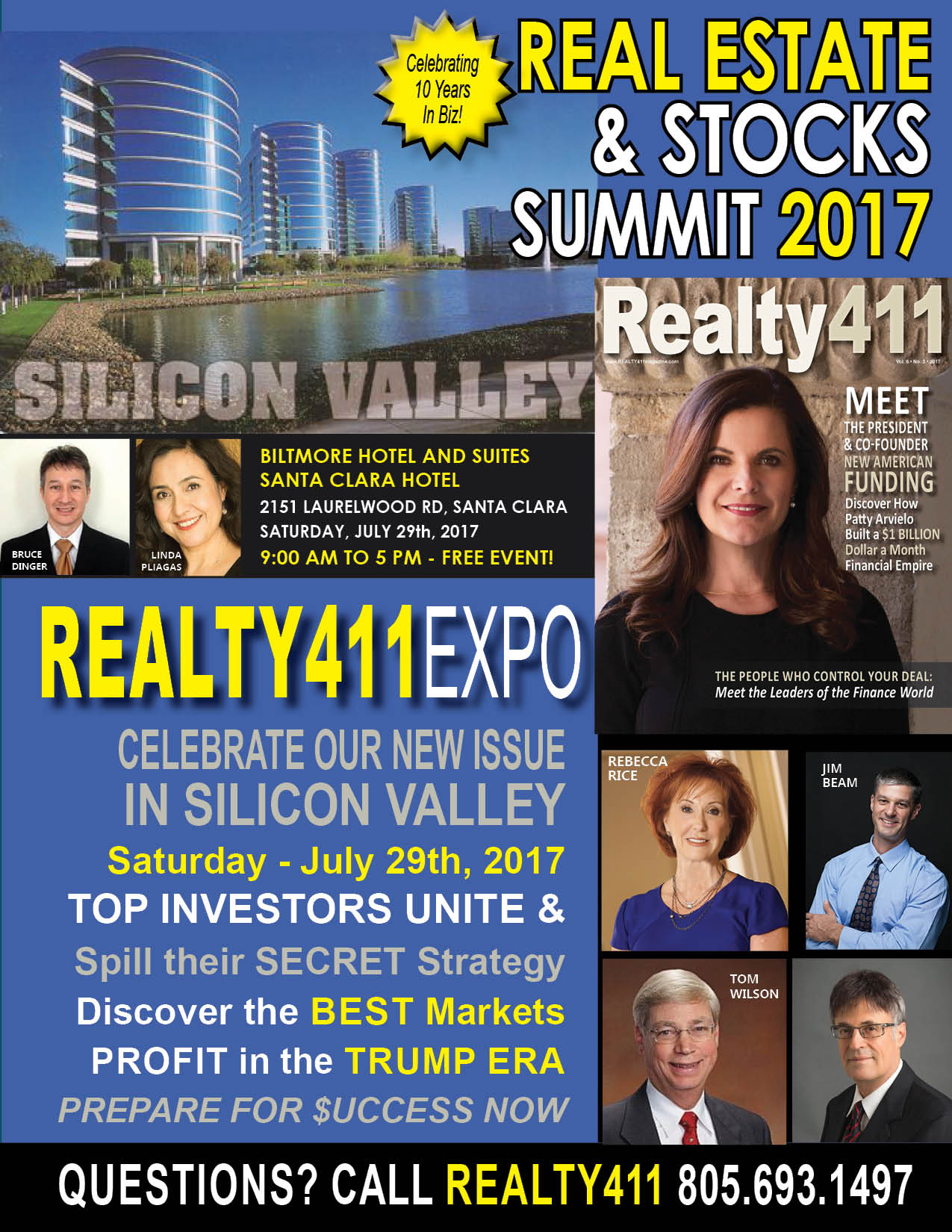 * Mingle with Companies * Meet Local Leaders & Out of Area Investors
NON-Stop Tips for Real Estate Success ~ Hosting Our Events Since 2008
We Want & Can Help YOU Succeed As We Have. Bring Lots of Cards.
Mingle with Local Leaders & Industry Professionals from Around the Nation!
Hosted by Realty411 – Publisher of National Real Estate Magazines
All Guests Receive Our California-based Investments Magazines
Meet Local Leaders & Industry Giants – Hosted by Active Investors
Influential Real Estate People & Business Owners Attending!
Find Potential Partners, New Friends, Build Your Circle of Influence.
Remember Your Net Worth = Your Network
* Celebrate Real Estate in Your Market!
Our discussions cover a wide range of topics: Commercial & Residential Real Estate * Private Lending * Raising Capital * Networking Tips to Grow Your Influence * Strategies to Increase ROI * Gain Perspectives on TOP Local & National HOT Markets * Fix & Flips * Buy and Hold + Wholesaling, Notes & More… We have investors joining us from many states!
YOUR NET WORTH IS EQUAL TO YOUR NETWORK

We are hosting this event to help increase your contacts
and to further your potential in this industry, so don't miss out!
SOME OF OUR SPONSORS FOR THE LAST EXPO IN NORTHERN CALIFORNIA, INCLUDED:
Ace Capital Group
BAWB
Black Belt Investors
eXp Realty
Kensei Trading
Pinnacle Investment Properties
Queen of Capital
REI Wealth Monthly
Real Wealth Network
Realty411 Magazine
Rebecca Rice & Associates
Total Alliance Solutions
VIP Financial Education
Wilson Investment Properties
Expo Tote Bags:
uDirect IRA Services
ANY MANY MORE SIGNING UP!!!
~~~~~~~~~~~~~~~~~~~~~~~~~~~~~~~~~~~~~~~~~~~~~~~~~
Learn Tips and Strategies on TOP Real Estate Niches: Fix 'n' Flip, Wholesaling, Crowdfunding, Buy & Hold, Local & Out-of-State, Private Lending, Commercial & Residential Real Estate, Notes, Credit Optimization, Trust Deeds & More.
Learn Investor Tips to WIN in Real Estate in 2017 at this Event, Join Us! No matter what, please mark your calendar so you don't miss out on this fantastic real estate and finance expo. Our goal is to provide fantastic resources to help you learn about real estate or grow as an investor. We know your time is valuable, so we have wonderful books, magazines, and other gifts to give away.
Build NEW friendships and business collaborations with some of the industry's TOP Leaders. Plus, guests will discover new resources to FUND deals. Joining us are incredible speakers, sophisticated investors, & VIP Industry Leaders.
Save
Save
Save
Save
Save
Save
Save
Save
Save
Save
Save
Save
Save
Save
Save