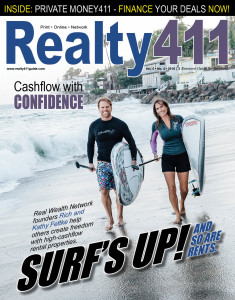 Real Wealth Network founders, Rich and Kathy Fettke, help others create freedom with high cashflow rental properties.  Nearly 18,000 investors in the Real Wealth Network have discovered a new approach to achieving wealth. What are they doing differently?
Kathy Fettke and her husband, Rich, were shocked when Rich was diagnosed with melanoma 13 years ago. What do you do when you become keenly aware that you may not have much time?
When it appears that mounting medical bills are inevitable? When you eagerly want to provide for your family? When every moment counts?
Rich and Kathy embarked on an urgent mission to learn from the most successful,put their income on autopilot, and build real wealth, while freeing up as much time as possible to really enjoy every moment of life.
They did it. As they began sharing the financial tools and tactics they discovered, the Real Wealth Network was born.
The Proof is in the Data
    Today the Real Wealth Network boasts:
• 12 years in business
• 487 educational webinars given
• 18,848 Real Wealth Network Members
• $132M in assets acquired
Real Wealth, Beyond the Balance Sheet…
The Fettkes quickly learned from the self-made millionaires they interviewed that passive income investment in real estate was the way to go. They took massive action, refinanced their home, and invested in 14 rental properties.
Yet, the financial surplus this created still fails to compare with the real wealth that Kathy and Rich are experiencing in their lives now. Kathy explains "we now know what it is like to be able to take a month off and travel to Europe with the family, attend our kid's most important events, and to hit the beach to go surfing whenever the waves are good." Now completely location independent the family is frequently able to jet off to their favorite vacation spots in "Malibu, California, Esterillos Oeste, Costa Rica, and the Swiss Alps."
It's not just about gaining wealth, or fun in the sun, or on the slopes either. Their new found wealth and freedom is enabling Rich and Kathy to give more, share more, and follow their passion for helping others more than ever before too. Kathy tells Realty411 Magazine that her favorite charities and causes to support today include; "Operation Smile for saving children's lives, Amor for building houses in Mexico, and Mentors International for helping families achieve sustainability."
Still, there is no denying that Real Wealth Network continues to be one of the most meaningful and impactful missions Kathy and Rich invest their time, hearts and souls into. This is their gift to others from what they have learned, and that they hope empowers tens of thousands more to realize the same Real Wealth that they are enjoying.
Innovating, Disrupting, and Democratizing Wealth through Real Estate Investment
Kathy Fettke was honored as one of the '100 Most Intriguing Entrepreneurs' by Goldman Sachs at the Builders and Innovators Summit. She is frequently seen in the media via CNN and Fox News, is the host of The Real Wealth Show, and has become a bestselling author.
This success is built on a refreshing approach to wealth building education, and a dedication to quality real estate investment opportunities.
The network offers a wealth of resources from live events and webinars to market research, access to wholesale investment opportunities, and a pre-screened network of industry professionals. Yet, what really stands out is the Real Wealth Network Academy with free basic membership and an upgraded version for just $97 per month. That barely registers on the meter when compared to other escalating programs out there that can charge north of $40,000 for similar information. So how can they afford to do that?
Kathy says: "We believe people should be investing their money in property, not expensive, outdated bootcamps they don't need and won't use. We have worked out a deal with our Academy speakers: we give the top CPA's, attorneys, insurance agents, and property managers exposure to our large network, in trade for their education and resources. We charge a nominal $97/month to pay for the administrative costs, video crews, and a small profit. That small profit has us "walking the talk," modeling passive income strategies. Like everything we do at Real Wealth Network, we barely mark up our products and services, but rather sustain ourselves from volume. We pride ourselves in offering higher quality education than any other real estate program for an affordable price. That adds up when thousands of people have signed up and end up receiving more value than they expected."
Key to their wealth building philosophy is turnkey real estate investment for passive income. While turnkey real estate investing has been the go-to solution for wealthy and sophisticated investors in Europe for decades, it is still relatively young in the United States. This means many novice, and inexperienced operators attempting their hand at it. In contrast; the Fettkes' have been doing this for 12 years, and have strived to constantly set the standard.   
Kathy explains their approach to ensuring sustainability and excellence includes:
• Rigorous screening and vetting of property managers
• Recruiting a Six Sigma Black Belt to oversee quality control
• Only using licensed and bonded contractors
• Independent inspections
• Renovating to a superior like-new standard
• Maintaining 6 to 12 months capital reserves for each property
Kathy Fettke's bestselling book, "Retire Rich with Rentals, How to Enjoy on-Going Cash Flow from Real Estate so You Don't Have to Work Forever," can be purchased on Amazon.   Learn more about these strategies online, simply visit www.RealWealthNetwork.com where you'll get access to live events, free educational webinars, property tours, a list of highly-rated property managers nationwide and much more.