Hey there –
I think we can both admit that if you're going to
have a great year in 2016, you need to be laying
the groundwork now.
You have to be taking steps right now.
The most successful people that I know in this
business have a bullet-proof plan of attack for
each of their goals and know the EXACT steps
that it is going to take to achieve them.
Then they execute their plan and CRUSH IT!
Psst…. that's why they're so successful 🙂
It all starts with the plan of attack and knowing
how to get there.
99% of the people out there simply don't know
how to set themselves up for success.
Lucky for you, I'm about to hook you up.
A great friend of mine and one of the most
successful guys that I know is holding a closed-
door, private event for a handful of entrepreneurs
in the next few weeks.
It's called the Find And Flip Summit and the
event is all about getting to the next level!
How to take your "hobby" real estate business and
turn it into a multi-million dollar machine.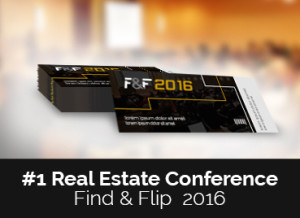 (He and his family put FOUR companies on the Inc
5000 in 2015 – and have experienced amazing growth
over the last few years, so there's no one better to
show you how to achieve these results)
So, if you're like most people that I know in this
business, then this is exactly what you need to
make 2016 your best year ever.
He just opened the doors for registration and tickets
are being sold for $597 – $997.
But when you reserve through the link below – you can
purchase for only $297 through the end of this week.
Here's to a great 2016 and taking action NOW to make
it happen!
Yours In Success,
Realty411 Magazine
P.S. The link will expire by the end of the week, so do not wait to reserve your seat.