Check out our new audio content!
Did you miss our last virtual real estate investor expo held this past Saturday and Sunday, July 25th and 26th, 2020?
No worries, we have you covered. Our last entire weekend expo is available now on our YouTube channel. Be sure to visit today to learn from some of the top leaders in the industry.
Now is the time to invest quality time in your real estate knowledge. Learn today compliments of our sponsors.

On this live, non-stop online real estate expo some of the nation's top leaders of creative real estate investing are in revealing their secrets of success to impact as many lives as possible through the Realty411 network.

Here are the fantastic educators who joined us Realty411's event:
Matt Bowles, Maverick Investor Group
Dave Seymour, From A&E's Flipping Boston
Ross Hamilton, Connected Investors
Seth Gershberg, REI Blade
Dave Lindahl, REMentor.com
Rusty Tweed, TFS Properties
Hannah Kesler, The Money Multiplier
Kaaren Hall, uDirect IRA Services
Travis Abbott, Invest 1 Properties
Dave Grimm, End 2 End Results
Jason Jones, Expert Wealth Builder
Gabriel Hink, The Hotel Veteran
Hugh Zaretsky, eFramily Ohana
Linda Pliagas, Realty411 & REI Wealth
Paul Finck, The Maverick Millionaire
Jeremy Rubin, The Friendly Flipper
PLUS: Fantastic prizes will be raffled off to the best students!!!
Prior to the pandemic, the California-based media company had produced as many as 10 live expos per year, consecutively for 13 years.
Realty411Expo.com, the only complimentary real estate trade show left in the REI industry, has now hosted in-person events in 12 states, meeting thousands of their readers in person. We hope you enjoy our video.
LIVE AND IN REAL TIME!

---
Be sure to PRE-REGISTER for our next Realty411 Virtual Weekend Investor Expo being held this fall. The expo will be held in the comfort of your home on Saturday, Sept. 12th and Sunday, Sept. 13th.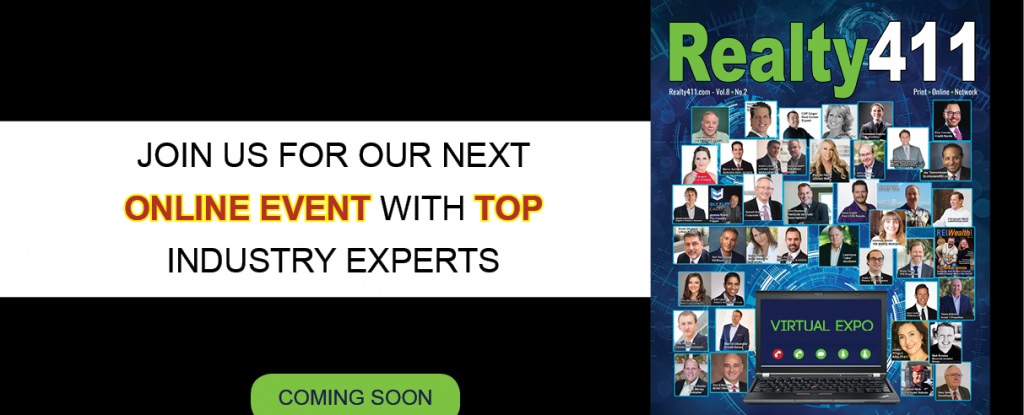 They say, "The early bird gets the worm," so don't delay — make time to register right now for our next upcoming live virtual event, CLICK HERE!
Our next online expo is once again complimentary; however, once we reach 500 RSVPs, the price of admission will now be $27 for each new guest.
WARNING: Be sure to register early to secure your online seat before the maximum quota is met; otherwise, a fee may apply in the near future.
Also, our expo will again be recorded; however, it will NO LONGER be made available for free to the public.
To enhance the live interaction and exclusivity of our real-time virtual expos, future online events will only be made available to our paid members.
To learn about our monthly membership, CLICK HERE.