By Linda Pliagas, Publisher/Owner
---
As I close on our second deal for the year, marking a nice surge in transactions for my family, I reflect on why I decided to enter the real estate education industry, and some of the roadblocks encountered through my 11-year journey.
I live in an upscale area, known by tourists around the world as "The American Riviera".
Santa Barbara County has the best of California: A beautiful beach, a vivid art and active theater scene, award-winning wineries, and an authentic old-Spanish flavor all encircled by renowned equestrian, hiking and cycling trails. It is also a vacation hot spot for Californians, and a second-home magnet for celebrities and entertainment moguls toiling long hours in Hollywood.
And I'm doing deals here. (!?)
Yes, I'm closing on my second transaction this year, and our ninth since we moved here into the area, after my husband purchased a clock and watch repair shop seven years ago. When he bought a one-room tool shop with a client list and uprooted me from my beloved City of Angels, I was skeptical.
THE DEALS ARE EVERYWHERE, OPEN YOUR EYES
In Los Angeles, I was used to the routine of buying out-of-state investments. We lived near LAX, so traveling was as easy as it could possibly be. We had owned rentals in four states besides California, and I had given up the idea of buying locally, due to high prices.
The stress of change, in residency and investing niche, was a lot for me to handle. I wondered if we made a mistake, for a bit I wasn't seeing much progress in terms of investing or career moves. But slowly, the area began to grow on me. The surrounding landscape, with its lush green hills in the winter and topaz-blue beaches, is stunningly beautiful. Plus, I discovered several locations nearby for long-term holds, and possible quick-flip deals.
One was an area named Vandenberg Village, near Vandenberg Air Force Base, in Lompoc, Calif. What a fantastic market it is! We've purchased several rentals for under $165K – Yes, almost the same pricing as if buying out of California. I thought perhaps I just got lucky a few times, but since then, I have found other small pockets near my home that also make financial sense us, and for other real estate investors. No I'm not pushing my services, as I am no longer an "active" agent.
The point of the story is simply that Deals Are All Around Us. We just need to know what a deal is:
Is the property a good price?
What is the ARV (after repair value)?
Can I resell it…quickly?
Will I be able to rent it out, if need be?
How much is market rent?
Where are the funds coming from?
What is the exit strategy — and is one even needed?
These are all important questions to consider. Investors need to look at a property and KNOW THIS as quickly as possible, and MOVE as quickly as possible, if they are to get a deal under contract. You need to be an EXPERT, because someone else will snatch it away, if you don't!
People ask me all the time: How did you land the deal? Did you mail out letters? Did I call up agents I know and inquire about their pocket listings? Or ask them about any properties that they may soon start marketing? Oh, gosh no! I'm too busy producing real estate magazines and hosting our live events. I simply look on the MLS, daily. That's my BIG SECRET…
The secret is: I scour the different MLS services daily — sometimes multiple times. And, I'm ready to rock 'n' roll… Ready with my purchase earnest money deposit, ready with my proof of funds, ready with my private lender… I'm so ready to TAKE ACTION!

Now on our ninth transaction in the area, we now have a reputation for being serious, yet easy-going, cash-closing investors! Many brokers and agents want to work with us and will now call us if they think a property suits our needs.
I feel so fortunate to be able to live this life. I publish Realty411 and REI Wealth magazines, I meet people all over the country at our complimentary real estate conferences, and I know I inspire and motivate them. It's so gratifying to be able to share my knowledge, and I learn so much from our other speakers and sponsors too.
Truthfully, I would not be closing these deals if not for all the phenomenal insight and connections built through the years. I'm really proud that we host complimentary events and provide free magazines and resources, both online and in print.
Many business people, in media and other industries, often grill me with questions by phone or in person. Even without knowing me well, many people have point-blank asked me very intrusive questions: How am I able to do all this? How do I get people into our events? How many properties do I own? How do I pay for it all?
In eleven years we have not charged anyone for admission to our events, in fact, instead we've raised thousands of dollars for charities. Our publications have been available online for free and I've never solicited any funds from our guests to do deals or to coach. In fact, people ask to do deals and be coached by me, and I turn them away. I honestly don't have the time!
MOTIVATING OTHERS… MORE PRECIOUS THAN MONEY



The photo below will spotlight why I'm working so hard producing publications and traveling the country hosting FREE events. The two properties are the deals purchased this year (April 2018), and the photo in the middle is the home we lost to foreclosure when I was 15 years old in Los Banos, Calif.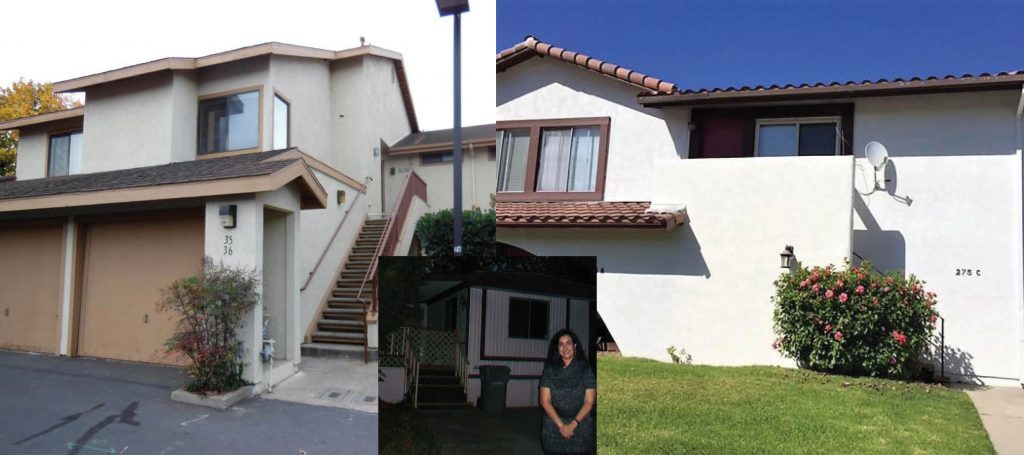 Fast-forward to my life now: mortgage-free in California since my '30s (that in itself is a huge accomplishment), multi-family rentals in five states, traveling the nation to talk real estate and hosting events since 2010, which has allowed me to meet thousands of fans, some who I now call close friends.
My motivation is not really money, but making an impact and a difference in the lives of people who I may come into contact with. Yes, we have bills to pay, publishing is expensive, and we are thankful for our loyal sponsors. Yet, I just know I'm bursting with strategies and knowledge, and I really want to share it with as many people as possible!
The photograph of me in front of my childhood shack is not one I am ashamed of, some of my family members chastised me when they saw me post it on social media, but I want others to know what IS POSSIBLE in a short amount of TIME. You simply do not have to toil forty hours a week for forty years to finally see financial security.
Real estate can give everyone a shortcut to success.
And if you, like us, like your job and want to work until you drop dead, imagine how much better life for your loved ones will be if you have a trust with some rentals paid off to help your grief-stricken wife and kids.
My journey in life and real estate has been truly magical. I went from living in childhood poverty and working since the age of 14, paying for my own college education working two jobs, to now living in one of the most beautiful areas of the world and having passive cash flow to enjoy life on my terms.
The biggest lesson I've learned: Money doesn't buy the most important things in life.
I remember my step-father building a Shaker-inspired bookcase to hold the set of first magazines he purchased for me at the age of four, now I'm surrounded by rare French and Colonial American clocks worth tens of thousands of dollars because our one-room tool shop has transformed into a popular antique destination on First Street in Solvang.
And you know what? The bookcase, in my office…next to me, is more valuable to me than any antique clock, artwork or music box in the shop. The people you love will be your greatest inspiration.
Keep investing, grow your wealth…but never forget why and who you are doing it for.
Until next time,
Linda Pliagas, Realty411
---
Are you ready to create lasting positive change in your life by adding a few rental properties to your family's portfolio? If so, join us at our complimentary community events and expos around the nation. Meet Linda and other ACTIVE real estate investors who are doing DEALS, not simply professing to be. For our schedule of events, visit: http://realty411expo.com