---
Don't Miss this Informative, Educational & Exciting Cashflow Conference hosted Uniting All the Leaders of Northern & Southern California Real Estate.
SINCE 2007, REALTY411 HAS PRODUCED COMPLIMENTARY EXPOS AND PUBLICATIONS – OUR MISSION IS TO INCREASE FINANCIAL EDUCATION AND HELP AS MANY AMERICANS AS POSSIBLE INVEST IN REAL ESTATE TO IMPROVE THEIR RETIREMENT.
Realty411 expos are created and hosted by a California accredited investor & 16-year real estate agent with 22 years experience in journalism. Realty411's publisher has owned property and invested in California since 1993 and is an active accredited investor.
>> NORTHERN CALIFORNIA
Forum and Real Estate Expo
Date: Saturday, February 11, 2017
Time: 9 am to 5 pm
Venue: Four Points by Sheraton Pleasanton
Address: 5115 Hopyard Road, Pleasanton, CA 94588
ENJOY DELICIOUS MEDITERRANEAN APPETIZERS!
---
NETWORK WITH EXHIBITORS, COMPANIES, REAL ESTATE GROUPS, CLUBS, AND SERVICE PROFESSIONALS
THIS IS THE PLACE TO BE!
* Mingle with Companies * Meet Local Leaders & Out of Area Investors
NON-Stop Tips for Real Estate Success ~ Hosting Our Events Since 2008
We Want & Can Help YOU Succeed As We Have. Bring Lots of Cards.
Mingle with Local Leaders & Industry Professionals from Around the Nation!
Hosted by Realty411 – Publisher of National Real Estate Magazines
---
Our Media Company is Based in California and Is Owned by An Agent/Investor
Come celebrate the only national real estate investment publication, expo and network founded and based in California!
All Guests Receive Our California-based Investments Magazines
Meet Local Leaders & Industry Giants – Hosted by Active Investors
Influential Real Estate People & Business Owners Attending!
Find Potential Partners, New Friends, Build Your Circle of Influence.
Remember Your Net Worth = Your Network
* Celebrate Real Estate in Your Market!
Our discussions cover a wide range of topics:Commercial & Residential Real Estate *
Private Lending * Raising Capital * Networking Tips to Grow Your Influence * Strategies to Increase ROI * Gain Perspectives on TOP Local & National HOT Markets * Fix & Flips * Buy and Hold + Wholesaling, Notes & More… We have investors joining us from many states!
---
YOUR NET WORTH IS EQUAL TO YOUR NETWORK
We are hosting this event to help increase your contacts
and to further your potential in this industry, so don't miss out!
Also, Inside Our Publications Discover Finance Leaders: Our VIP Advertisers in the Finance Industry Include: New American Finance, Pacific Private Money, Zinc Financial, B2R Finance, and Security National Mortgage among others, learn about these financial resources
Thank You to Our Sponsors:
BAWB
Black Belt Investors
eXp Realty
Kensei Trading
ICG Real Estate
Pinnacle Investment Properties
Queen of Capital
REI Wealth Monthly
Real Wealth Network
Realty411 Magazine
Rebecca Rice & Associates
Total Alliance Solutions
VIP Financial Education
Wilson Investment Properties
Expo Tote Bags:
uDirect IRA Services
Enjoy Mediterranean Appetizers Compliments of Realty411
~~~~~~~~~~~~~~~~~~~~~~~~~~~~~~~~~~~~~~~~~~~~~~~~~
Learn Tips and Strategies on TOP Real Estate Niches:
Fix 'n' Flip, Wholesaling, Crowdfunding, Buy & Hold, Local & Out-of-State, Private Lending, Commercial & Residential Real Estate, Notes, Credit Optimization, Trust Deeds & More.
Learn Investor Tips to WIN in Real Estate in 2016 at this Event, Join Us! No matter what, please mark your calendar so you don't miss out on this fantastic real estate and finance expo. Our goal is to provide fantastic resources to help you learn about real estate or grow as an investor. We know your time is valuable, so we have wonderful books, magazines, and other gifts to give away.
Build NEW friendships and business collaborations with some of the industry's TOP Leaders. Plus, guests will discover new resources to FUND deals. Joining us are incredible speakers, sophisticated investors, & VIP Industry Leaders.
OUR SPEAKERS INCLUDE A DYNAMIC TEAM:
Learn From Sensei Gilliland with BLACK BELT INVESTORS
Black Belt Investors' Real Estate Master, Sensei Gilliland, has been honored as the nation's leading real estate expert and business mogul by Real Estate Wealth Magazine, and has now expanded his capacity for granting speaking engagements across the US.
Real estate investors frequently flock thousands of miles for words of wisdom from Sensei. His live training and coaching events are known for being value packed, overflowing with practical, quick to implement tactics, and energizing for both white belt and black belt level real estate investors and business owners.
Any real estate investor seeking to increase their own knowledge with a highly recognized and sought out industry will find Sensei packs a real punch when on the bill.
In a sentence, Sensei's education is – "No fluff, just hard hitting, real tactics investors can put into action effectively, delivered by a real estate master that has proven his mettle over two decades." Come hear one of the most powerful leaders in today's real estate industry.
~~~~~~~~~~~~~~~~~~~~~~~~~~~~
Michael Morrongiello – LOCAL LEADER, BAWB
"How to Create Cash Flow with Expensive NorCal Properties."
Michael Morrongiello is an active investor who specializes in Real Estate & Real Estate "Paper" investments. Widely known as having one of the most knowledgeable & creative minds in the paper business, Michael started creating paper as a result of his own Real Estate investment activities in the early 1980's. He is very active in the Buy/Sell renovation business of properties here in the SF Bay Area.
Michael is the author of; Paper into Cash – The Convertible Currency-the definitive home study course that assists you in structuring seller financed transactions while creating marketable Notes and The Unity of Real Estate and "paper" – a course book that outlines numerous real world in the marketplace transaction scenarios and solutions where Real Estate and financing techniques involving "paper" can be effectively used.
Michael is also the program director for BAWB- the Bay Area Wealth Builders Association- an educational support group for both the beginning and seasoned real estate investor.
Adiel Gorel – Local Investment Leader
Adiel Gorel is the Founder and CEO of ICG (International Capital Group) Real Estate Investments, a Marin County, California based real estate investment company started in 1987 that assists investors in purchasing properties, and also provides guidance on lending and property management solutions.
The firm was started in 1987 and for over 30 years Mr. Gorel has dedicated his life to being "in the trenches" across the country to know first-hand what homes are available in different markets and looking at homes (in person); to ensure that the fit is right for those investors he serves. He also has face-to-face visits across the country with other brokers and affiliates he works with, in negotiating investments for his clients. To date, he has purchased over 8,000 homes for investors and has purchased nearly 600 homes with his partners/affiliates worldwide for his own portfolio.
Mr. Gorel is also the author of "Remote-Controlled Riches—The Busy Person's Guide to Real Estate Investing." He has been profiled on ABC-TV and CBS-TV network affiliates across the country, featured in the San Francisco Examiner, Fortune Magazine and interviewed on various radio shows on his expertise in real estate investment and other related topics. Prior to working in real estate, he worked in several C-suite positions at Hewlett-Packard, Excel Telecommunications, Marlstone, Lifecare, and Lifewave.
He holds a Bachelor of Science in Electrical Engineering from McGill University in Montreal, Quebec, Canada, and a Master of Science from Stanford University in Palo Alto, California. When not traveling to secure a strong financial future for those he serves, Mr. Gorel enjoys time with his family in Marin County.
* What is the best property type to buy and why.
* Where are the best markets in the US now.
* When is the real estate cycle going to be the best in various markets?
* How to start Buying quality real estate THIS MONTH!
* Property Management secrets.
* Financing secrets
* Future building using the right real estate.
REBECCA RICE – REBECCA RICE AND ASSOCIATES
Rebecca Rice and Associates is traveling from a great distance to meet you. Rebecca and JIm Beam (both pictured below), have created a huge impact in the lives of many Realty411 fans and readers. Learn how you can benefit from learning what the wealthy already know.
Leverage the world's most powerful financial institutions and create your own private lending machine.
A MESSAGE FROM REBECCA'S PARTNER:
"I'm Jim Beam of Jim Beam Financial partnering with Rebecca Rice and Associates. We work with folks all over the country to improve their financial position using the same strategies we use. Today I will be sharing one of our favorite strategies that you will be able to use in your Real Estate Investing business.
Many investors talk about leveraging. Some discuss compound interest. Fewer, if any, put the two strategies together. Iwill be sharing an amazing strategy of leveraging the world's most powerful financial institutions.This leveraging strategy, when combined with the uninterrupted compounding growth of your retained capital, will generate wealth in such a way as you have never seen before.
Come prepared to explore how banks leverage money and how you can emulate them in your Real Estate Investing. I will show you how to borrow money at low interest rates so you can invest at higher rates. AND, retain your personal capital in the safest, the strongest and the most resilient financial institutions in the world.
ATTENTION INVESTORS, AGENTS, BROKERS, BUSINESS OWNERS: We will host a BONUS SEMINAR on credit optimization after the expo!
NETWORK WITH EXHIBITORS – WIN PRIZES – BRING THE FAMILY
STAY FOR A NETWORKING MIXER AFTER – GROW YOUR BUSINESS!
PLUS, MANY MORE FANTASTIC INFORMATION AND TIPS!
Learn Directly from Real Estate Leaders PLUS WE BELIEVE IN A DIVERSIFIED PORTFOLIO SO WE WILL ALSO BE DISCUSSING STOCKS!!!
Join us to hear from your LOCAL STOCK AUTHORITY!!!
Bruce Dinger, Kennsei Trading, Inc., CEO and Private Wealth Manager, is one of the best traders of our time. He has not only mastered the skill of trading for a living, but also shares his knowledge with others who want to learn to trade or invest.
Learn to generate cash flow and retire wealthy…..not only for yourself, but create generational wealth! To achieve success in any endeavor, you need a Mentor to guide you and keep you on the right path. Simply learning book theory is NOT enough – you need to learn the actual application. Learning to drive a car is the most common application we share. When we started to learn how to drive, we studied, took a test, received a permit, and got behind the wheel with an experienced Mentor sitting next to us. Any time we would veer off in the wrong direction, the Mentor would step in to keep us safely on the road.
Trading for a living and learning how to create consistent Cash Flow to Retire Wealthy is no different than learning how to drive. We need to study the basic fundamentals of the stock market, learn how the world economy affects the market, study various strategies, learn how to architect a high-probability trade or investment…and much more. Taking the "book" knowledge and transferring it to the live volatile markets can be very challenging….and that is where an experienced Mentor steps in….
HERE IS A MESSAGE FROM BRUCE:
"Hi there! My name is Bruce Dinger. I am a professional trader and educator of the markets. I started trading over 3 decades ago and have been actively involved in the stock markets since that first day. I specialize in stocks, options, and futures…and while I describe myself as a Trader – I really wear the hat of a Risk Manager. My strategy is quite simple, but extremely effective – (1) find undervalued companies with a great story and design the investment with a strategy that creates a high-probability opportunity for consistent cash flow or (2) find an overvalued company that has a broken story and architect a trade with limited risk and massive upside reward.
…So, how might you benefit from my extensive experience:
Trading the stock market is my profession – but making a contribution to the World is my passion. If you are serious about creating generational wealth, I can help you. I know that book knowledge is not enough. You need someone to guide you through the markets based on a number of factors including your own personality, your goals, your account size, your time horizon, your risk tolerance, and much more. One size does not fit all, and I am very aware that you need someone to help customize a plan for your personal journey. If you are wiling to put in the effort, I am confident that I can help you succeed.
~~~~~~~~~~~~~~~~~~~~~~~~~
We have these amazing speakers and industry leaders PLUS MANY MORE scheduled to attend this phenomenal conference. Please check back on a regular basis for further updates and information. You may also visit our numerous websites for further information, including:
REALTY411 OR REALTY411 EXPO OR REALTY411 MAGAZINE
*please note speaker schedule to change without notice due to conflicts, weather or other circumstances beyond our control. Thank you.
WHAT MAKES US UNIQUE
Since 2007, Realty411 has been a positive force in the real estate industry providing valuable insight, resources and information to help investors improve their lives and expand their realty knowledge and portfolios. Our only mission is to help others succeed in real estate and to be a positive example for our industry.
GROWING STEADILY AND STILL GOING STRONG
Founded by a 22-year veteran publisher and journalist, Realty411 remains the fastest-growing publication having gone from a 12-page newsletter in 2007 to publishing nearly 200 pages of real estate news and strategies in July 2016 with their print magazine as well their online REI Wealth Monthly issue. Currently, Realty411 produces and hosts expos and events around the country.
REPUTATION AND INDUSTRY STANDING
Realty411 takes pride in having a stellar reputation with zero complaints or rip-off reports. The publisher of Realty411 also has never had any foreclosures, judgements or bankruptcies and her entrepreneurial family owns multiple businesses in Southern California. We are uniquely qualified to publish personal financial resources and insight.
~~~~~~~~~~~~~~~~~~~~~~~~~~~~~~~~~~~~~~~~~~~~~~~~~
FOR INFORMATION PLEASE CONTACT US:
CALL: 805.693.1497 | 24 Voice Mail: 310.499.9545
Realty411's main website at: http://realty411guide.com
or https://realty411.com or http://realty411expo.com
---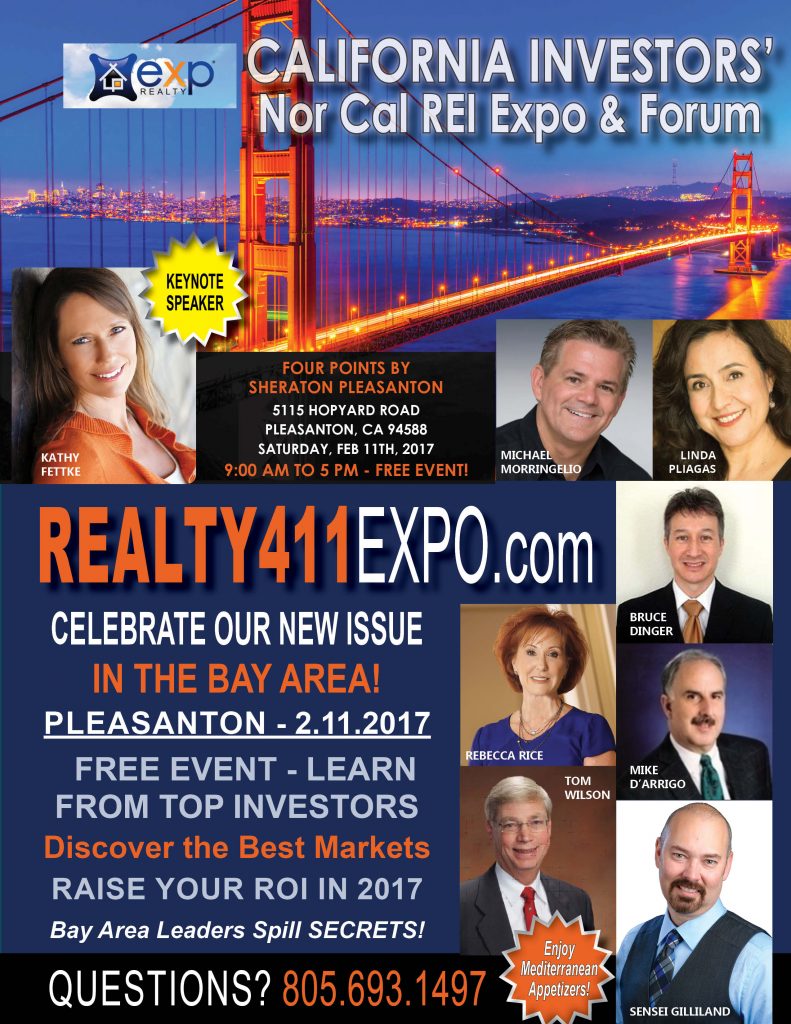 Save
Save
Save
Save
Save
Save
Save
Save
Save
Save
Save
Save
Save