Dear Friend of REALTY411;
Thank you for being in our network, we are excited to have shared 2017 with you!
As you may know, we are currently the only company giving away complimentary investment publications, packed with how-to, time-tested strategies for building long-term wealth with real estate.
Plus, our events are complimentary as well. You can also expect breakfast and appetizers at all of our upcoming 2018 events. This is our way of expressing gratitude — we value and appreciate you so much.
You see, we know your time is PRECIOUS. It's PRICELESS.
It's actually the most important asset we have in our lives. We can always make more money — but we cannot buy more TIME!
I'm especially cognizant of the essence of time as I co-own the oldest clock and watch shop in Santa Barbara County. Our company restores some of the rarest antique timepieces in existence. Trust me, the concept of time is ever-present!
Please use your time WISELY.
If building financial security for your family is important to you, take time to read, to study, to explore new opportunities, to get out of your home and network. With this in mind, REALTY411 wants to provide an awesome download and event invites to help you progress in your knowledge of Building Wealth Through Real Estate.
DOWNLOAD YOUR FREE REI WEALTH ISSUE HERE – NORMALLY IT IS $36 FOR THE YEAR!
---
JOIN US AT OUR EVENTS FEATURING NEW TOPICS:
NOTES, TAX LIENS, ASSET PROTECTION, THE TRUMP ECONOMY, CHANGES IN TAX LAWS, RESIDUAL INCOME, PRIVATE LENDING, TRUST DEEDS & MORE
Plus, network your way to $UCCESS by building connections with wholesalers, private lenders, national investors, property managers, Top-producing agents, brokers, FOREX investors, day traders, business owners, entrepreneurs, venture capitalists and… the list goes on.
Without a doubt, 2018 is our time (and your time) to LEVERAGE with Minimum Risk & Maximum Reward!
Learn from investors who are closing millions of dollars worth of deals. Talk with national landlords who have investments around the country. Do business with like-minded individuals who may become friends for life.
(Warning: Expo guests have met and married as a result of attending our events, dress to impress.)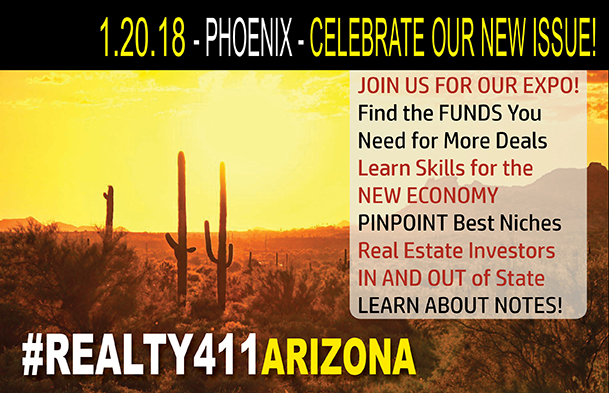 OUR LEVERAGE EXPO SCHEDULE IS:
PHOENIX, AZ – Jan. 20, 2018
Get MOTIVATED and have breakfast with local and out-of-town millionaire investors. Celebrate TWO new publications: Realty411 and REI Wealth Monthly (which is now also available in print too). Guests will receive over 200 PAGES of quality content created just for our publications. Attention wholesalers, investors or brokers: Do you need Operating Capital for your business or portfolio? We have the connections here.
---
SANTA MONICA, CA – Jan. 27, 2018
This event will have a special focus on the entertainment industry, and we will discuss and film some footage for our TV pilot, Property Pitch. Guests will have a chance to meet our award-winning producers and ask them "insider" questions about the industry! Guests are flying in from around the nation, multiple breakout sessions.
---

SANTA CLARA, CA – Feb. 10, 2018
Join us in the HEART of Silicon Valley as we focus on Tech and Trump in this event. What's in store for 2018 as far as Real Estate software and technology that can create more profits, with less work?! We will also discuss Notes, Tax Liens, Commercial Real Estate, How to Take action Today, and more.
---

ATLANTA, GA – Feb. 24, 2018
Enjoy Southern Hospitality with local and national investors as they UNITE in Atlanta for REALTY411's LEVERAGE EXPO. Discover the latest strategies for flipping by a local expert, how to raise capital (even if you have little or no experience), plus how to buy properties with tax liens for pennies on the dollar, AND lots of other great 411.
Thank you again for being in our network and PLEASE pass this email on to others who can benefit from our complimentary information. As always, our mission is to inspire others and elevate our industry.
Thank you, Merry Christmas and Prosperous New Year!
Linda Pliagas & All Your Friends at:
REALTY411 / REI WEALTH
805.693.1497 | 310.994.1962
PS: Be sure to join our VIP Investor Network to mingle and connect with investors who read our publications from around the world.
No time to read right now? No problem! Enjoy our Invest Wisely Blog Talk podcast:
http://www.blogtalkradio.com/realty411
---
updated on 6:30 am on 12/24/2018 by DS – FOR UPDATED INFORMATION, PLEASE CHECK BACK REGULARLY TO THIS WEBSITE.