Check out our new audio content!
Please join us as the Ventura County Real Estsate Investors Association and the Los Angeles Real Estate Investors Club November meeting, Thursday night, November 12, 2020, 7:30 to 9:30 pm. This will be a virtual meeting and you will need to register at our website:
https://www.accelevents.com/e/NovemberMeeting
GUEST SPEAKER: Our featured speaker will be Jimmy Reed, visiting us from Fort Worth, Texas. Jimmy is an expert on wholesaling and the author of "Fast Track to Wholesaling." The title of Jimmy's presentation to LAREIC is "How to Find Wholesale Deals Others Miss."
Jimmy Reed has an extensive background in the field of Real Estate Investing having bought, sold and managed over 300 units, all by the age of thirty. Jimmy began his investment career in the late 1980's while still working full time. As he developed a solid understanding of real estate investing, Jimmy went on to specialize in the areas of Wholesaling, Probate, Owner Financing, Notes, and Cash Flow Rentals, along with other investment strategies including International Investing.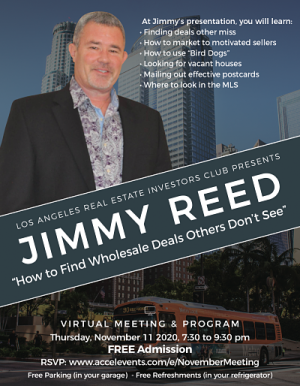 After several years of success in Real Estate Investing (as well as teaching workshops to other investors in the Dallas/Fort Worth area), Jimmy created Wholesale programs. These "trainings" put Jimmy in some of the hottest markets in the world such as Hawaii, New York, Cozumel, Panama and even Costa Rica. Jimmy has presented live seminars to thousands of real estate investors all across the United States.
Jimmy's newest book, "No Fear Real Estate" discusses how to remove the fear from lack of knowledge that is holding you back, and discusses how to
Wholesale real estate via Assignments & Double Closings
Find great deals via Probate
Buy, Rent, and Hold for long term wealth
Sell properties with Owner Financing
Create Notes, and how to hold those notes or sell them
Use other people's money instead of your own
Become wealthy by using IRA's to do all your buying & selling.
All of these strategies and more provide you with the tools you need to start building your real estate portfolio and take you to a new level of achievement! And it all starts with wholesaling.
Wholesaling topics to be covered include:
• Finding deals others miss
• How to market to motivated sellers
• How to use "Bird Dogs"
• Looking for vacant houses
• Mailing out effective postcards
• Where to look in the MLS
• How to assign your deal to an investor
FREE ADMISSION: Admission to our monthly meetings is always complimentary (free!), but reservations are required.
FREE PARKING: Free parking in YOUR garage!
FREE REFRESHMENTS: Unlimited free refreshments in YOUR refrigerator.
RSVP: please RSVP at our website so that you can receive a login and password for the event:
https://www.accelevents.com/e/NovemberMeeting
VENDOR EXPO. Most importantly, don't miss our "Vendor Expo," 6:30 to 7:30 pm (right before the general meeting starts). We'll have over 40 vendor tables with opportunities for you to "meet and greet" with companies that you'll want to utilize in your real estate investing.