---

Rio Grande Valley Real Estate Expo – Hosted by Realty411 Magazine in SOUTH PADRE ISLAND, TEXAS
Join Investors from Throughout TEXAS and Other States!
MINGLE WITH INVESTORS & RE PROFESSIONALS FROM THROUGHOUT TEXAS, including: Dallas, Houston, San Antonio, Austin, plus many Guests from California & Other States from Around the Nation!
Join Us as We Honor Your LOCAL Real Estate Investor Association. Please bring an unwrapped toy to be donated to needy children through Toys for Tots Foundation.
HOW WE, AS CALIFORNIA INVESTORS, BEGAN OUR REAL ESTATE ADVENTURE IN TEXAS:
"Our Realty411 Investor Network began to buy rental properties in the Rio Grande Valley back in 2005 (before we even began our REALTY411 magazine) and thus far our clients, associates, friends and family have purchased over $6 million dollars in rental properties in this area. We purchased properties as a group in 2006 – before McAllen ranked the #1 city for appreciation two years in a row – in 2007 and 2008. I first purchased a few rentals in the area and soon my entire network of friends, associates and some family members followed. These properties are still owned by California investors and managed locally by our network of property managers. It's wonderful to host an event in a wonderful beach destination that I have enjoyed visiting for many years: South Padre Island, Texas.
I hope you can join us to network and learn about the local market. Please bring an unwrapped toy to be donated and distributed through the local Toys for Tots Foundation. Merry Christmas!
~ Linda Pliagas, publisher of Realty411
---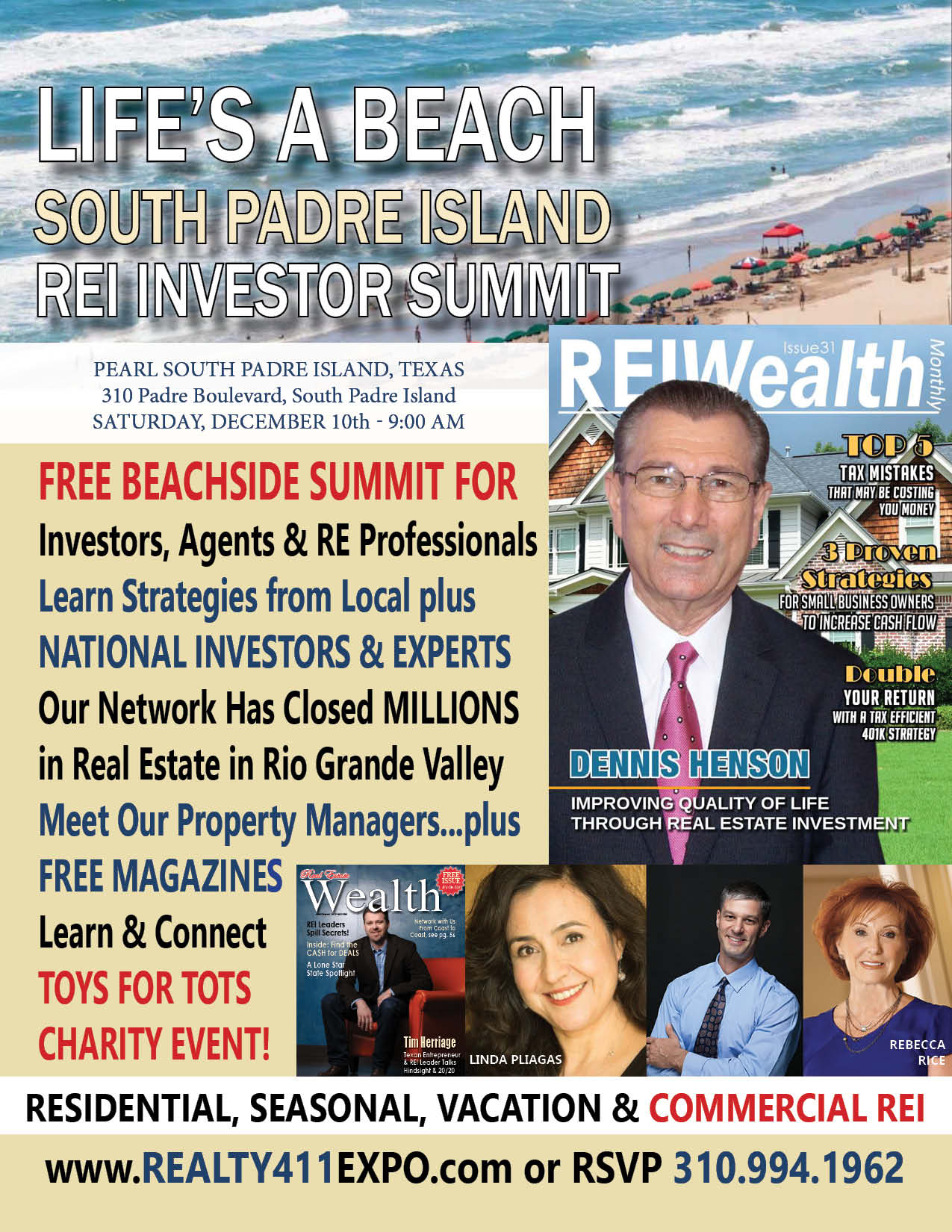 JOIN US FOR ONE DAY ON SOUTH PADRE ISLAND AND GROW YOUR NETWORK!
Inside this FREE CONFERENCE the BIGGEST NAMES in our Industry will share secrets to help YOU take your business (and life) to a Whole NEW Level. * Mingle With Exhbitors, Learn from Master RE Investors, Meet Like-Minded Successful People & Leaders in the Industry * Find your next business partner or private lender here – Just as so many have before. Realty411 Events Connect Leaders in the Industry.
Learn from the Top Names in Real Estate and Celebrate Our Publications! Mingle & Network with Awesome Companies from Around the Nation at the Largest and Still Absolutely FREE Real Estate Expo in The Valley!
We Are Honored to Present a SPECIAL GUEST: DENNIS HENSON
Dennis Henson is President of Vanguard Marketing and Investments and the Arlington Real Estate Association of Investors(AREA). He is the author of "Becoming Wealthy in Real Estate," an Investors Guide to Riches. He is an expert at controlling property for profit without ever taking title and many other creative techniques. With over 38 years in the real estate investing experience Dennis has done numerous profitable real estate transactions throughout the Southern United States.
Dennis specializes in single family investing and is experienced in all aspects of real estate investing—options, rent to own, installment land contracts, contracts for deeds, pre-foreclosure, foreclosure, bankruptcy, probate, contracts for purchase and sales, subject to, wrap around mortgages, seller carry back notes, land trusts, leases, creative financing and other areas of real estate investing. As a mentor and teacher Dennis has helped hundreds of investors get off to the right start in this business.
He also works with many experienced investors helping them take their business to the next level. Examples of his training can be seen on his training website at http://www.dennisjhenson.com/.
While many people start investing in Real Estate to become wealthy—Dennis' goal was to improve his lifestyle. Real Estate has allowed him to live the life of his choice. He left behind his nine to five job, the long commutes and the need for a coat and tie. As a result he works when he wants to work and plays when the spirit moves him. Wealth has just been a by-product of his real estate pursuits.
Armed with both a bachelor's and a master's degree in education–Dennis offers a unique, personal–one on one–mentoring system that provides individual training to new and experienced real estate investors throughout the United States. He has been helping students put their real estate investing businesses on steroids for many years.
Co-Hosted by: Flower Guerrero and David Fair with RGVREIC – the Rio Grande Valley Real Estate Investor's Club
* A Message from Realty411's CEO/Publisher *
"I personally own property in the area and my family owns numerous multifamily properties as well throughout the Rio Grande Valley. For this reason, I want to host a SPECIAL expo to spotlight the area and celebrate real estate."
– Linda Pliagas, Realty411 owner Investor in Rio Grande Valley & California Real Estate Agent
REMEMBER: Your Net Worth is Directly Equal to Your Network.
At this Event You Will Surround Yourself with Successful People Who Really OWN Real Estate
Brings Tons of Business Cards – Get Ready for SERIOUS Networking!!
Linda's Credentials in Real Estate, Media & Business:
* Bachelor of Art's Degree in Journalism, California State University, Long Beach.
* Licensed California Real Estate Agent for 16 Years.
* Landlord for 20 years / I have been a landlord in 5 States.
* Have referred millions of dollars in real estate transactions to Texas brokers/property mgrs.
* Her mission is to advance real estate education & inspire everyone to invest in real estate for a more secure retirement.
* Linda has been a publisher since the age of 25.
* Come mingle with real estate colleagues, associates, mentors, private money lenders, and other VIP people in the industry.
* Mingle With Top Companies, Meet New People, Say Hello to Our Magazine Staff
* Learn From the Masters * Free Community Event
FINISH 2016 WITH GREAT NETWORKING AND GROW YOUR INFLUENCE!
Learn From Active Investors, Private Lenders & More.
Come CELEBRATE Our New Issue, PLUS:
* Learn to Create Passive Income in focusing on Cashflow and Appreciation
* Find HOT Markets in CA & Other Key Markets
* Meet Turn-key Providers & Property Managers
* Learn Techniques from TOP Investors in the Nation
* Learn Everything You Need to Know about PRIVATE LENDING to Always Have Capital for Deals!
* Protect Your Portfolio by Diversifying Your Estate
* Receive a General Overview of the Current Market Realty411 NEW ISSUE IS HERE.
Learn Real Estate for FREE, It's On Us!
~~~~~~~~~~~~~~~~~~~~~~~~~~~~~~~~~~~~~~~~~~~~~~~~~~~~~~~~~~~~~~~~~~~~
Disclosure and Information – Attention All Attendees: The events, expos and mixers promoted by Realty411guide.com, reWEALTHmag.com and/or their owners, employees agents and affiliates (collectively "411") are for informational and entertainment purposes ONLY. The information and presentations provided therein do not constitute an offer or solicitation to buy or sell securities or real estate. Please be aware that real estate investing is VERY RISKY. 411 is not responsible for any of the information provided and/or statistical data presented, and 411 does not represent that any information or opinions expressed and data provided reflect the opinions, advice and research of the vendors, speakers, sponsors guests who are in attendance at the events, and do not reflect the opinions, advice or research of 411. By attending 411 events you acknowledge that the investment strategies mentioned may not be suitable for you, that any real estate investment is inherently risky, that all investments are subject to risks which could result in the entire loss of your investment, and that 411 is not responsible for any losses or outcome of any investment made by you from or after 411 events, or as a result of contacts made at these events. You personally are 100% responsible for your due diligence, for all investment information and for all decisions with respect to any potential investment or transaction. 411 does not endorse, and has not performed due diligence on, any of the vendors, speakers, sponsors, companies and guests who appear at our events. The information presented at any 411 event related to any potential real estate investment is general in nature and does not constitute legal, tax or investment advice. 411 strongly recommends that you seek the advice of your trusted attorney, broker, CPA and/or financial adviser before taking action as an investor. To contact us, please call (310) 499-9545. **These results are not typical and should not be attempted by novice investors. Please remember real estate, and all investing, is risky by nature and may result in the entire loss of your principal investment.
Save
Save
Save
Save
Save